The split between Olivia Wilde and Harry Styles did not affect their friendship, as they are still friends. However, the former One Direction singer's manager's wedding in January 2021 brought Styles and Wilde's relationship to attention after they were spotted holding hands.
Styles and Wilde will not be together anymore and will be now focusing on their separate works. Styles will now go to South America while Wilde will now be focusing on her documentary project in London. The couple were not seen together and were apart at the Styles' concert in Los Angeles on this Tuesday.
Olivia Wilde and Harry Styles are Still Friends
The sources report that, regardless of this, they will remain good friends. People will continue to see them together, as the sources indicate. However, according to the source, the difficulties of working in long-distance relationships significantly impacted the breakup between the couple.
During a friend's wedding in Montecito, California, Olivia Wilde and Styles made their relationship public in January 2021. However, in November 2020, it was that she and Sudeikis split up. Months before her first public sightings of her and Styles together.
Also Read: 'He's under enormous pressure to exit the situation: Harry Styles' Management Reportedly Wants Him To Break Up With Olivia Wilde Because All She Does is Bring Him Bad PR
After significant drama over an alleged feud involving co-star Florence Pugh, the couple split up just weeks before "Don't Worry Darling" was released. In the meantime, Wilde was not on good terms with Sudeikis. She was splitting with him which later on involved legal issues.  Fans started talking about "O.C." alum who left "Ted Lasso" to get along with Harry Styles.
Also Read: "It didn't look great that he was dating her": Harry Styles On Track to Get Blacklisted By Hollywood as Insider Claims Execs Not Happy With Singer Dating Olivia Wilde
Both stars are focusing on their priorities
As Styles and Olivia Wilde relationship progressed, they faced various gossip that have drawn attention to their relationship. Due to their busy schedules and all the things they need to do to focus on their work. Both partners decided to call off their relationship. There was never a wrong time in the history of Harry Styles' relationships with any of his past partners.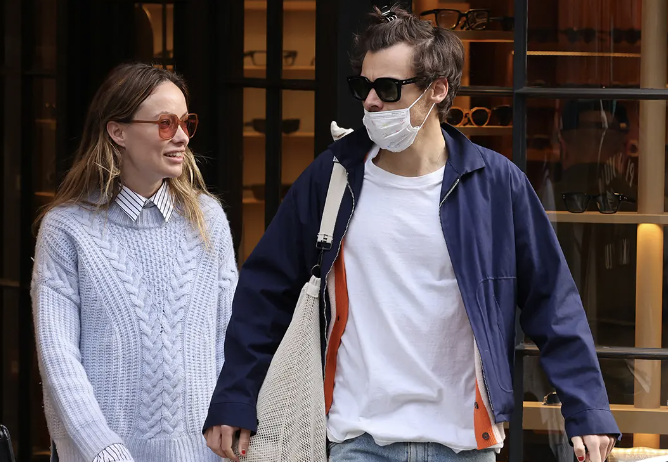 Since he was very young and was a member of One Direction, the pop star has had many high-profile relationships with celebrities. Mostly, he has had healthy relationships that ended on good terms with most of his past partners. Some of his past relationships may have been problematic due to the age difference.
According to sources, the reports told that Harry Styles is in pressure by his management to leave Olivia Wilde. The duo has been involved in controversy since they met on the Don't Worry Darling set. There is either a romance story underlying the upcoming movie related to it.
Also Read: Who is Erka Genaro – Olivia Wilde's Ex Nanny Who Claims Harry Styles Slept With Florence Pugh Before Setting for Wilde
Source: Page Six