Fans of Khloé Kardashian have mistaken her for Taylor Swift because of how extreme her photo editors' use of airbrushing appears to be. Khloé Kardashian recently shared a series of images from her most recent photoshoot for the magazine Sorbet while sporting Prada clothing and working with the company. Fans are confused as to whether it's reality TV star Khloe Kardashian or pop icon Taylor Swift depicted on the cover of the most recent magazine. The co-founder of Good American, 38, gives Swift vibes more in one particular photo in which she is lying down across a chair and ottoman while donning head-to-toe Prada.
These series of pictures posted on her Instagram that she took for the magazine Sorbet left viewers perplexed and accused the co-founder of Good America of having her pictures heavily edited.
Read More: Not Satisfied With Decimating Khloe Kardashian's Relationship With Tristan Thompson, Maralee Nichols Dresses Up Her And Tristan's Love Child As 'Santa Claus' For New Beginnings
Fans find Khloé Kardashian unrecognizable in the super-edited cover shoot!
Khloé Kardashian was quite beautiful in the pictures, but her facial features and general appearance were different from how she usually appeared. The amount of airbrushing used to highlight her face's edges appears to be excessive. Now, netizens are deluging her posts' comment sections with accusations that they thought she was Taylor Swift because she resembled the Blank Space singer.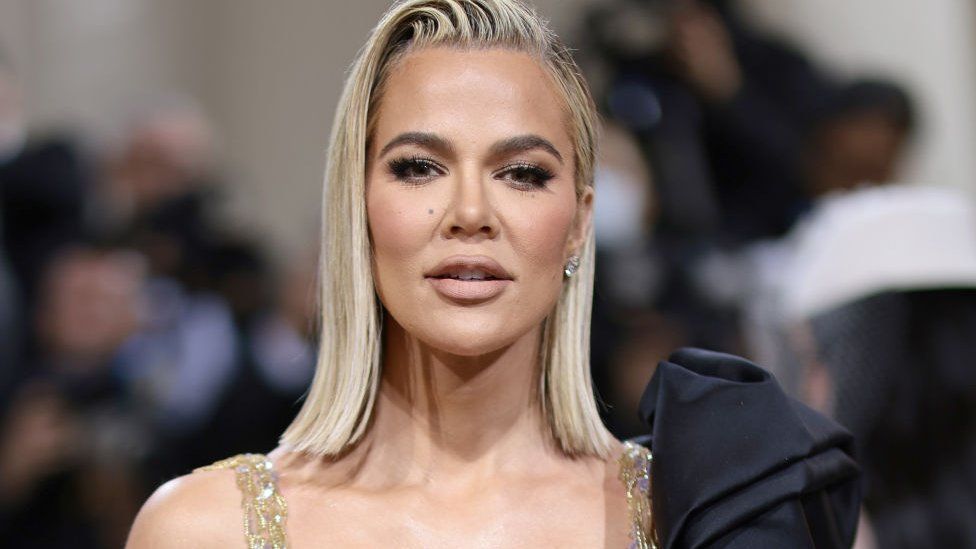 One fan tweeted, It's like body plagiarism," while another penned, "Really thought this was Taylor Swift." One fan said, "I thought it was Taylor Swift lol," and received many 'similar' replies. Have a look at some. 
She wanna be Taylor so bad.

— ` (@tayIorsswift13x) January 3, 2023
khloe kardashian (taylor's version)

— 𝐬𝐞𝐯𝐲𝐧 𝟕𝟕𝟕. ✰ (@ROCKINGMYFAME) January 3, 2023
"you better not be yassified taylor swift when i get home"
me:

— ygngg shady facts (@lisaslovechild) January 3, 2023
so creepy how she is trying to emulate taylor's appearance. it's like body plagiarism.

— 𝖕𝖚𝖕🐷𝖕𝖎𝖌𝖌𝖞 (@pup_piggy) January 3, 2023
Taylor swift in 30 years

— Honest sports takes (@honestsportz) January 3, 2023
i'm HIIIGGH cuz i thought that was miss taylor swift

— alli fitz. (@allicatttx) January 3, 2023
Read More: 'May the tears you cried in 2022 water the seeds of 2023': Khloe Kardashian, Who Partied Her Way Through 2022, Demands Fan Sympathy as 2022 Made Her the 'Most Broken Version' of Herself
Fans confuse Khloé Kardashian with Taylor Swift
Co-founder of The Good American and one of the Kardashian sisters is a model and businesswoman. She enjoys dressing up whenever possible and is known for her distinctive sense of style. But her most recent photo shoot caused some controversy! Khloé Kardashian shared an image from her most recent fashion photoshoot for Sorbet a few hours ago. The businesswoman can be seen lying over a chair in a body-hugging cream-colored Prada dress, accessorized with golden pumps, open hair with bang cuts, and glamorous makeup. But there appeared to be a problem with the image. She had slightly odd-looking facial features, and her legs seemed unusually long.
While some online users mistakenly thought she was Anti-Hero singer, Taylor Swift and began to comment on the matter, others pointed out how edited the photos appeared. Among the comments, a netizen asked, "Is this the 12th iteration of Khloe? I lost count." Another person described her as having "shapeshifted into Sofia Vergara," saying that she reminded them of the actress. 
Read More: Khloe Kardashian Becomes a Few Tendons Short of a Skeleton in Horrifying New Pic, Convinces Fans Her Extreme Weight Loss Journey is a Health Hazard
Source- Instagram