Tom Brady's future plans for this offseason remain unclear. It is definitely going to be crucial. In his 24th season, the quarterback will have to decide if he wants to continue playing for the Tampa Bay Buccaneers. This summer, the seven-time Super Bowl champion will become a free agent, allowing the Buccaneers quarterback to don a new uniform for his 24th NFL campaign. Only if he decides against switching from his football cleats to a Fox microphone. Former teammate Julian Edelman, who also offered a prediction for the legend, has now commented on the circumstances.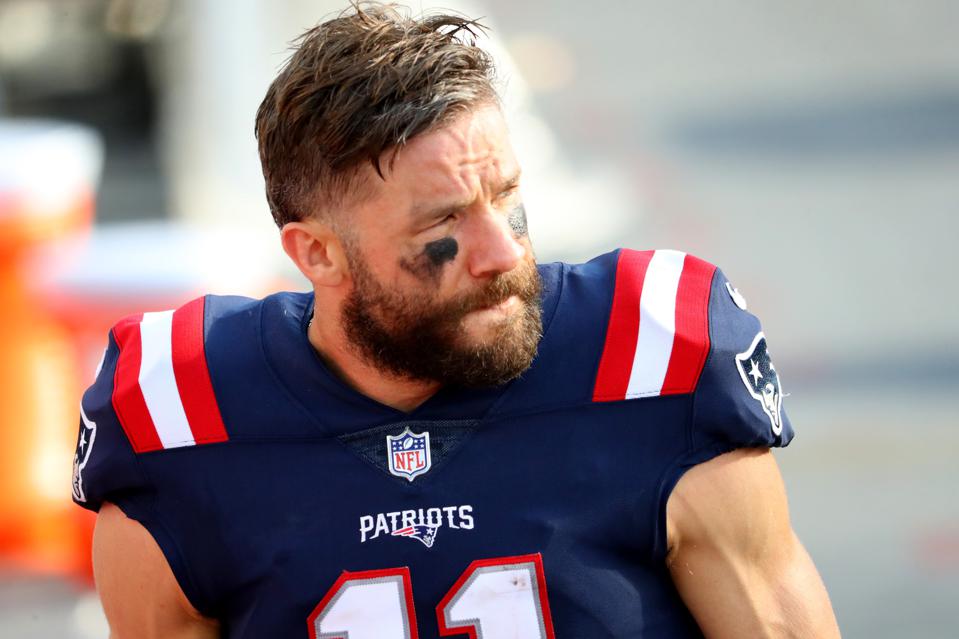 Tom Brady is currently an unsigned free agent. His deal with the Buccaneers expired after the 2022 campaign, but he could still play for Tampa Bay in 2023. Brady's future is the subject of multiple rumors, including those involving the Patriots, Dolphins, Raiders, and other teams. But as of late, Julian Edelman has discussed what he believes Brady will do for the upcoming campaign.
Also read: "I might never be as cool and collected like him": Gisele Bündchen Revealed Why She Fell for Tom Brady Despite Divorcing Tampa Bay Bucs Legend Years Later
Julian Edelman believes Tom Brady is unlikely to re-join the Buccaneers
Tom Brady has already made one comeback from retirement, but it's rumored that this will be his last year playing in the NFL. Brady is a seven-time Super Bowl champion. Julian Edelman stood out as Brady's hero in Super Bowl LI. Now, his former teammate has since discussed Brady's predicament and offered his opinion on the quarterback's future. "If he has another season," said Edelman on Inside the NFL on Wednesday, "it is not going to be in Tampa Bay." Edelman thinks that Brady is a businessman and will proceed in the same manner as when he left New England.
He continues,
"If he wants to continue his playing career, he's going to go to the best situation that helps him win."
Also read: Gisele Bündchen Gets Hot and Sweaty With Trainer Joaquim Valente as Tom Brady Struggles With His NFL Season
Brady's decision is uncertain as of now. Although he has the option of retiring, he might also find a good place to play his 24th season and try to win another Super Bowl ring.
Will Tom Brady leave the NFL? 
In terms of Tom Brady's hazy NFL future, Julian Edelman is just as in the dark as the rest of us. Brady has made it clear that he will consider his options carefully this offseason. The quarterback for the Tampa Bay Buccaneers recently disclosed how important his family is to his decision-making process. There are assumptions about whether he would leave the Buccaneers while saving a failing NFL career amidst Gisele Bundchen's divorce drama. The 45-year-old took a covert 11-day break during training camp, but he hasn't announced if he's going to retire just yet. Brady, according to Edelman, will decide over the coming weeks where and if he wants to play another 24 games in the NFL.
According to Edelman,
"He'll probably sit these next two weeks, hang out with his family, and he'll assess the situation. I'm sure he has a routine now." He continued, "Because he's probably been thinking about this these last three or four years on, you know. Am I gonna play, or am I not gonna play?" 
Also read: Tom Brady Still Not Over Divorce – Carries Same Louis Vuitton Bag From Ex-Wife Gisele Bundchen's Ad Campaign
Rob Gronkowski said on Fox News last month that if Tom Brady were interested in making a comeback in 2023, the Patriots would welcome him back "with open arms." The predictions made by Gronkowski and Edelman both defy the odds placed by the casino on Brady's whereabouts in 2023.
Source- Twitter