Who doesn't wants to flaunt their unique possessions? Well, if that person is Jennifer Lopez or Kim Kardashian, they would definitely gonna flaunt it without batting an eye. However, their flaunting skills are quite on par with each other, especially our diva who could do anything to prove her power. Both celebrities are known for their talents in bragging about how good they are, but J.Lo always likes to be on top and would rather use her limited possession to prove herself than be belittled by something.
Also Read: Matt Damon Blasted Jennifer Lopez For Forcing BFF Ben Affleck Into Negative Media Spotlight, Ruining His Career
The 53-year-old actress has once shared her rarest limited possession while going off to the gym. Other than the actress, that possession is also owned by the Kardashian. However, J.Lo uniquely flaunts fashion even if it would mean using extremely expensive items for the casual gym bag.
Jennifer Lopez Casually Carried Her $100K Hermès Himalayan Crocodile Birkin Bag To Gym
Also Read: Ben Affleck, Jennifer Lopez Make Things Awkward By Inviting Their Exes Jennifer Garner, Marc Anthony to Grand Holiday Party
There's a common approach for people to flaunt the most luxurious, expensive possession they own to use on very special occasions, but this doesn't apply to diva, Jennifer Lopez. The actress who is worth $400M doesn't care about the occasion as she was once spotted carrying her  Hermès Himalayan crocodile Birkin, which retails for more than $100K as a workout bag.
For the unversed, Hermès Birkin bags are one of the most exclusive, most expensive bags in the world and very few people get to own them due to their highly expensive cost and very limited number of production. They come in various designs which often change and are made by hand through skilled artisans.
Her Hermès Himalayan crocodile Birkin bag is made from a rare type of crocodile skin which is dyed to create the ombre color effect to resemble the namesake Himalayan mountains. Depending on the bag's hardware, size, and rarity, the Himalaya Birkin has reportedly sold for over $350k at auction.
Other than her, the SKIMS founder is also known to have one pair of extremely limited series.
Kim Kardashian Also Owns Hermès Birkin Bag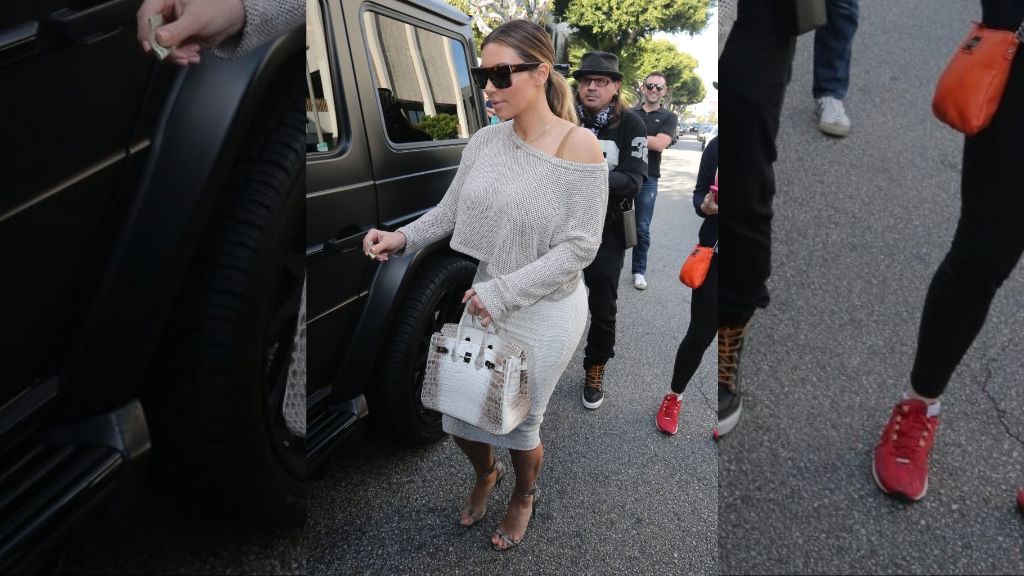 Also Read: Taylor Swift Opens Up The Pandora Box With 'Midnights' As Fans Convinced She Had A Secret Miscarriage After Dissing Kanye West And Kim Kardashian
Not just J.Lo, but American socialite Kim Kardashian is also a fan of Hermès Birkin bags. She has frequently been spotted with her expensive collection of bags and believes in flaunting those bags as many times as she wants. We can say that she at least loves them and held them for quite a long given her record.
The bag Kardashian owns is similar to the rare piece, J.Lo has with the former's bag apparently made from an almost albino crocodile. Crocodile skin Birkin bags are traditionally known to be the most expensive among their other collection. That's not the only bag she owns from this brand though!
In 2013, her ex-husband Kanye West gifted her a custom Hermes Haut Courroies bag which featured artist George Condo's painting. Apart from that, she owns more Birkin bags, including one vintage crocodile Birkin for $110K, an alligator leather Birkin for $90K, and a calfskin Birkin for $30K.
Source: StyleCaster