The rumours of John Cena being the next Captain America started a couple of months back after the famed wrestler posted a clawed Captain America shield. This led the world to speculate that he is the new Captain America.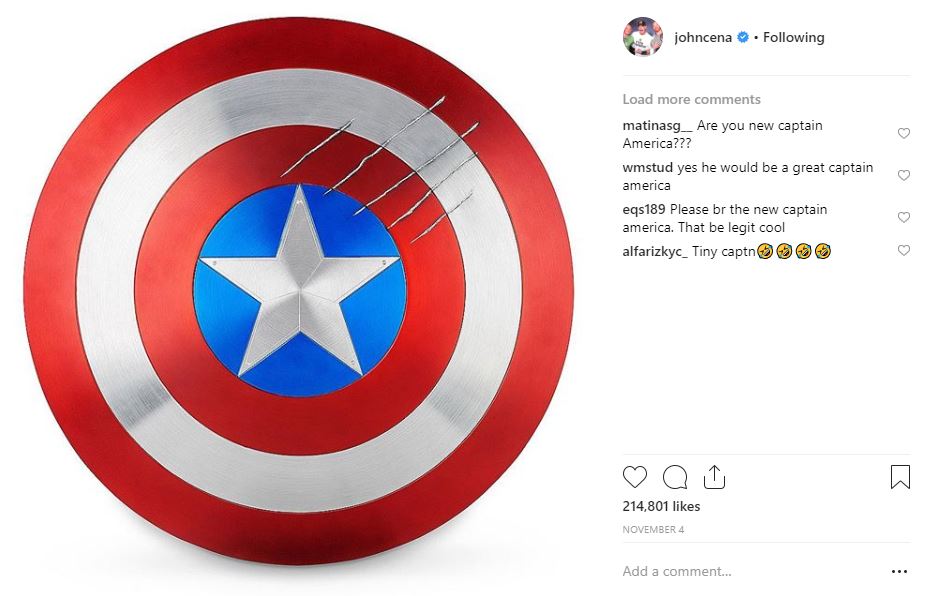 As it turns out, it was just a normal post with an impeccable timing. With Chris Evans bidding farewell to the role through an emotional tweet, people started to jump to conclusions. Cena will be appearing in the upcoming Bumblebee film.
Cena appeared on The Ellen Show recently where Ellen asked him about the ongoing rumour of him taking on the Captain America mantle. Here's what Cena said:
"For real. Finally it's happened! If it's out there, if the Captain America people are listening and you're watching right now, I'd totally do it. I totally will, because I think I'd be a good Captain America…and I've already ruined everyone's childhood, so it can't get any worse!"
We don't know the future of Captain America in the MCU yet and so far the rumours have suggested that Falcon or Bucky Barnes may take over the mantle once Chris Evans leaves the MCU. Earlier Frank Grillo, who played Crossbones in Civil War revealed that the next Captain America could be an African-American, or maybe even a woman.
During a recent interview with USA Today, Infinity War director Joe Russo stated that Chris Evans may not be done with playing Captain America yet.
"I think it was more emotional for [Chris Evans] than it was for us, mostly cause he's not done yet. I don't want to explain what I mean, but audiences will soon understand," Joe said.
So, it's still unclear in what direction would MCU go with Captain America. While Chris Evans fans would hope for him to survive and continue, the possibilities are endless. All questions will be answered when the film hits the theaters on May 3. While appearing in an interview earlier this year, here's what Evans said about the role:
"Well, you know, my contract is over, so that's as far as I know. [I'll miss] everything [about Captain America]. I mean, it's not just the character, it's the people – the experience, such good movies, such wonderful memories. I'll miss a lot.

You want to get off the train before they push you off. I used to have thoughts of wanting to climb to the top of something, or wanting to be somebody. But when you get the thing that you think you want and then you wake up and realize that you still have pockets of sadness, and that your struggle will reinvent itself, you stop chasing after those things and it is liberating, because you realize that right here, right now, is exactly all I need."