Internet's greatest heartthrob and Hollywood's greatest gentleman – these are some of the many monikers Keanu Reeves has gotten over the years. His gentle and calm exterior with a kind and humble heart won him the heart and soul of the entire planet. With each passing day, we just get to know the living legend that is Keanu Reeves a little more. And boy are we petrified by his sheer kindness, simplicity and general humility. Humanity may have lost all hopes but if God ever makes an arc, the first person that enters it has to be Keanu Reeves. He is just too pure to for us. He needs to protected and revered for all times.
His Respect For Women – The Hover Hand
Female actors that have worked with Keanu Reeves like Adrianne Palicki and Winona Ryder call him the most "kind and considerate" soul.
Charmingly Humble
Its like he does not even care the world loves him. Keanu be like: I am too shy. Go away. Shoo.
His Reaction To Rumors of Him Being Gay
That reply will always be a classic!!
He Drove a Woman 50 Miles Out of His Way After Her Car Broke Down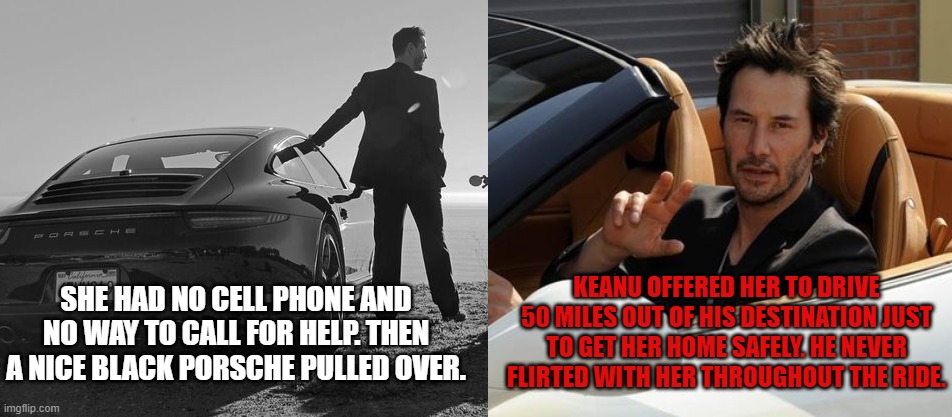 Apparently, the woman wanted him to flirt with her. Keanu never even uttered a word. In true gentleman fashion, he just gave her his number after dropping her off in case she needed any further help.
Also Read: Matrix 4: Keanu Reeves To Appear as Neo
Buys Food for the "Grunt Workers"
While grunt workers typically consider A-List Actors as Dirt-bags, most of them have nothing but good things to say about Keanu Reeves.
Hung Out With a Homeless Guy to Keep Him Company
He later said in another interview that he liked the "quiet company".
Gave His Money To The Matrix's Special Effects Team To Save Their Jobs
That was what he said. In The Devil's Advocate, he even gave up a massive chunk of his salary for paying Al Pacino. Still doubt his angel wings?
Commutes. Gives Up His Seat To Women
It is a mark of a true gentleman when you give up your seat for a lady in distress. That's old school chivalry many do not possess these days.
You May Like: Keanu Reeves Could be Seen in MCU's Ghost Rider
Posed On Top of a Table For Toy Story 4
That is some next level fan-boyism Keanu Reeves. Glad to know you are just like one of us.
Made Stephen Colbert Speechless
Stephen Colbert was not the only person who was left without words that day.
Secretly Donates Money to Children's Hospitals
He had a tough past. Seeing his sister Kim battle Leukemia taught Keanu many things. He pledged he will do his share to ensure he could save at least a few.
Bought an Ice Cream Just So He Could Give His Autograph On The Receipt To the Fan
The story went viral a while later. We thought we could not love this guy any more than we already were. Turns out, we were wrong. This guy just keeps hitting them right out of the park.
Related: 10 Performances Chadwick Boseman Will Be Remembered For
That's all folks. While we know there are a zillion things he has done that we could not put into the list, we just wanted to show you a glimpse of just how a kid and humble human being looks like. He is Keanu Reeves. Remember his name!!