KFC has been adventurous with their menu. From a thick Belgian Liege-style waffles with extra crispy fried chicken and a side of Mrs. Butterworth syrup to crispy chicken fillets also with a pickle juice-based sauce to Cheeto-stuffed chicken sandwich KFC has been dauntless with their taste testing and experimenting.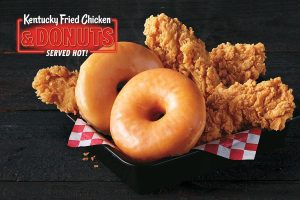 This year, just when you thought it was time to bring home the troops from the great chicken sandwich war between Popeyes and Chick-fil-A, KFC introduces a new sandwich. And it's bold.
The new sandwich features the chain's Extra Crisp chicken filet between two hot glazed donuts.
The sandwich is part of the chain's testing of new "Chicken and Donuts" menu items. Business Insider reported that KFC said in a press release that the test is being used to determine if "customers are craving chicken and doughnuts on a national scale."
Don't like donuts on top? Have them on the side!
So if stacking food isn't your thing, you can also enjoy the components side-by-side. KFC is also introducing a Kentucky Fried Chicken & Donut Basket meal, which includes the option of chicken on the bone or chicken tenders, paired with one donut for $5.49. If that doesn't fill you up, you can add another donut for $7.49. Customers can also choose to add a hot donut to any order for $1.
Unfortunately, the new menu item will only appear for a limited time in select locations: Pittsburgh as well as Norfolk and Richmond, Virginia. When asked, the company couldn't provide a date for a nationwide roll-out of the donut sandwich as these locations are being used to determine just how hungry the country is for this daring new combination. If the reception is positive, you can look forward to checking these bad boys out at your local KFC branch.
It appears that the nation is already divided over the gratuitous new menu items on Twitter. "KFC wants us to die so badly," one Twitter user wrote on Tuesday, while others seemed hyped up to try it. Many KFC fans tweeted variations of, "Road trip, anyone?"
Astonishingly, the new donut sandwich will not be featured in the highly anticipated Colonel Sander's Dating Sim set to be released September 24. On the other hand, a KFC representative assured us the Mac and Cheese bowls launched on August 26 will most definitely be in the game.