The Kardashians always manage to get attention from media and fans alike, whether it's because of their shows, relationships, or surgeries. Almost all Kardashians have had some troubled relationship, whether Kim, Kylie, Kourtney, Khloe, or Kendall. Recently Kendall Jenner got back with her ex-boyfriend, Devin Booker, just after one month of the breakup. The couple went on a vacation and shared some photos on social media.
Also Read: Kendall Jenner Keeps Kardashian's "On Again-Off Again" Relationship Curse Alive After Snuggling Up To Ex Devin Booker in Hawaii…. AGAIN!!
As the drama with Jenner just settled in, Tristan Thompson, Khloe Kardashian's ex-boyfriend was seen in Greece with a woman. The news broke after a video of the NBA player with a mystery woman went live on social media.
While the couple already has a daughter, they recently announced that they are having a second child via surrogacy just before their most recent breakup.
What Khloe Kardashian will do now?
Even after the breakup, the reality show star and the NBA player have agreed to co-parent their second child. As per the sources, she wants Thompson to be as involved as possible, just as they did with their first child True Thompson. Khloe Kardashian says that Tristan Thompson is good to True, and she believes he will be the same with their second child.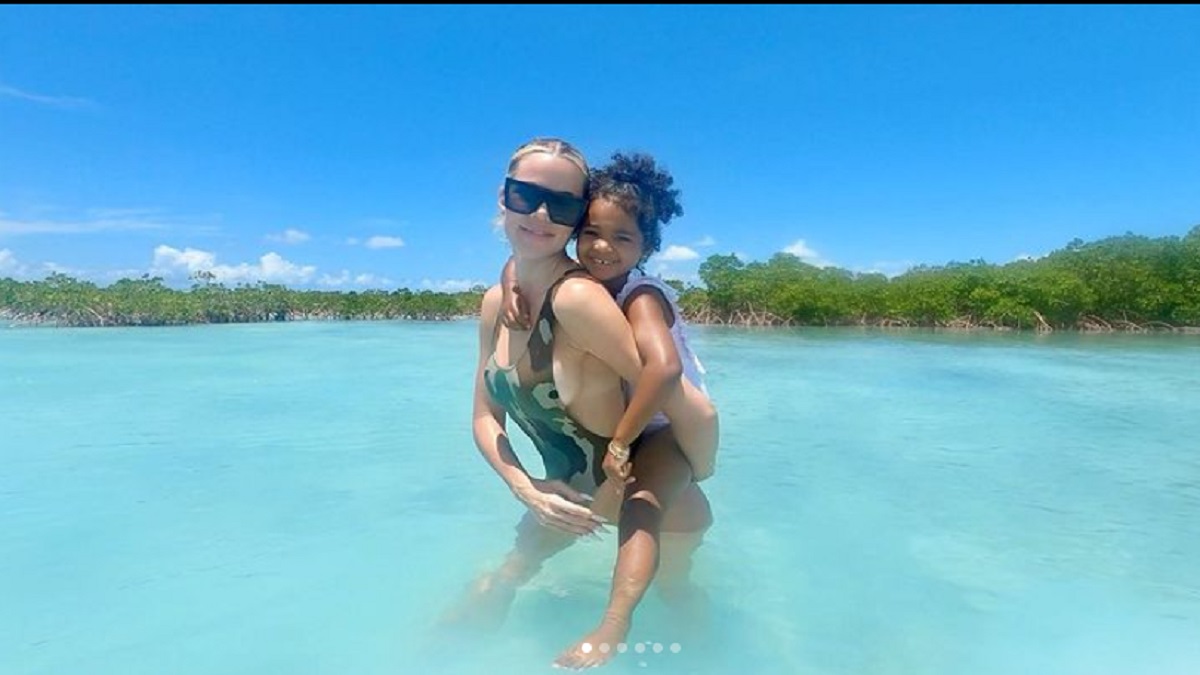 An insider told Page Six that the reality show star still loves Thompson and wants to redeem him, and it would not be shocking if they get back together again.
Tristan Thompson and Khloe Kardashian's Drama
It is not the first time Tristan Thompson is caught cheating on his current partner. Back in 2016, rumors had that he was still in a relationship with his pregnant girlfriend, model Jordan Craig when he and Kardashian started dating.
Later he was caught cheating on Khloe Kardashian with multiple women, all while she was pregnant with their first child. TMZ released videos of the NBA star with two different women in October 2016. Amid all the drama, Khloe decided to stay in a relationship with him after their daughter was born.
Later in 2019, the couple broke up again after Tristan Thompson kissed Kendall Jenner's best friend, Jordyn Woods, at a party. In December 2021, Maralee Nichols sued him for child support. Thompson agreed to have a paternity test once the baby was born.
Read Also: 'My Nieces Won't Let Me Live': In What Looks Like History's Most Fake, Staged Photo Ever, Khloe Kardashian's Photoshoot Gets 'Crashed' by North West, Penelope Disick
The paternity test confirmed that he was the father of her son. After which, he apologized to Khloe Kardashian through an Instagram story. He said, "You do not deserve the heartache and humiliation I have caused you."
Even after all this, Khloe Kardashian has claimed that she thinks that Tristan can change and can be a loyal partner and a good father to their children. She has not officially said anything about the recently released video clip yet.
Source: GEOTV