Kim Kardashian and her ex-husband Kanye West are known to make fashion statements of their own in the industry. The former pair had often shown their unique taste in their fashion which has made fans puzzled several times. Now that the ex- pair is recently having their business in the city of lights, Paris, their eldest daughter, North West is making headlines for wearing a full-face leather mask. After all, she's the daughter of KimYe!
Also Read: Taylor Swift, Drake Reportedly Team Up for Kanye West-Kim Kardashian Diss Track, Are Now Toning Down an Earlier Version Because It Was 'Too Direct'
Kim Kardashian's Eldest Child North West Spotted Wearing Full Leather Face Mask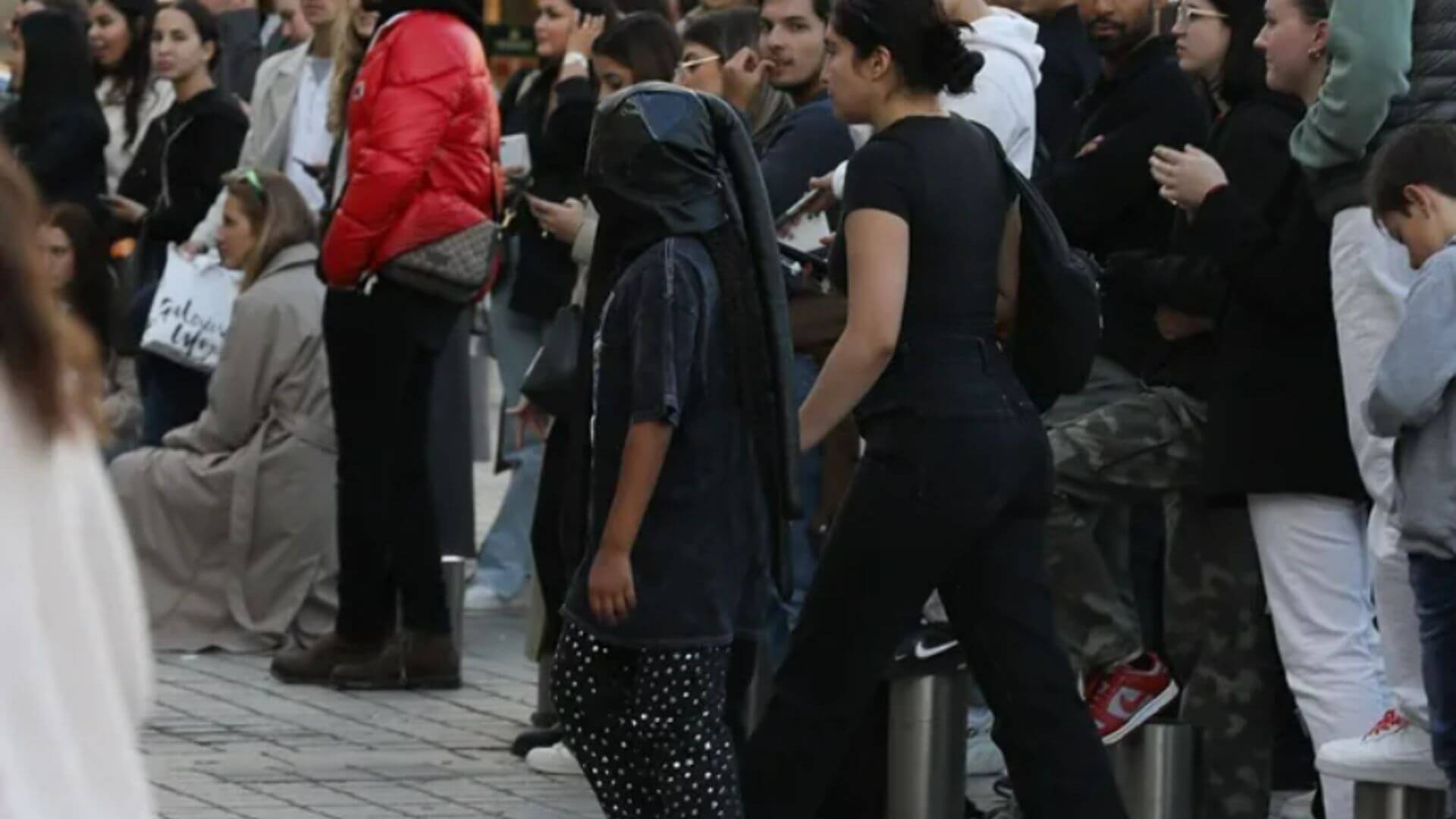 Also Read: Kanye West Still Wants Kim Kardashian Back, Admits He Took Kim K for Granted at Times
The nine-year-old daughter of Kim Kardashian and Kanye West, North West, was seen following the footsteps of her parents regarding her fashion. On Saturday back in Paris, she was spotted donning a full leather face mask going back into a hotel.
She has been attending Paris Fashion Week along with her 41-year-old mother.
By showing off her taste in fashion, she rocked the streets wearing a full-face leather mask covering her head, an oversized black T-shirt, and black and white print pants. Her whole outfit was accompanied by bedazzled crocs with high soles.
According to the sources, 45-year-old West is also in Paris at the moment, though he was not spotted tagging along with the mother-daughter duo.
Also Read: Kanye West Called Out Kim Kardashian for Trying to Take away North West From Him While Kim Was Pregnant – Allegedly Straining Their Marriage Permanently
Kim Kardashian and Kanye West's Made Their Fashion Statement With Fully Covered Headwears
You May Also Like: Kim Kardashian Defended Putting North West on TikTok Long Before Kanye West's Rant, Fans Accuse Her Daughter's Now a Soft Target for Sexual Predators
If someone's thinking that the nine-year-old, North is making her fashion statement, it won't be wrong to say that her parents are what made this statement more popular.
The Kimye couple have shown their charismatic presence with fully covered head masks in past years.
The rapper earlier this year made his appearance a few times hiding his face underneath the mask when he went with Julia Fox for a winter Fashion Week and did the same last year as well for a Balenciaga event.
The SKIMS founder also flaunted her unique style though not on par with her ex-husband.
She first made headlines by hiding her face in a mask back in September 2021 in New York in an all-leather black outfit. She made a further name by donning an all-black ensemble last year at Met Gala.
Source: TMZ