The first season of The Kardashians finally came to an end and we didn't get to see Pete Davidson in it even though he's been dating Kim Kardashian for a while now. Fans only got to hear his voice in the post-credits scene of the finale episode. Danielle King, the executive producer of The Kardashians, told Deadline that it wasn't Kim Kardashian's idea to have Pete Davidson on the show.
Also read: Kim Kardashian Revealed The BTS Details Of Introducing Her Kids To Pete Davidson
Danielle King said Pete Davidson's future in the series depends on the couple
In an interview with Deadline, Danielle King said Pete Davidson's future in the series completely depends on the couple. She addressed Pete Davidson's absence in the first season, "Kim never tried to persuade Pete. It's always up to the significant other, or the peripheral person that they're dealing with. If they wanna join in on the fun, more power to them, we're happy to cover that."
Also read: 'That's a Lamborghini, Not a Barbie': Kim K Coats World's 2nd Fastest SUV With Fluffy 'Lambskin', Gets Trolled
People on social media shared their opinions on the couple's relationship
A lot of people shared their opinions on the couple's relationship and it's safe to say that people aren't rooting for their relationship.
I think Kim Kardashian has had Pete Davidson for long enough. It's someone else's turn. Puff, puff, pass girlfriend.

— Tori Fletcher (@hellotorifletch) June 13, 2022
It will end when the PR contract ends.

— Billy (@evrybdygegeget) June 14, 2022
Asking everyone but the father of her children who was adamant about Skete not meeting his kids but or course Kim does w.e she wants so yeah.

— Ivan (@JoseIAgudo1) June 21, 2022
The thing that's even funnier than seeing Pete Davidson at all these fancy events with Kim, is seeing Kim Kardashian at all these dumb comedy things she is too fancy for

— snurch pastor greg (@snurchleader) June 26, 2022
Kim Kardashian really is out here thinking that Pete Davidson is like the love of her life that she needs to take her time with someone come please get her she needs pills and electroshock therapy

— carmela soprano •rip tony sirico 🤌🏻• (@girlblunt666) June 23, 2022
People are saying Kim Kardashian needs to get back into her senses as she is considering him to be "the love of her life".
Kim Kardashian and Pete Davidson began dating last year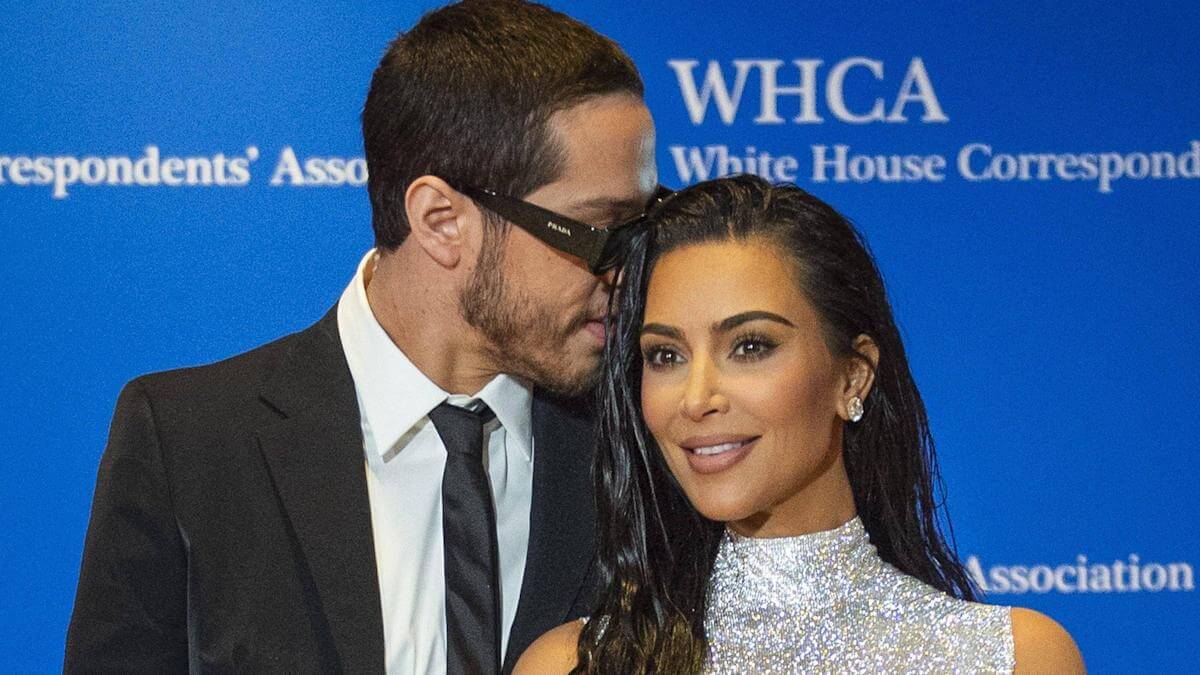 The two began dating in October 2021 after she made her debut on SNL earlier that month. In an episode of The Kardashians, Kim Kardashian explained how she got the comedian's number from an SNL producer during the show's afterparty. She said "I texted him – I wasn't even thinking like, 'Oh my god, I'm gonna be in a relationship with him.' I was just thinking, 'Heard about this BDE. Need to get out there… I was just basically DTF." Throughout the show, there were several moments where she stated that the best word to describe Pete Davidson would be "genuine."
Also read: 'What a Weird Clown Couple': Internet Reacts to Kim K, Pete Davidson Revealing They 'Inject Pimples' to Bond