American socialite Kim Kardashian is a renowned personality who loves to flaunt her daily activities due to being an influencer. However, she has proven to do something extra with her feed and has been accused of heavily manipulating her pictures several times. She has a huge fan following on all social media platforms which is one of the reasons she's always in the highlights.
Related: Kim Kardashian's New Pic Looks 'Heavily Edited' to the Point Her Waist Looks Like a Xenomorph, Fans Ask Her to Stop Setting Bizarre, Unachievable Beauty Standards
The Kardashian-Jenner clan has always kept their appearance up to date with many wanting to become like them. However, what if their beauty standards are not even being achieved on their own? The influential clan is often been accused of heavily altering their pictures just to appear perfect in everyone's eyes which sometimes becomes a bane for them.
Did Kim Kardashian Alter Her Pictures?
Also Read: How Kim Kardashian Proved Her Haters Right by Simultaneously Denying and Embracing Artificial Body Modifications
The 41-year-old socialite is being noticed for altering her pictures by many fans with the latest one indicating her latest photoshop fail. Previously, she was being slammed for her heavily edited picture of her new lingerie advertisement and is now making headlines for altering her Trapezius muscle in the picture.
Kim Kardashian recently shared a picture promoting her new collaboration with Beats by Dre. She was seen flaunting her shoulders in the snap however a keen TikTok user who is a commercial photographer named Caroline highlighted that the star have edited the picture by removing her trapezius muscle around her neck and shoulders. 
Also Read: Motley Crue's Tommy Lee Calls Out Kardashians On Their Insane Beauty Standard Setting Plastic Surgeries, Points Out Khloe's "Natural Chin"
To justify her claim, she reverse-photoshopped the image and found the reduction in the celebrity's muscles while also pointing out the distortion in the pool water which appeared behind her.
Kim Kardashian's Previous Photoshop Failures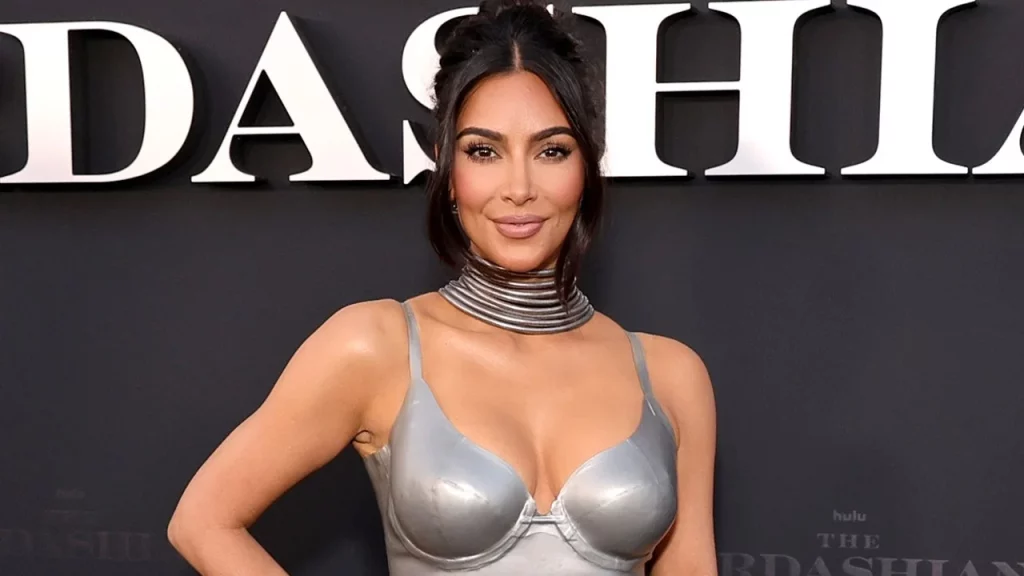 You May Also Like: 'This Moron is So Full of Sh*t': Fans Blast Kim Kardashian for 'If I'm Doing It, It's Attainable' Beauty Standards Remark, Accuse Her of Elitist Privilege
While the Kardashians have influenced many to attain unachievable beauty standards, the 41-year-old TV reality star has even shared in one of her interviews that she "genuinely cares" about looking good, adding, "I probably care more than 90% of the people on this planet."
She even denied setting unattainable beauty standards during an interview with Allure when asked if she feels "responsible, even guilty, for setting an unrealistic, unattainable beauty standard." In her defense, she shared, "If I'm doing it, it's attainable."
The mother of four has been called out several times for editing her pictures. On one occasion, she even admitted doing it when she and her family edited Khloé Kardashian's daughter, True Thompson, by superimposing her onto Kylie Jenner's daughter, Stormi Webster, in a photo from a trip to Disneyland.
Back in April this year, she faced another backlash when she uploaded a poolside snap of her however many noticed that her belly button was missing. However, the celebrity denied those accusations and shared that she concealed it with one of her products os SKIMS. She also faced backlash in early 2022 when she posted snaps from her SKIMS Swim collection photoshoot, with many fans immediately pointing out that her leg was spotted warped apparently due to the editing. Kardashian though deleted the picture and reposted a correct picture however fans had already taken the screenshots of the photo.
Source: PageSix