Kim Kardashian and Pete Davidson were one of the most famous couples this year who garnered major media attention. The ex-pair had been leaving trails of their lovey-dovey moments with many believing that they could make an official stamp on their relationship. However, things eventually ended with the pair's separation. Were they doing a publicity stunt?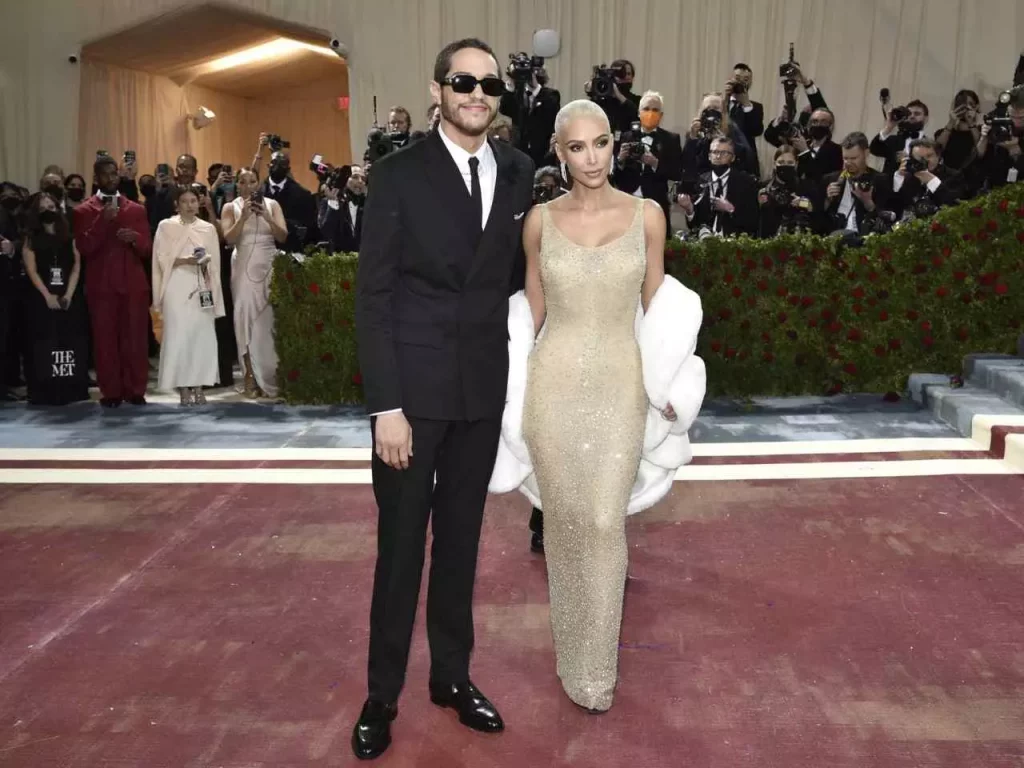 Also Read: Kim Kardashian's Sister Kendall Jenner Upset With Fans Continuously Slandering Her Image on Social Media
This could seriously be a thing as the 41-year-old socialite is known for seeking media attention. What many would find tricky is when you get to know that her relationship rumors dropped when her elder sister Kourtney Kardashian was making headlines with her beau, Travis Barker. Let's unpuzzle the whole timeline!
Travis Barker and Kourtney Kardashian Leading The Headlines!
Also Read: There's Global Warming, Pandemic Raging Across the World, the Queen is Dead – And Then There's Kourtney Kardashian and Travis Barker: "I do love the name 'Kravis'"
Back in 2021, the eldest Kardashian sibling, Kourtney Kardashian was in the spotlight with her beau, Travis Barker. The couple became fans' favorites in a short time with the POOSH founder becoming the center of everyone's attention.
Their relationship rumors sparked in 2019 with the couple making it official last year in February. The couple shared major PDA moments of themselves that were somewhat Kardashians' style but still were dominating the fans' hearts. Now here's the problem! Who would want attention, even if it would mean stealing their own sibling's spotlight? Well, if it's Kim K, it's possible!!!
The fan-favorite couple got engaged in October last year which is the same month when the SKIMS founder shared an on-screen smooch with her former beau Pete Davidson. Not long after that, the duo frequently started getting photographed together. Even the major lead moment[Barker's proposal] of Kourtney K's suddenly disappeared and the attention fell upon her younger sibling Kim K's relationship.
Were Kim Kardashian and Pete Davidson's Relationship a PR Stunt?
Also Read: Kanye West believed Kim Kardashian and Pete Davidson Would Break Up After Dating For a Short Period
The attention seeker, Kim Kardashian finally managed to get herself back on track all thanks to the comedian who started constantly garnering attention in even the simplest of things. The 41-year-old socialite started to drop hints about her relationship status that eventually got official when the 28-year-old year spilled the beans about hanging out with his beau during an interview with People (The TV Show!)
In March 2022, Kim K finally gets official with her then-beau through social media platforms. Things started getting spiced up until it got cold in August this year. Sources revealed that the couple had finally called off their relationship.
Their separation also garnered major public attention with many calling out their relationship to be a PR stunt, especially pointing to the SKIMS mogul who has a bunch of history when it comes to her relationship.
Not just the breakup, the mother of four was slammed when she was sparking rumors with her young beau as many speculated that she was stealing the spotlight which was meant for her sister, Kourtney Kardashian.
One Twitter User wrote, "the only reason Kim K is dating Pete Davidson is because Kourtney is engaged to Travis Barker and having the main character moment and Kim is trying to steal her thunder by also dating a skinny heavily tattooed alternative white boy."
Check out the other tweets.
theory – kim k dating pete davidson is literally bc kourtney and travis were getting too wayyyy more attention for their relationship and kim was becoming irrelevant

— Kara Blakeslee (@blake_SLEE) November 19, 2021
I feel like Kim K saw how much publicity Kourtney and Travis was getting and decided to "date" Pete. She can't stand the thought of Kourtney outshining her. She so used to Kourtney being the "least interesting to look at."

— Tynasia Allison (@iamtynasia) January 15, 2022
the only reason Kim K is dating Pete Davidson is because Kourtney is engaged to Travis Barker and having a main character moment and Kim is trying to steal her thunder by also dating a skinny heavily tattooed alternative white boy

— Anna Herman (@annuh_herman) November 19, 2021
Kim Kardashian: *See's Kourtney thriving on social media with a Caucasian male*

Also Kim K: Let me get one of those pic.twitter.com/4DWzsYa5br

— Leon Dior (@ItsLeonGreen) October 31, 2021
This could be one of the reasons why the 43-year-old socialite and the makeup mogul are not on good terms. This is not a secret that the siblings are known to be having some feuds as they had often been on disagreements many times.
Source: YouTube