No Time to Die actress Lashana Lynch won't confirm reports that she is the new 007. Coming off her breakout performance as Maria Rambeau in 2019's blockbuster Captain Marvel, Lynch will appear alongside Daniel Craig in the newest Bond adventure, the 25th film in the long-running series.
Lynch would not confirm that she becomes 007 in 
No Time to Die
Originally set to be helmed by Danny Boyle, No Time to Die finally landed in the hands of director Cary Fukunaga, with long-time Bond veterans Neal Purvis and Robert Wade penning the script. Later, it was revealed that Fleabag creator Phoebe Waller-Bridge had come aboard to punch up the script, as the Bond franchise attempts to somewhat reinvent itself after decades of being accused of sexism. In another possible sign that Bond is ready to enter a new era, it has also been rumored that the film sees Bond no longer carrying his legendary 007 code number, which has been handed off to Lynch's agent Nomi.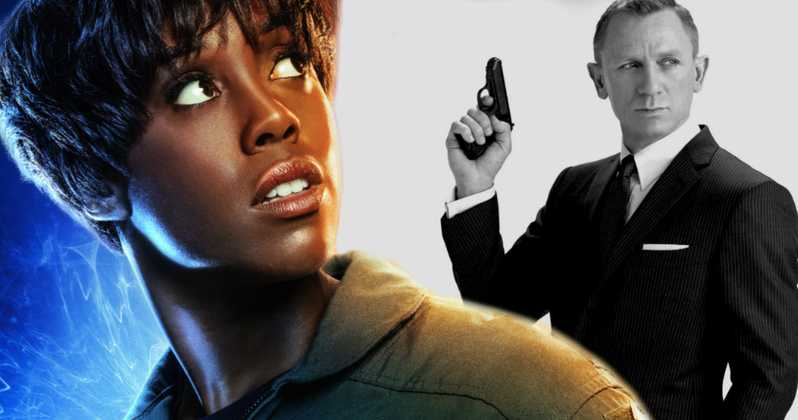 Speaking to
THR
, Lynch would not confirm that she becomes 007 in 
No Time to Die
, but 
THR
 says their sources tell them the rumor is indeed true. Though Lynch would not confirm the report, she did address the obligatory online backlash to the idea of a black woman becoming 007 (even temporarily), saying she doesn't blame the haters:
"It doesn't dishearten me. It makes me feel quite sad for some people because their opinions, they're not even from a mean place — they're actually from a sad place. It's not about me. People are reacting to an idea, which has nothing to do with my life."
That there would be backlash against Lynch possibly becoming 007 is of course no surprise given the current online climate. As for Lynch's character Nomi, even if she isn't 007, she is indeed a British agent who unlike many "Bond girls" of the past gets to be in the center of the action rather than acting as eye candy. Indeed, recent leaked set photos showed Lynch in her action gear, looking every bit the secret agent on a mission. In addition to Craig, Lynch is joined in the cast by returning Spectre actress Lea Seydoux, along with Rami Malek as the film's supervillain Safin. Naomie Harris, Ralph Fiennes and Jeffrey Wright are also back, as is Christoph Waltz as recurring Bond villain Blofeld.
Given all the tweaks that the Bond formula is clearly undergoing in No Time to Die, it will be interesting to see how audiences respond. It's plainly obvious that producers are keen to remake the franchise somewhat after all the criticisms that have been heaped upon it, and having a female 007 may only be the beginning of the makeover. Of course, Craig himself is planning to leave after the latest movie, so the character of Bond will be up for grabs for the first time in almost two decades. The world will be watching to see who lands the role of Bond in the next movie, and many will be rooting for the role to finally go to someone who is not a white man.
KEY RELEASE DATES
No Time to Die/James Bond 25 (2020) release date: Apr 08, 2020
Source: screenrant ,  THR