So apparently, Loki somehow escaped the TVA and has ended up in the Simpsons' alternate universe. And that's we would love to think as.
Apparently Disney+ is launching a crisp Loki themed parody which stars none other than Loki himself aka Tom Hiddleston and it recruits The Simpsons into the Marvel Cinematic Universe.
The Good, The Bart and The Loki premiers on coming Wednesday aka 7th  July 2021.
Tom Hiddleston is obviously voicing Loki who is banished from Asgard and ends up in  Springfield home of The Simpsons.
The God of Mischief will team up with the most mischievous person in Springfield aka Bart Simpson and with Bart Simpson and will be paying tribute to the Marvel Cinematic Universe.
The key importance that stands out The Good, The Bart and The Loki is the fact that the poster is inspired by the poster of Avengers: Endgame, with various characters from The Simpsons representing members of Earth's Mightiest Heroes.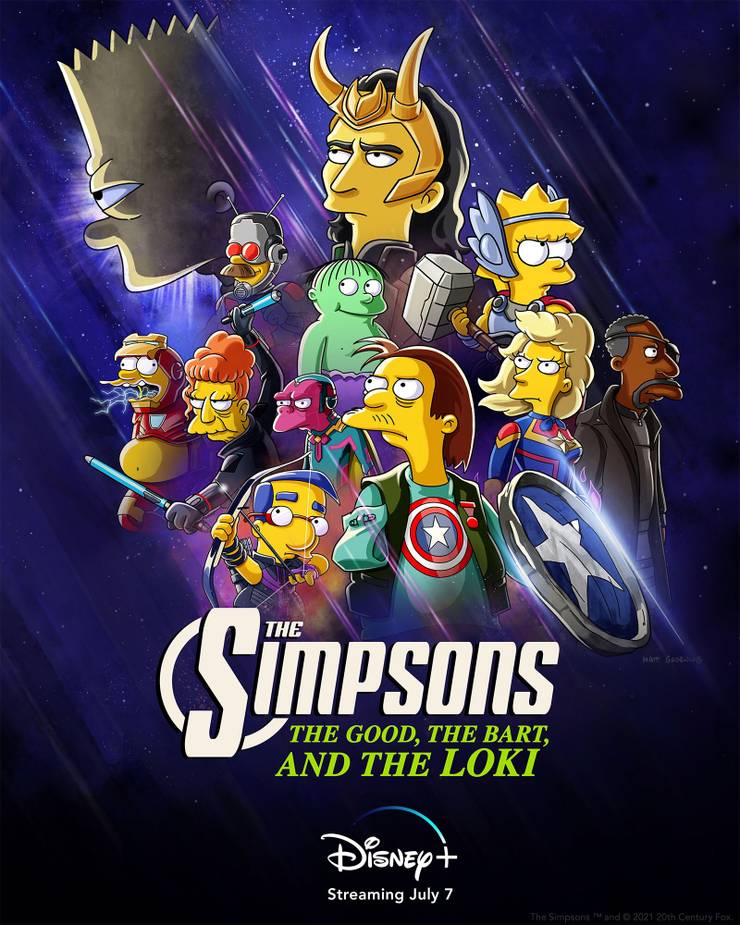 Some of the familiar characters include Loki who is taking the center stage in the place of Tony Stark while Bart is representing Thanos, Lisa is Thor aka God of Thunder, Milhouse is taking place of Hawkeye; Ned Flanders takes the position of Ant-Man; Ralph Wiggum is Hulk, Barney is Iron Man and Carl is sporting Nick Fury.
This is the second Simpsons short to highlight some of the Disney's marquee brands.
There was a previous entry was the Star Wars- themed short Maggie Simpson in The Force Awakens from Its Nap.
A synopsis of this short on Loki goes as "Loki follows Thor's unruly, adopted brother as he jumps throughout human history as an unlikely influencer on historical events."