The much awaited Marvel's Loki series finally streamed the third episode on Disney+
And many questions of the fans were finally answered. In the third episode, " Lamentis," Sylvie tells Loki that she doesn't even have clear memories of her mother and maybe the answer of her true identity in the comics could explain us the same.
Sophia Di Martino's plays the role of this Loki variant who is extremely clever and had no problem escaping the capture by the Time Variance Authority and wants to destroy the entire organization including the sacred timeline.
And the egoistic Loki is actually fascinated by her and they have a lot of similarities between them.
Sylvie hates being called Loki and prefers to go by her own identity despite the fact she hasn't revealed the reasons for her dislike towards Loki.
Loki understands seeing the Asgardian text on her sword and her clothes that she was adopted and maybe Sylvie has a very similar back story just like our Loki has in the Marvel Cinematic Universe.
But apart from all these, her memory doesn't seem to come back clearly.
On the other hand, Loki has pictographic memory of his past on how he is raised and even taught magic by Frigga.
Whereas, Sylvie doesn't even remember her own mother and she "just blips of a dream at this point."
This could be a possibility considering the latest Loki promo, Sylvie was taken away from her parents by the TVA when she was just a toddler.
There is another explanation which is that Sylvie probably doesn't have a mother.
In the Marvel Comics, Sylvie was actually created by none other than Loki himself as part of another plot to spread mischief.
Sylvie was apparently given faux memories of growing up in Broxton, Oklahoma (the same town where Asgard was created after it fell in the comics.)
One day she randomly woke up and had powers and she believed herself to be an Asgardian and she went on to join the superhero team as Enchantress.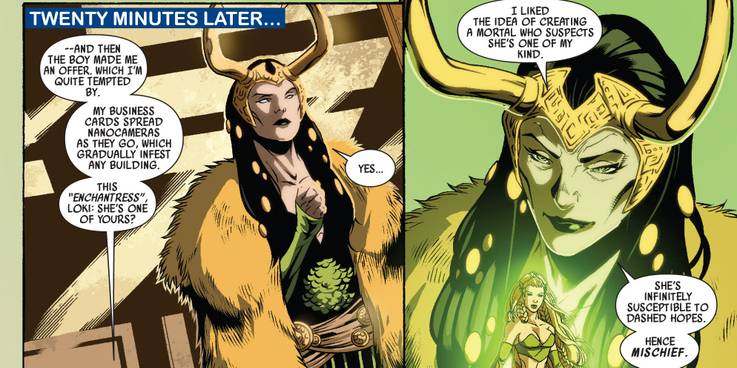 The reason why she had apprehend by the TVA was because Sylvie was created by Loki (considering the Comic Version).
If she was never to exist, then she could have violated the sacred timeline.
She does some shocking revelations to Loki which TVA considers to be likes.
The staff members are not created by the Time-Keepers but are actually variants whose memories have been wiped and been repurposed. So maybe Mobius and all other agents don't know their real identity.
After all in the second episode of Loki it was revealed that Loki has been apprehended by the TVA more times compared to any other variant.
So many Loki at a point go sick of the TVA and one of his version created Sylvie with the intention to create chaos among the TVA causing the ultimately causes the downfall.