Loki series debuted on Disney + on Wednesday and has left the Marvel fans with so many questions.
Loki was taken captive by the Time Variance Authority for his crimes against the sacred timeline and taken to the TVA headquarters.
The elevator at the TVA headquarters in the first episode of Loki, has these symbols which are bit difficult to read or understand.
In the trailer, the elevator was actually a set up scene between Loki and Mobuis M. Mobius.
Marvel in the series premiere episode also revealed that the TVA was created by three alien: beings that were known as the Time Keepers.
Basically the purpose of the TVA is to oversee time in the multiverse and protect it from those who could possibly interfere with the "Sacred Timeline
Loki learned about the TVA and their "work" the hard way after getting arrested and thanks to his brief stay there, the viewers got a chance to know more about the backstory of the MCU's multiverse and the time travel rules.
Although, the introduction of the TVA has provided many interesting details, there are lots of things that the viewers do not know about them.
One such thing about them is the mystery regarding the symbols next to the buttons in the elevator.
There were some assortments of letters and numbers which looked they were randomly put together.
They read something like this "FHF",  "GYE", "3FG"etc.
They were sort of separated by a singular column of symbols which are not really part of any known language in the MCU.
Apart from these many symbols there was only one symbol which we could figure out and that was the smiley face at the bottom which represents Miss Minutes aka the TVA mascot.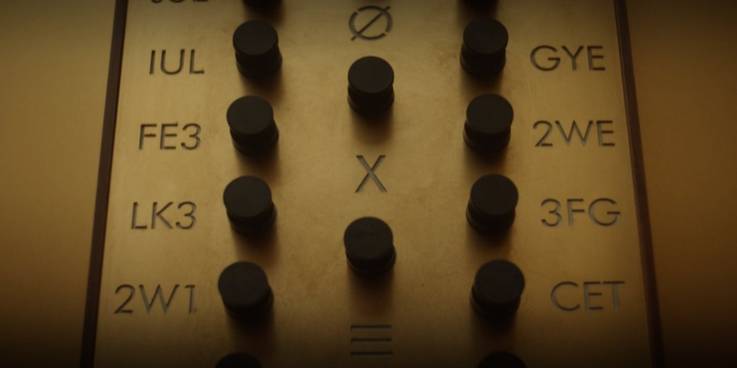 While these are just open to speculation at large for the fans, some of them have tried to connect them with the previous releases from the MCU.
However they are not correlated to any films, teams, concept or even characters from the Marvel films or series.
One interesting theory that is going around is that each symbol corresponds with the timelines in the multiverse that TVA is currently monitoring.
The TVA could have assigned abbreviations like "2WE" and "LK3" to some various crunching timelines or the realities that have discovered.
Further the organization could have assigned the floors to one world, plant or time period with the TVA agents ensuring the safety there.
There is a possibility that these symbols could not even be important but it would good to have some idea probably as the series progresses.
TVA has sure made their presence scary and clear and Loki could end up exploring a little of their huge headquarters this season!