Natasha Romanoff, aka Black Widow, is a famous Marvel character and she's also had relationships with many characters as well. She has rightfully earned her place in the Marvel universe as one of the deadliest spies. Let's talk a little about her history. She was born in the Soviet Union, however, was orphaned as a child during an attack on Stalingrad. She was then rescued by Ivan Petrovitch Bezukhov, who raised her and trained her. Her skills soon got the attention of the KGB and she was then sent to the Red Room. Now, let's talk about her many relationships in the Marvel universe.
1. Clint Barton
Clint Barton, aka Hawkeye, as seen in the MCU as well is Romanoff's close friend. However, in the comics, he was Natasha's first relationship. They first met when Nat was trying to infiltrate the Stark Industries. Nat and Clint were instantly attracted to each other. Later on, Clint joined the Avengers, and Nat was kidnapped by KGB and brainwashed temporarily. She later broke free and became an Agent of the SHIELD.
2. Spider-Man
Surprised much? While in New York and still with the SHIELD, she was taken by HDYRA and regressed into her older identities, i.e, school teacher Nany Rushman. Due to her obsession with redheads, she was saved by none other than the web-slinger, Spider-Man. Even though they were attracted towards each other, the growing relationship somehow didn't feel right. When she got her memories back, she agreed that her feelings weren't real.
3. Daredevil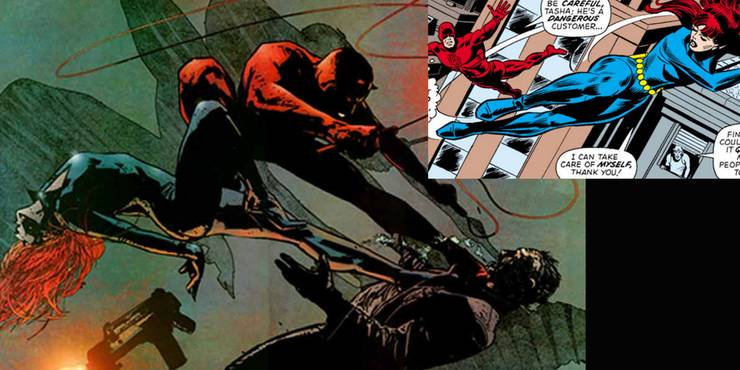 After some uncalled events, she resumed her work as the Black Widow, but alone this time. She moved to New York City, handling crime on the street level. It was during this time that she met Daredevil and they began their relationship. It got serious and they moved to San Francisco to start a new life. However, the two parted ways once Nat felt like he wasn't treating her as an equal. But the two remain very good friends to date.
4. Alexei Shoshtakov
The character made his MCU debut with Black Widow but has his backstory severely altered. In the comics, KGB brings in Alexei for the arranged marriage with Natasha Romanoff, who is training to be a ballerina and not a spy. Their marriage was going just fine until KGB decided to fake Alexei's death to make him a super-soldier. When Nat finished her Red Room training, she discovered that her husband was alive all this while.
5. Tony Stark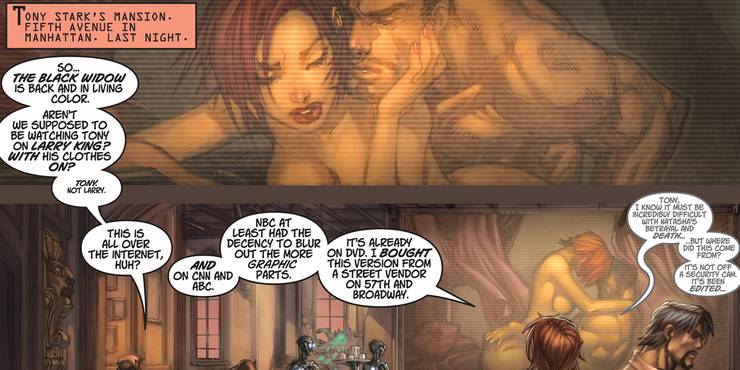 In the MCU, Black Widow made her MCU debut in Iron Man 2.  As we have seen, she becomes a close ally to Iron Man, both in the MCU and Marvel Comics. But she was initially assigned with the task to infiltrate Stark Industries and kill Professor Anton Vanko, aka The Crimson Dynamo. He was a Russian scientist who had basically become loyal to the US. Of course, Stark being Stark, he never becomes a major love interest. But two did have their moment, and in the Ultimate Universe, they actually do engage and Widow ends up betraying him.
6. Michael Corcoran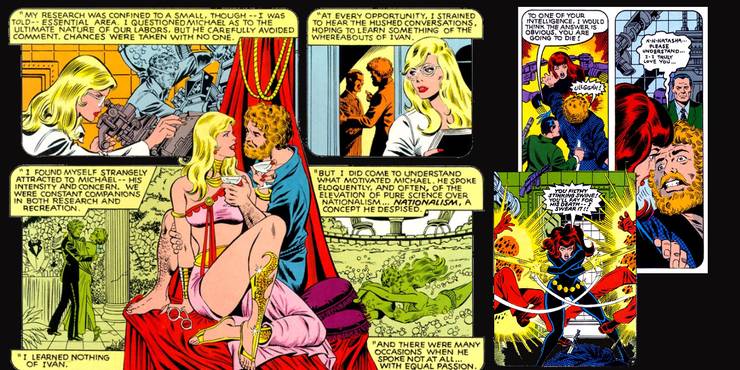 When Nat started her career as a spy, she did get into some unexpected relationships. In Marvel Fanfare #13, she met Michael Corcoran who was an American scientist, however, loyal to the Russian government. She met him when Nat was on a mission to find Ivan Petrovitch, the man who adopted her and became her foster father. She went undercover as a scientist and began a relationship with him. However, it was later unearthed that it was a trap by KGB and he was then killed in front of her.
7. Bucky Barnes
During Marvel's Civil War, Steve was was assassinated and Nat rekindled her relationship with Bucky. Remember, Bucky is no longer the brainwashed version created by HYDRA. Moreover, she is the one who convinced who him to take up the mantle of Captain America. They continued to work together and stayed till the very end. But it all came to an end when Nat met her untimely death at the hands of HYDRA-operated Steve Rogers during the Secret Empire event.