Many fans around the world can't wait to try out Disney+ for themselves once it launches in the U.S. on November 12, but some international fans have already gotten the opportunity to test out Disney's new streaming service. And after seeing some videos and screenshots of the platform, people are noticing something that seems a little strange: Disney+ suggests that Marvel shows aren't part of the Marvel Cinematic Universe.
Fans express their confusion on social media
As some have started pointing out, the television shows are in a completely different section on the new streaming service than the movies from Marvel Studios. If you go into the larger "Marvel" section to browse programming, you'll find movies like Doctor Strange, Ant-Man and the Wasp, Iron Man, and Iron Man 2 under a section labeled "Marvel Cinematic Universe." The television shows, on the other hand — like Agents of SHIELD, Agent Carter, and Inhumans — are under a section named "Marvel Series And Specials."
This is a bit surprising for fans, considering how Marvel has continually shared how its series are connected to its films. And as avid viewers of Marvel films and programming, we have to agree that it's confusing to see Marvel Series and Specials so separated from Marvel Cinematic Universe on the new streaming platform. New fans who are wanting to learn more about the MCU and who are relying on Disney+ for content may not realize just how connected Marvel television is to the Marvel films.
Are Marvel series under categorization?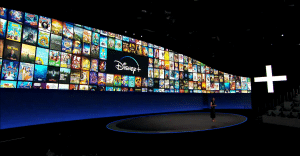 But it's also important to note that this could simply be a way for the streaming service to organize its content. With so many Marvel films and shows, maybe it was hard for the Disney+ team to decide just how they would organize everything in a way that makes sense. Plus, Disney+ has yet to launch in the U.S., so the suggestion that the MCU is separate from Marvel series may not ring true once the streaming service makes its debut this fall.
We're not exactly sure if Disney+ is intentionally trying to make a distinction between the Marvel Cinematic Universe and Marvel series, but if more information arises closer to the Disney+ launch date, we'll keep you posted.
Sources: ComicBook, INSIDETHEMAGIC.COM