Old Man Logan finally comes face to face with his death. Somehow it was the end of the line for the Marvel Character a long time ago. Dead Man Logan #12 shut the door on the character some time back. Old Man Logan has featured in many cross universes and across the country. But he has finally come to the end of the road and goes on one last mission to help people close to him.
Dead Man Logan #12
Sabretooth and some of his followers' corner Logan, Hulk, and the new Thor in the last issue. Logan decides to use the ultimate tool for the fight with his nemesis. Mr. Sinister and Sabretooth think that the heroes are precisely in the place they belong. Dani Cage becomes the new Thor after a fall near God's discarded hammer. Logan injects the last vial of Regenix for his previous battle. Though Sabretooth tells Wolverine that he isn't aging backward and that he has slowed down. Sabretooth injects Logan with Adamantium poison with a stab in his gut. Though poison endangers the victim's life, the close interaction allows Logan to cut down his opponent.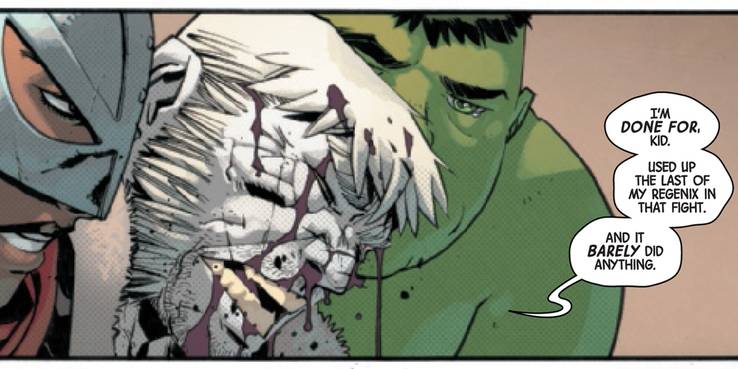 The New Thor tackles Mr. Sinister, and the duo head back to Logan's home. The younger heroes help Logan to the graves of his loved ones. Logan knows what's about to happen and get mentally prepared for the same. After apologizing to his family and acknowledging the young heroes, Logan falls to the ground. Dani Cage and Hulk bury their close friends and forge their way forward.
Avengers of the Wastelands
After the departure of their close friend, a new member will be joining the duo to form a team. The adventures of the trio will continue as they help others on their way forward. Ed Brisson writes avengers of the Wastelands with art by Jonas Scharf. This is a five-issue limited series that discovers a new force arising in the Wastelands.
Fifty years ago, Super Heroes fell at the hands of the Red Skull. Dani Cage wields the mighty Mjolnir for the cause of peace. But when the brutal regime of Doctor Doom forces Dwight (AKA the owner of the surviving Ant-Man technology) to Dani and the Hulk in a last-ditch effort to survive, the Avengers have the chance to assemble once more!
Find out the rest with the release of the new series Avengers of the Wastelands soon.
Source: Comicbook