Stan Lee was Marvel's ambassador to the world, which led to a succession of well-received cameos in film adaptations of his company's comics. In its retro-90s narrative, Captain Marvel found a clever way to respect that. Its Lee appearance is more subdued than many of the others, which is understandable given the film's far-flung space-opera premise. But it's unique in its own right because of how it draws on Lee's own background. His appearances in the Marvel Cinematic Universe were far from his only onscreen appearances, and they date all the way back to the era Captain Marvel represents.
The Cameo
Carol Danvers is still an amnesiac in the Kree's service when the cameo happens early in the film. In 1995, she appears on Earth and pursues a Skrull fugitive onto a Los Angeles public train. She discovers Lee with his nose buried in a screenplay as she goes through the passengers one by one. She tilts the pages back to face him, only to be greeted with a wide smile before she walks on.
Mallrats –  The movie contains a cameo from Lee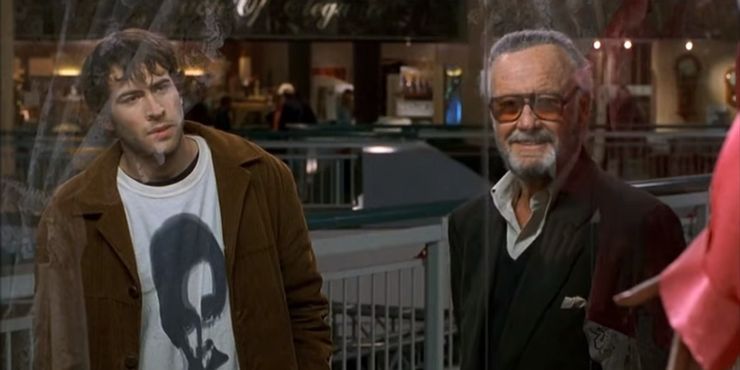 It's brief, and it's representative of the effortless charm Lee exhibited. The comedy isn't so much in the cameo as it is in the script he's reading: Kevin Smith wrote and directed Mallrats. That film, which served as Smith's follow-up to his breakout success Clerks and was situated in the same universe as many of his films (later termed the "Askewniverse"), was released in the same year, 1995. The film was considered a disappointment, but it has since developed a cult following. More importantly for Captain Marvel, the film features a cameo by Stan Lee, who offers guidance on love life to one of the heroes and explains the more intimate parts of superhuman anatomy.
Lee was playing himself  
The Mallrats script contains a clear reference to Captain Marvel, with Lee probably playing himself rehearsing his lines prior to filming. Carol's crash landing through a Blockbuster video rental store a few minutes early in the film sets the tone for this time capsule. Smith's films influenced the growth of independent studios that defined that age of filmmaking, and Clerks would very certainly be among the VHS tapes available at that Blockbuster.
Despite serving as the voice-over narrator for various animated Marvel shows in the 1980s, Mallrats was Lee's first film cameo as himself. One of the tragic endings to Captain Marvel was that it was the first of his cameos after his death in November 2018, and while he had another in Avengers: Endgame a few months later, this was the first time fans had to deal with his death. It was weirdly appropriate that it referenced his first onscreen appearance. It's a reminder of not only his longevity but also that he was Marvel's globe ambassador long before A-list movies were a factor.