There have been countless tidbits of new information regarding Marvel's Avengers being released regularly, leaving fans excited for the upcoming video game. However, the developers and publishers of the game have slightly held back from revealing insights into the art and illustration of the game. Almost everything that has been released visually is linked to the prologue video released earlier. Fans are scraping at the scraps of information to get a visual depiction of the upcoming game. The recent announcement, revealing that the game will tease a few future Iron Man suits, has undoubtedly left fans excited for the video game. 
Marvel's Avengers Official Twitter Statement
"In addition to the iconic armour, other Iron Man armours will have a wide variety of design breakup and colours that touch on various Marvel designs, as well as some exciting and unique new armours," the official Twitter account for Marvel's Avengers tweeted yesterday. The tweet lacks any specific armours from being mentioned, but the only visual that's been publicly revealed was the armours, red-gold base model. 
Expectations For Armor Reveal In Video Game
https://encrypted-tbn0.gstatic.com/images?q=tbn%3AANd9GcQMkg84k7DA1CBofDx0bjvP6gGWDb_sOYjj1PcpwdX8sXvzn7sT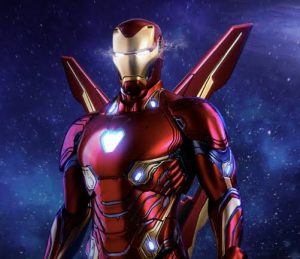 Fans have been busy pondering over what exactly might be the 'unique' armours that were mentioned. A majority of the fandom is excited at the prospect that the Iron Man suit from Infinity War might make an appearance. It leaves open a lot of possibilities with the way the developers can go about with the Infinity War armour. The Marvel Universe has the potential to involve a vast number of options and twists into Stark's armour, and that is excluding the fact on the role that villains tend to play in the development of the armour. 
Availability Of Marvel's Avengers
The Marvel's Avengers video game is developed by Crystal Dynamics and published by Square Enix. The release of the game is scheduled for a May 15, 2020 release. It will be compatible with PlayStation 4, Xbox One, PC and Google Stadia.
Watch the gameplay footage for Marvel's Avengers here: