When Chloe Zhao met Kevin Feige and co. with her vision for Eternals, they were quite happy with where things seemed to be going.
"Her initial pitch to us was fascinating," Feige said when asked about what he thought of Chloe on the directorial helm for Eternals, "And frankly one of the reasons we moved forward on the movie was because of the vision that she brought to it."
At a time where a lot of studio executives in Hollywood are being accused of interfering with the production process, Zhao has praised Marvel Studios for giving her the artistic freedom to make the film however she saw fit.
"I shot exactly the way I wanted to shoot. On location. A lot of magic hour. Three-hundred-sixty degrees on the same camera as I did on Nomadland. Same rigs. It's a bit surreal. I'm still waiting for the shoe to drop. It hasn't. I think I got lucky in that Marvel wants to take risks and do something different."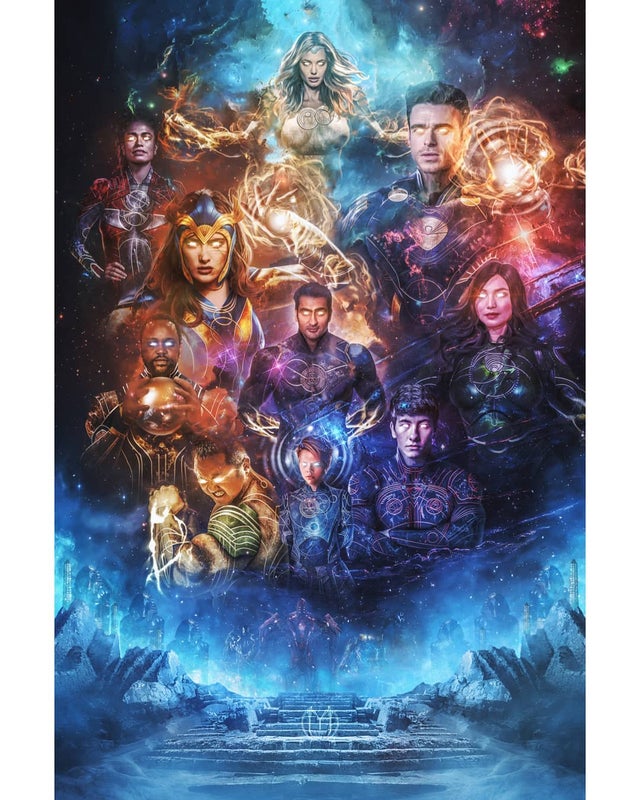 Zhao has also talked about the childhood influences that she has brought into the movie.
Beijing born, Zhao was a big fan of Manga – the Japanese comics and says Eternals will have a lot of Manga influenced elements.
"I have such deep, strong, manga roots. I brought some of that into Eternals. And I look forward to using more of that marriage of East and West."
Zhao also said she wanted to push boundaries with her thematic ideas, after the massive success of Avengers: Endgame, and see how far she could go.
She mentions that her vision for the movie is to go as much further and bigger as possible, since she is making this movie, not as its director, but "as a fan."
Eternals will also be representing an LGBTQ relationship in the superhero franchise on such a big scale for the first time.
On that, Feige said "was always sort of inherent in the story and the makeup of the different types of Eternals. I think it is extremely well done, and I look forward to that level of inclusion in our future movies being less of a topic."
Another unexpected thing that we learned about the Eternals is that there will be a big production in the movie, but Bollywood style.
Cast member Kumail Nanjiani who plays Kingo happens to be a Bollywood star in the film. He said there will be a Bollywood dance number with some 50 dancers in it.
"When I walked onto the set and saw a huge group of brown people who were going to be in a Marvel movie, I felt such gratitude towards Chloe for creating the situation. The scene was full of joy."
The cast for Eternals is multicultural, which includes names like Gemma Chan, Brian Tyree Henry, Salma Hayek as well as a deaf actress named Lauren Ridloff.
Zhao describes her vision for this movie as that of an outsider's superhero movie.
"I wanted it to reflect the world we live in. But also I wanted to put a cast together that feels like a group of misfits. I didn't want the jocks. I want you to walk away at the end of the movie not thinking, 'This person is this ethnicity, that person is that nationality.' No. I want you to walk away thinking, 'That's a family.' You don't think about what they represent. You see them as individuals."
Directed by Zhao, Eternals features a cast of Angelina Jolie as Thena, Barry Keoghan as Druig, Brian Tyree Henry as Phastos, Don Lee as Gilgamesh, Gemma Chan as Sersi, Kit Harington as Black Knight, Kumail Nanjiani as Kingo, Lauren Ridloff as Makkari, Lia McHugh as Sprite, Richard Madden as Ikaris, and Salma Hayek as Ajak.
Marvel's Eternals is currently set to release in theatres on February 12, 2021.