Actors always have to bear the brunt of the characters they portray on screen. It's a sad reality that fans find it hard to distinguish between an actor's real and reel personality and the trolls that have nothing better to do, than spread hate. The latest recipient of this baseless online hatred is a young 19-year-old actress, Emily Carey, who stars in the HBO series House of the Dragon. The British actress had to delete her Twitter account in response to the unprecedented amount of hatred she was getting from bullies online.
Targaryan v/s Hightower: House of the Dragon sees the renewal of the old tussle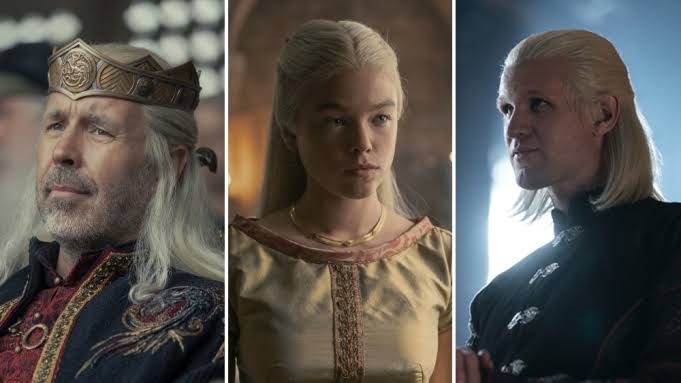 In the hit HBO series, Carey has been cast in the role of Alicent Hightower who has to fight her childhood best friend Rhaenyra Targaryen for succession. The Game of Thrones fandom was characteristically polar, with every fan determinedly siding with the family of their choice, be it Starks, Targaryans, Lannisters, or whatever. The prequel incited a similarly charged side-taking between House Targaryan and House Hightower.
Also Read: "We owe everything to her": Fans Claim House of the Dragon Was Made Possible Because of Emilia Clarke's Legendary Daenerys Targaryen in Game of Thrones After Being Called Dumpy By Foxtel CEO
The inception of the Carey controversy dates back to the San Diego Comic-Con last month, where the cast of House of the Dragon, including Emily Carey, went to promote the Game of Thrones prequel. The actress shared her experience of playing Alicent claiming that she had "freedom" to portray a younger version of the character.
"There were some gaps that we had to fill, so to figure it all out I sort of started journaling, and … managed to come up with some form of backstory, and it proved to be very useful. I've never had the freedom to create a whole human being like this before. So it was so much fun being able to go so in depth with her. There are so many layers to her. I think lots of people are already expecting her to be the villain of the show, but I think bringing her in younger, there was a lot more to explore."
Also Read: "She's uncomfortable in her skin": House of the Dragon Star Milly Alcock Didn't Take Inspiration From Emilia Clarke's Daenerys Targaryen For Rhaenyra
Emily Carey bullied for nothing
Emily Carey's statement didn't sit right with the Taragaryan loyalists who took to Twitter and spammed Carey's feed with all sorts of flak. The young actress was called out for not taking note of the original George R.R. Martin spin-off book Fire and Blood.
Carey had responded with a now-deleted tweet, saying, "I stand by what I said in the panel. Alicent is not the villain, folks. When we meet her she's a child, a product of the patriarchy. Just you wait and see. Maybe you'll sympathize."
Also Read: 'HBO Max About To Dracarys Netflix and Disney+': Game of Thrones Fans Bow Down to Brilliant House of the Dragon Trailer, Say Matt Smith is the 'Perfect Targaryen'
However, eventually, she thought it was better to delete the account altogether. In conversation with News.com.au, Carey said,
"I love social media. I'm 19, so I'm all on social media, and I've been on social media since I was a kid because I've worked since I was a kid so I'm very conscious of things. Any hate that comes in, it's just … It's a person behind a screen. You just have to move on from it. But I will say I did delete Twitter [after Comic-Con] because it's just so loud. Even when it's good, there's so many and it's so loud. I love the buzz, don't get me wrong, but sometimes it can be overwhelming, and that's me being completely transparent."
Carey's statement shows a nonchalant affectation but a young actor like her is undoubtedly in an impressionable state. It is high time people understand that the hate they needlessly spew has consequences for someone's mental peace.
Also Read: "It's like Succession with dragons": House of the Dragon Explains How Prequel Series is Different From Game of Thrones, Says Succession and The Crown Were Major Influences
Source: New York Post