The debate on "Who has been the best Spider-Man" has been going on Andrew Garfield stepped into Tobey Maguire's shoes and it will probably be going on for years. As they say, humans are never satisfied. But to everyone's surprise, Tom Holland was wonderful in the MCU as Spider-Man. According to hardcore Marvel Comic fans, Tom brings a childlike appeal to the role of Peter Parker which fits the character's personality perfectly.
Tom as Spider-Man/Peter Parker has been hilarious throughout his fame and fans are loving the same. They have even pointed out that he has a face worthy of memes.
We personally think that amidst all the MCU memes, Tom as Spidey, takes the crown.
Here are some memes that will make you think Tom Holland is actually in his character all the time.
10/10 for Distraction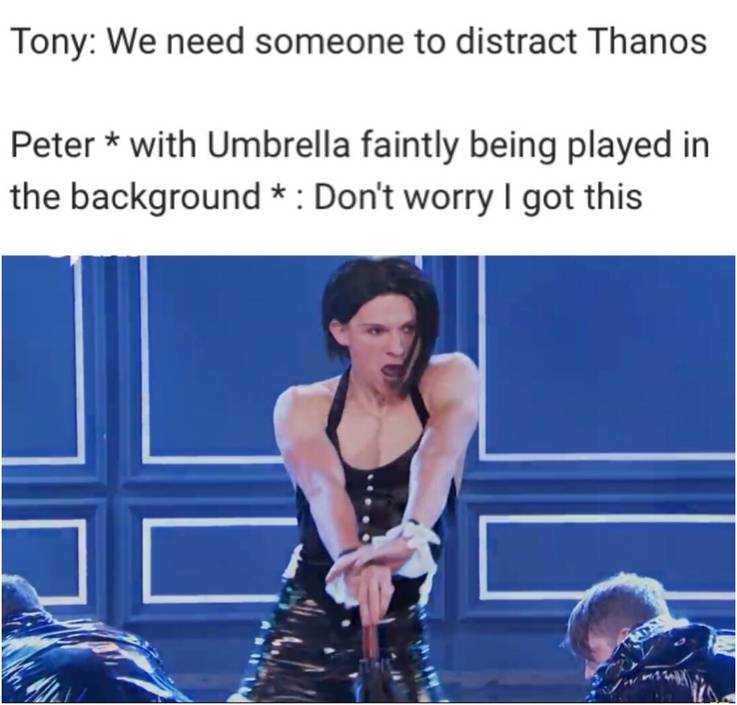 Tom Holland fans like to refer themselves as "Hollanders" were way too pleased when he came on Lip Sync Battle. His "Umbrella" by Rihanna performance was so spectacularly hilarious that viewers couldn't keep their eyes off.
He even went an extra mile to dress perfectly for the part and the wig added the hilarious touch.
And of course, the internet HAD to make a meme.
The person who made the meme wants to say that if any Avenger needs to distract Thanos to make sure their plan is well executed, Peter would be of perfect help. This sexy dance would distract anyone for sure!
No Clue What So Ever.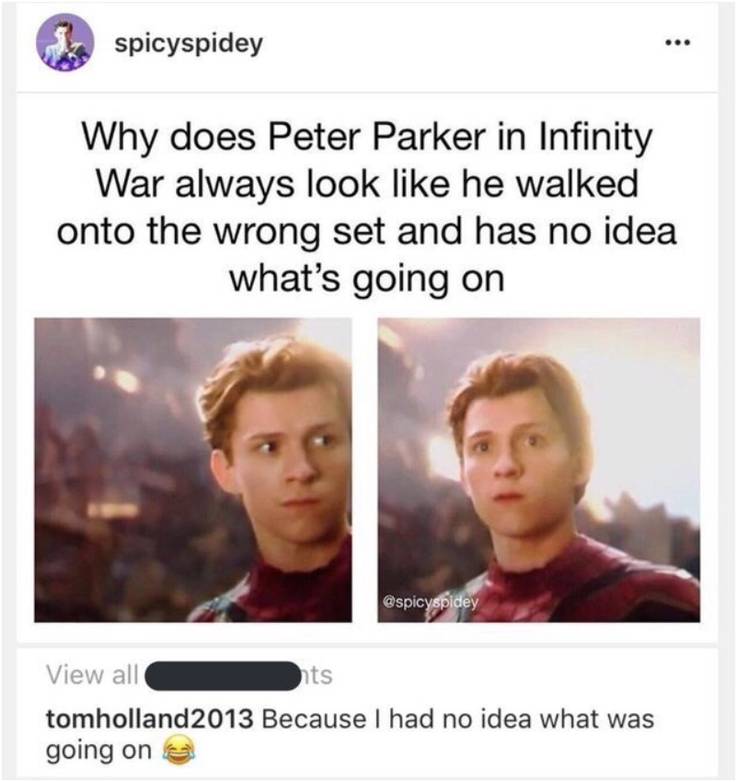 Nothing ever goes unnoticed by a true Marvel Fan.
One fan like that noticed a really interesting thing in Avengers: Infinity War". This meme shows that he has been clueless and confused and totally unaware of what is happening in the scene as if no one ever brushed him up the scene. And the funny part is, it is his own scene.
When the meme hit the internet, Holland, being a darling actually commented taking it sportingly that he looked confused because he actually was. We all know that Holland slips away lot of spoilers and maybe that is why the directors didn't give anything away  to him.
Dare You To Repeat It!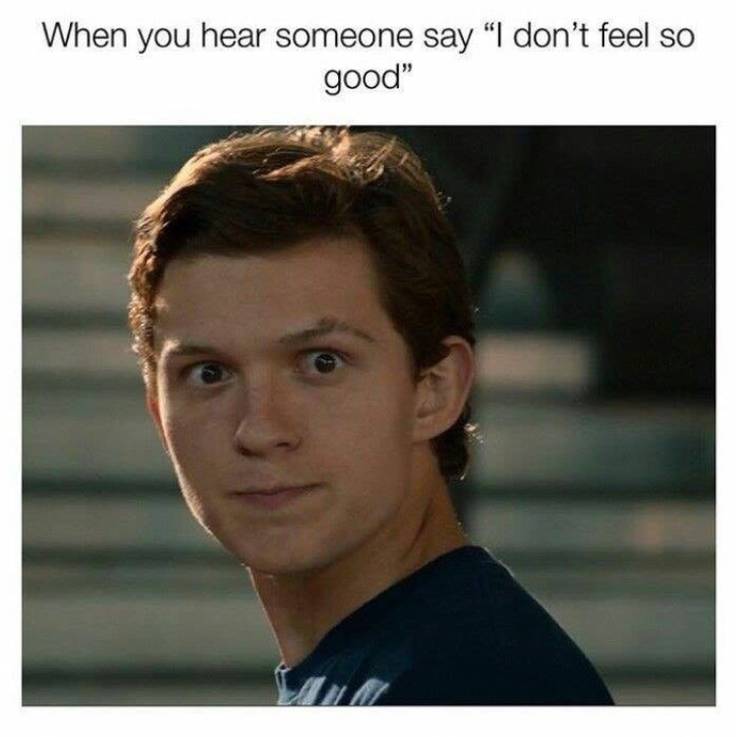 We all know what a goofball Holland is, just like the rest of the cast. This another "meme-able" face during his gag for Spider-Man : Homecoming was another perfect meme template.
We all were left with an heartache when Peter said the iconic words, "I don't feel so good Mr. Stark". None of us expected Peter to be one of the victims who got snapped. This line still haunts us all. This photo of him with a look of anger and irritation perfectly sums it up when someone says that line for a meme. No guys, we never joke about.
Peter aka Spider-Man Deserved A Break.
When Tony Stark died, Peter Parker was one of the most affected characters, probably as much as Tony's wife. It was as if he lost a fatherly figure, someone whom he had trusted and looked up to. As a result, Peter aka Tom had a tired face, red eyes due to all the crying in Spider-Man: Far From Home.
Many MCU fans desperately asked for a break for Peter so he could rest. Obviously that didn't happen, but what we got was a Sony- Marvel break up! Well that had us all worried as it meant Tom's role as Spider-Man in question. This meme was made in the same reference that no one asked for that break. But to everyone's relief, he is staying!
The Shocking Post Credit Scenes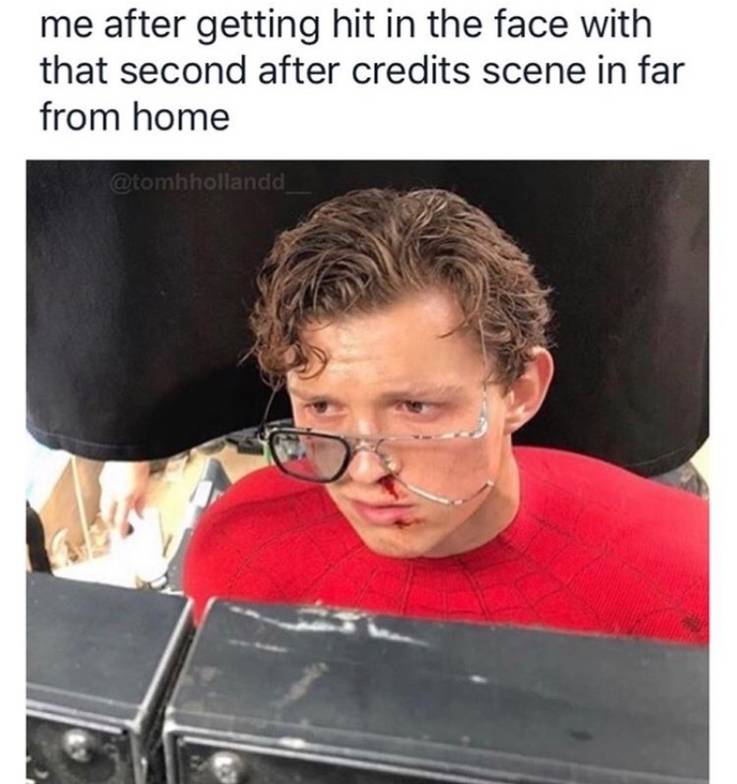 The latest Spider-Man movie was intense, but what was more was the mid credit scene where Mysterio reveals Spider-Man's identity and bad mouths him. The second credit scene too had a shocking reveal about Fury and Hill. This meme perfectly describes all of our reactions to the same.