Meghan Markle has landed in hot soup after her controversial stance against the Royal Family. Often blamed as the "home breaker", "not up to the mark"," not the royal kind", and "manipulative". She is still trying her best to be a shoulder to her husband in this hour of grief. Financier Ben Goldsmith claims that she is disliked because she is a "is a manipulative bully".
The outspoken are suppressed, that's what happened after Meghan Markle and Prince Harry decided to renounce their titles. They even opened up about the Royal culture in conversation with Oprah. The royals have always been secretive and indeed the lady in the family is blamed for it, Princess Diana or the Duchess of Sussex. It seems that the royal family would prefer to stay secretive as much as possible. Even if it means leaving Prince Harry and Meghan Markle to grieve alone during the funeral.
Meghan Markle and Prince Harry were alienated
During the funeral of Queen Elizabeth II, the Duke and Duchess of Sussex can be spotted standing separate from the rest of the family. A media commentator, Neil Sean, pointed out the alienation. He revealed what the thoughts of the family could be during that moment.
"When you look at these pictures, clearly, no one is talking to them. Even their closest [friend], Princess Eugenie, seemingly, had lost the power of speech on that day, and seemingly did not want to speak to Harry or Meghan."
The couple was left alone to grieve. The fact that even Princess Eugenie had to maintain that distance says that this was done out of spite. It seemed to be a coordinated effort to keep the couple away from themselves. Prince Harry and Meghan Markle only had each other's shoulders to comfort during the funeral.
Also Read: "Kate was indeed terrified"- Kate Middleton is Afraid Meghan Markle Would Leak Their Private Conversation For Her Own Profit, Decided to Stay Away From Her After Queen's Death
Being distanced from family during a funeral has got to pinch
The royal family is no stranger to treating Prince Harry and Meghan Markle as outsiders. They were not even officially invited to the funeral. However, leaving a brother to grieve alone seems to be a much harsher treatment than anything Prince Harry could have predicted. The lady who pulled away Prince Harry from his royalty was the only one left to comfort him. Neil Sean went on to state that the alienated couple understood what the royal family was trying to do.  "So apparently, Harry and Meghan fully understood why they were left alone". Needless to mention that even if this was a pre-planned and coordinated event, The Duchess of Sussex is the only one left to comfort Prince Harry must have made him feel just how distanced he has become from his own family.
Also Read: Meghan Markle and Prince Harry Officially Demoted By The Royal Family Amidst Relentless Drama, Pushed Way Down in the Family Website After Queen Elizabeth's Passing
The pros and cons of being celebrities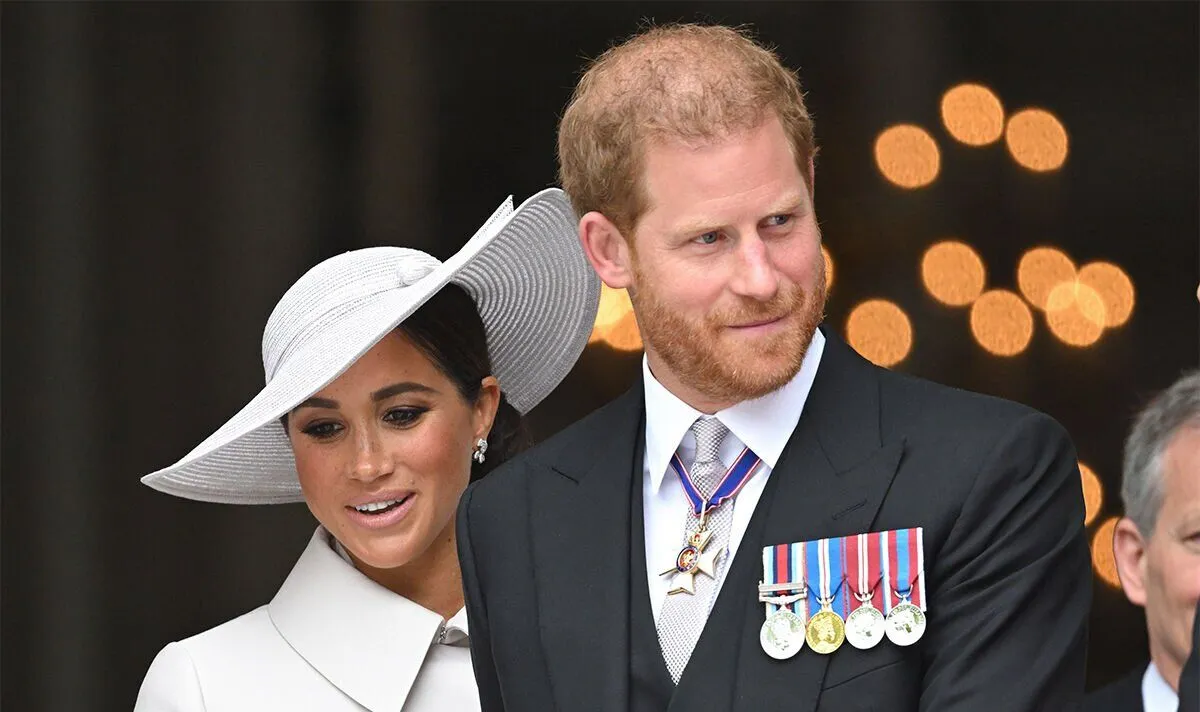 After becoming more known as celebrities rather than royalty, the shroud of privacy and respect that comes from royalty is ripped from the couple. This was the main reason that the royal family could not approach Prince Harry or Meghan Markle during the funeral.
"Allegedly, according to Meghan's people, this is all down to the fact that she or they were concerned that lip readers and body language experts, would pick up on this and decide their own interpretation."
Every tiny action can become a headline for them. Being the main attraction for the media is something they never wished for. The funeral proves that the Duke and Duchess of Sussex have already started to live very different lives from what they were used to. Becoming a celebrity inherently means constantly being in the eye of the media. The couple has enjoyed a lot of the luxuries their new lives have brought them, however, this seems to be their biggest drawback.
Also Read: "She Got Quite Upset": Queen Elizabeth Was Furious At Meghan Markle, Gave Her Etiquette Lesson After Markle Allegedly Bullied A Royal Staff For The Stupidest Reason
Source: Geo News