Tom Brady is one of the most eligible bachelors in the world following his divorce from Gisele Bündchen. In addition to fans, celebrities also have suggestions to help Tom Brady find love again. After the speculation about golfer Paige Spiranac being Tom Brady's next partner, British boxer Tommy Fury, the younger brother of Tyson Fury, advises Tom Brady to use reality TV to find his next partner, which has worked for him.
Late last month, Tom Brady and Gisele Bündchen announced their divorce after 13 years of marriage in a separate social media post. While Brady is back on the market, he has made it clear he is focused on winning football games and spending time with his family.
As a matter of fact, despite what many thought after his divorce from top Brazilian model Gisele Bündchen, the Tampa Bay Buccaneers quarterback proved in Germany that it has not marked the end of his glorious 23-year NFL career, but a rebirth.
Also Read: As World's Sexiest Woman Alive Paige Spiranac Makes Her Move on Tom Brady, New Golf Goddess Claire Hogle is Busy Stealing Her Thunder
Tommy Fury Urges Tom Brady To Find Love On A Reality TV Show
The British pro boxer Tommy Fury, 23, told TMZ Sports that Tom Brady shouldn't rule out finding love on television. Fury told the outlet,
"I've met the woman of my dreams on a show, and now she's having my children. It's definitely hope for Tom Brady out there."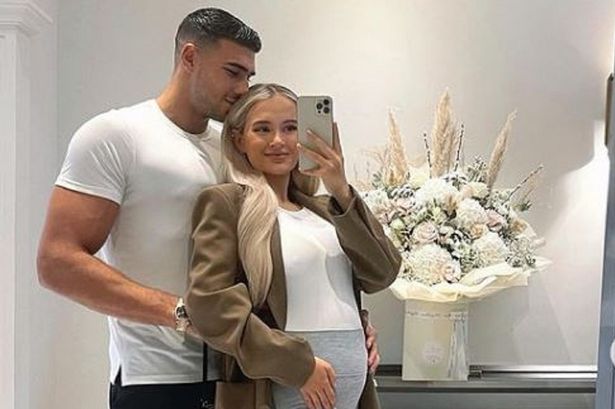 It is well known that Fury is in a relationship with English social media influencer Molly-Mae Hague. They first met on the reality show Love Island and have been together ever since. The couple revealed in September that they were expecting their first child.
According to Fury, TB12 can have a similar love story after he divorces Gisele Bündchen if Brady is willing to try. Additionally, Fury reiterated his support for Brady.
The Boxer said, "I hope he finds love, and I hope he finds the right person."
It doesn't matter; Tommy Fury says he's rooting for Brady and advises him never to give up on his pursuit of love, no matter where it comes from.
Also Read: "I always try to do my part to make someone's day better": Tom Brady Might Not Be Single For Long as World's Most Desirable Woman Paige Spiranac Leaves Cryptic Reply After Buccaneers QB Left Gisele Bündchen
Tom Brady Shares Moments With Son Jack Before Thanksgiving
As part of Thanksgiving week, Brady showed that his family is also crucial by letting his son, Jack, participate in Buccaneers practice on Wednesday. Despite wearing a Bucs cap and red Bucs shirt like his father, Jack Brady, 15, had to go through some drills. He sometimes plays quarterback for his high school team and free safety.
According to TMZ Sports, the NFL player said of Jack being at practice,
"It's the best; I had him out for training camp last year, which was amazing for a dad. It was pretty special. As much as I can be around him, the better it is."
On his Instagram, Brady also posted a picture of Jack running while he watched in the background, captioned, "My Inspiration." Brady and Bridget Moynihan's son Jack "moves better than I did at his age," according to Brady. In a recent Let's Go! Podcast Brady said watching Jack play is one of the greatest highlights of his life.
Also Read: Gisele Bündchen Burns Down All Bridges With Tom Brady – Brazilian Goddess Gets Rid of Appliances That Remind Her of Former Husband After Alleged Affair With Joaquim Valente
Source: Marca