One of the 'Game of Thrones' producers revealed that the British actor Jacob Anderson (Grey Worm) improvised while he was shooting for the battle of Winterfell. What did he do? He began yelling, "Mike Pence!"
When Did It All Go Down In Game Of Thrones?
On Thursday, producers David Benioff and D.B. Weiss appeared on "Jimmy Kimmel Live!" to discuss the final season of Game of Thrones. There they revealed how Anderson got through shooting long battle sequences at night.
Also Read: 'Game Of Thrones' Brings In The Riches For Its Actors
Why Did Grey Worm Do It?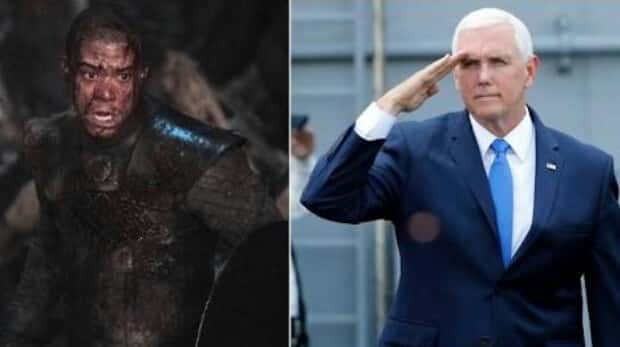 Weiss said that director Miguel Sapochnik asked Anderson, who plays the leader of the ruthless Unsullied troops, to improvise something in the fantasy language of Valyrian to rally his soldiers.
The producers said that:
"Jacob was so tired and so delirious and so out of it all that all he could think to yell was, 'Mike Pence! Mike Pence! Mike Pence!' So in one of those scenes when Jacob is yelling and pointing…what he was actually saying was 'Mike Pence' "
Of course, the scene got later dubbed over with a command in Valyrian, and Anderson was wearing a mask, Weiss said so that the audience couldn't really read his lips.
You can check out the interview above!
The highly anticipated battle scene took more than 50 nights to shoot and it was a social media sensation when it aired last weekend. It is expected to be the most watched episode in the history of the show.
Game of Thrones is airing its final season on Sundays at HBO.
(Source: thehill.com and newsweek.com)