Spider-Man just got a Captain America style upgrade in Marvel Comics.
In an outstanding new cover by Iban Coello and Alejandro Sanchez, Mile Morales dons a new costume that has a lot of resemblance to Captain America but it also has influences from Miles' Puerto Rican heritage.
However it is uncertain whether Spider- Man will wear the novel costume in the upcoming issue of Miles Morales : Spider- Man issue number 28. But even if it was just a cover appearance it is an image any Marvel fan should not miss.
In the current Miles Morales : Spider – Man series at Marvel Comics, Miles was having a grave unfortunate string of all the unlucky events that he faces.
He was recently taken in captive and tortured by Assessor; a new villain who experimented on Miles in several horrifying ways which left a scar on him and he ended up taking a short break as Spider- Man.
And as if this wasn't enough, Miles is also facing his own Clone Saga where three copies of him have emerged and it was revealed that they were the result of Assessor's experiments on Miles.
And to make it even more worse, one of these clones has kidnapped his younger sister Billie.
This new Clone Saga faced by Spider – Man will be finally wrapping up in the upcoming issue Miles Morales : Spider – Man issue number 28 by Saladin Ahmed and Carmen Nunez Carnero.
In the new cover released by the artist Iban Coello, Spider- Man is set to become his own version of Captain America.
It is beautiful cover which has Miles donning a Puerto Rican flag on his chest and even has stripe details on his limbs.
AND, Spider- Man is holding Captain America's shield which is shining beautifully as he is in action in the mid air.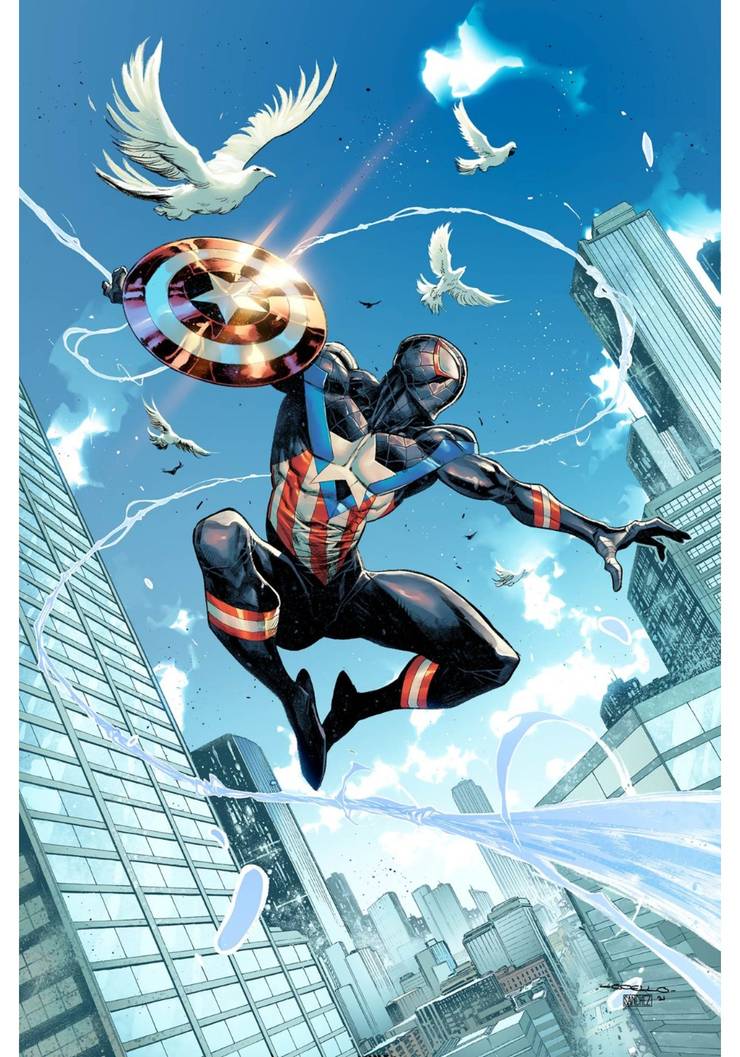 But the important question is : Is this Miles Morales or is this one of the evil clones which has constructed his own costume and shield? Anything can happen in Marvel Universe.
Check out the description for the issue :
THE CLONE SAGA REACHES ITS CATACLYSMIC CONCLUSION!•  Selim was cloned and raised to be the perfect super-soldier for hire. Miles has trouble just getting to class on time.•  Selim's scruples are also vastly different than Miles'… so Miles' family is in horrific danger.•  YOU DO NOT WANT TO MISS THE MOST HEART-WRENCHING COMIC OF THE YEAR!
Irrespective of which version of Miles Morales gets the Captain America inspired suit and shield, it's a brilliant idea and art cover.
It is hands down the best covers of Marvel Comics this year and a treat for all the comic collectors !