Along with her iconic 15-year-long impressive acting career, Miley Cyrus is also renowned as the queen of the singing world. There is no doubt in our minds that the Can't Be Tamed hitmaker is the star of the year, whether in acting, music, or her ever-evolving sense of fashion.
The Disney princess turned rock star and later turned whatever else we're calling her, maybe a 'Miley cocktail', who released her new single, Flowers, on last weekend night. The upbeat song is the first to be released from her much-awaited, Endless Summer Vacation, which will be available on March 10. The song is a 'diss track' directed at the Climb singer's ex-husband Liam Hemsworth, despite its upbeat and optimistic tone.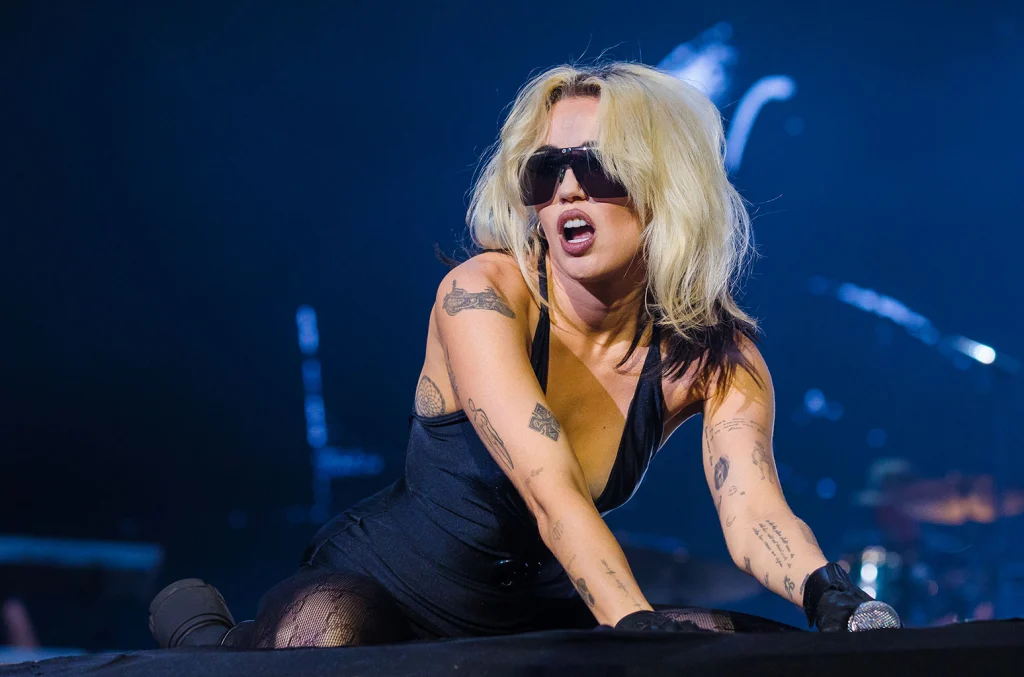 Recently, Hannah Montana star celebrated the success of her song Flowers on her Instagram while posting a picture as it amazingly hits the mark of Number one in around 12 different countries worldwide.
Also Read: Miley Cyrus' Obsession With Liam Hemsworth After Divorce Bothers her Boyfriend Maxx Morando
Miley Cyrus celebrates the success of 'Flowers' in a black mini dress!
Fans were excited for the song to come out because the Party In The USA singer chooses the release date to be January 13, which also happened to be Liam Hemsworth's birthday. Fans even developed theories about the song, which appears to refer to her turbulent relationship with the Australian actor, whom she met while filming their 2009 film, The Last Song.
The couple had a complicated on-and-off relationship between 2009 and 2018, and in December 2018, they got married. However, Miley Cyrus got separated from The Witcher actor in January 2020, less than a year after getting hitched. 
While sharing her excitement on Instagram with her fans, the 30-year-old singer sent a thank-you note along with a sizzling post (rightfully, she got the best of both worlds.)
 In her caption, the Chasing Happiness actress expressed her gratitude for the success of her song's second consecutive week being at the top of the charts.
"Celebrating "Flowers" being #1 around the world again this week! I love that this record is connecting in such a positive way & it's a pleasure to continue creating music for you. These milestones are only made possible by the listeners & my incredible fans."
The Don't Dream It's Over singer danced and posed in the film photos she shared with her 195 million followers while wearing a clip of her platinum blonde hair. The understated yet stylish ensemble highlights her toned midriff and carries on the stunning look she's been rocking this season.
Also Read: Miley Cyrus' Family Breaks Silence on Crazy Liam Hemsworth Stories After Supposed Diss Track 'Flowers'
The song, which is the lead one to come out for her upcoming album Endless Summer Vacation, also made its debut at No. 1 on the Billboard Hot 100 chart before becoming the number one song in every country.
'Flowers' is Valentine's gift for hot singles
Along with that, LOL (Laughing Out Loud) star released the song just hours before her ex Liam Hemsworth's birthday, which makes the line "No remorse, no regret/ I forget every word you said" even more ominous.
Even though the song's lyrics are loaded with subtext, the video is what really brings it to life. The Who Owns My Heart singer dances across a Los Angeles freeway while wearing a golden vintage Yves Saint Laurent outfit from 1991 and a messy bun she made herself. Calling Flowers an anthem for female empowerment would be a cheapening of its message.
Well, without a doubt, the 'New Year, New Miley' era will definitely arrive right after the album's all songs are out. This is surely Valentine's gift for Miley Cyrus' fans who are 'happily single.'
The song's lyrics led many fans to believe that the singer was actually slamming her ex-husband Liam Hemsworth.
Also Read: Miley Cyrus Copying Taylor Swift, Shakira – Using New Song 'Flowers' To Diss Ex Liam Hemsworth is a Whole New Level of Pathetic
Flowers, which was released on January 12, 2023, is tasting huge success due to its engrossing lyrics and lovely composition.
Source- Miley Cyrus' Instagram Handle