Apple TV is set for its big launch, and thanks to the latest announcement event from Apple, we now have the official date for the launch of this streaming service. That date is November 1st ; further details on the content of the launch and pricing can be found below.
In addition to announcing that info about launch date and price, Apple released official statements from executives, along with more detailed information on the service and its original series.
Below you can find information about the original series debuting on Apple+: 
These Apple TV+ originals from the world's most celebrated creative artists will debut on the Apple TV app on November 1:
"See," an epic drama starring Jason Momoa and Alfre Woodard, is set 600 years in the future after a virus has decimated humankind and rendered the remaining population blind. When all humanity has lost the sense of sight, humans must adapt and find new ways to survive.

"The Morning Show," a cutthroat drama starring and executive produced by Reese Witherspoon and Jennifer Aniston, and starring Steve Carell, explores the world of morning news and the ego, ambition and the misguided search for power behind the people who help America wake up in the morning.

"Snoopy in Space," a new original from Peanuts Worldwide and DHX Media, takes viewers on a journey with Snoopy as he follows his dreams to become an astronaut. 
More Apple TV+ originals will be added to the Apple TV app each month, including
:
"Servant," a new psychological thriller from M. Night Shyamalan, follows a Philadelphia couple in mourning after an unspeakable tragedy creates a rift in their marriage and opens the door for a mysterious force to enter their home.

"Truth Be Told," a gripping new series starring Academy Award winner Octavia Spencer and Emmy Award winner Aaron Paul, explores America's obsession with true crime podcasts and navigates urgent concerns about privacy, media and race.
Technical details about how Apple TV+ will function: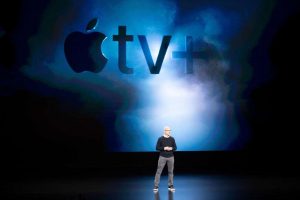 "Subscribers can watch Apple TV+ originals both online and offline, ad-free and on demand, on the Apple TV app, which comes pre-installed on iPhone, iPad, Apple TV and iPod touch and will soon be on Mac with macOS® Catalina. The Apple TV app is also available on select Samsung smart TVs, and will come to Amazon Fire TV, LG, Roku, Sony and VIZIO platforms in the future. Customers can also sign up and watch Apple TV+ originals on the web at https://tv.apple.com…"
Pricing and Availability
"Apple TV+ will be available on the Apple TV app for $4.99 (US) per month with a seven-day free trial starting November 1 on iPhone, iPad, Apple TV 4K, Apple TV HD, Apple TV (3rd generation), iPod touch and Mac. To subscribe to Apple TV+, customers must update to iOS 12.3 or later, tvOS® 12.3 or later and macOS Catalina. The subscription will automatically renew at $4.99 per month at the end of the seven-day free trial…"
Apple TV+ will launch on November 1st.