In his short time as a hero in My Hero Academia, Hawk has garnered a massive fan following.
His happy go lucky attitude and laid bank demeanor attract a lot of attention. He shows absolute calmness under fire. His presence fills the room with warmth and joy.
It was only recently revealed that Hawk is the third highest rated hero in the My Hero Academia Universe.
After All Might's exit from the show, he now occupies the second place in the hero list, right after the flame wielding Endeavor.
A popular hero of this sort requires a few fan artists to do him proper justice.
These Hawk fan arts aren't perfect but they come pretty damn close if you ask us. The hero has huge red wings. He can disassemble those wings and use each feather as a projectile.
All the feathers are somehow linked to him telepathically.
While we all cannot wait to see more of Hawk in the next season of My Hero Academia, there's nothing stopping us from watching these fan arts for a change.
https://www.instagram.com/p/BpFzT26FmXd/?utm_source=ig_embed
Hawk's wings make him soar into the sky. This is pretty much a given that he gets to have the best views of sunsets and sunrises.
Elentori uploaded this pic of Hawk on Instagram and it has gained a lot of traction in the social media platform.
Here's a battle ready Hawk for your taste.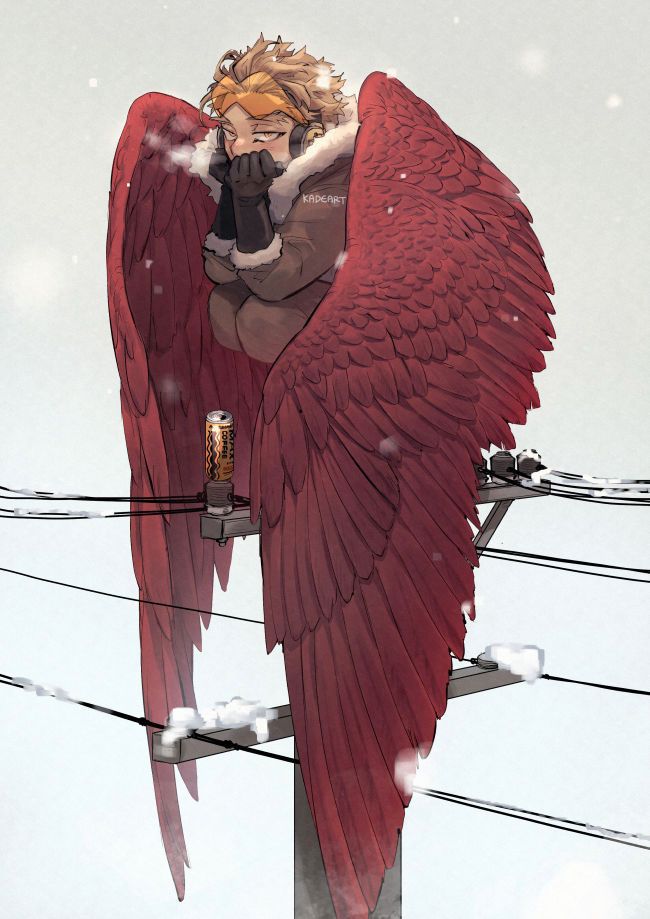 Winters can be so chilling for an airborne hero.
That looks like Hawk's typical sarcastic expression to us.
Well somebody looks sharp today!!
That look says it all.
Only Hawk can pull of a stunt like this and take a nap while doing it. Some species of birds can actually sleep with their eyes open. We would not be surprised if Hawk does it too.
That smile. The things we would give for that smile. Hawk truly is the warmest character in the series. There is no doubt about that.
Is he patrolling the premises? Or is he about to jump and take flight? We will never know. And why the hell is he staring at us. Calm down Hawk we did nothing wrong. Well not yet anyway.
Hawk looks battered and burnt in this fan art. He kind of reminds us of burnt chicken. Wait did we leave the turkey inside for too long. Damn!!!!