Khloe Kardashian recently recieved criticism for having another child with ex Tristan Thompson despite his repeated unfaithful behavior. Now, it seems like the Kardashians star is taking a vacation to cope with the after-effects of her tumultuous relationship and rejuvenate herself. The media personality decided its time to enjoy the heat of the summer and recently went to a beach with her family. However, it seems like her family took away all her thunder.
Also Read: 'Forget Britney, Place Khloe Under a Conservatorship': Khloe Kardashian Mega Trolled For 'Colossally Bad' Decision To Have Second Baby With Tristan Thompson via Surrogacy
Khloe Kardashian posts pictures of herself on the beach; says her niece stole the limelight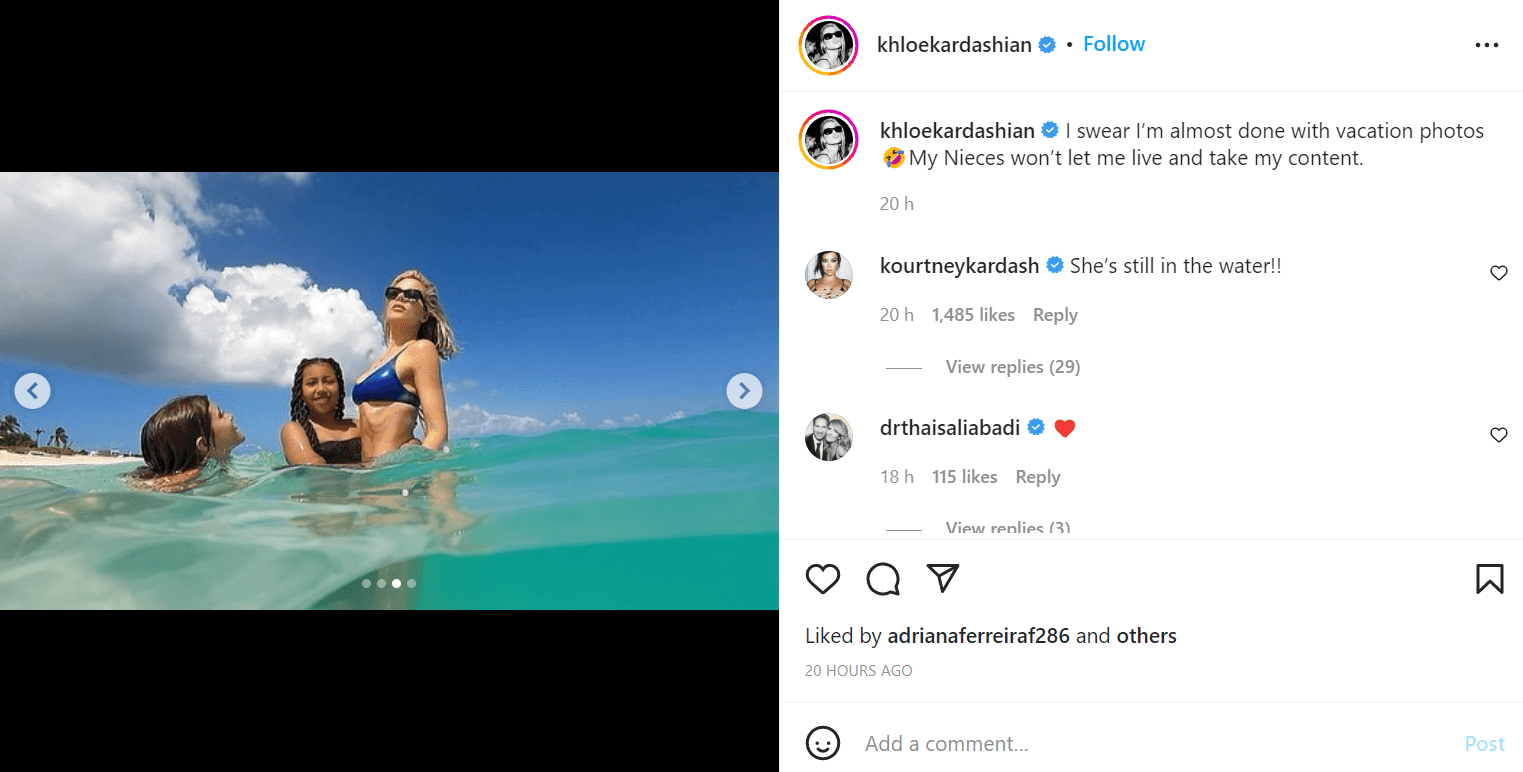 The KUWTK star took to Instagram to post a series of pictures of herself enjoying the summer. However, her pictures were photobombed by her nieces, North West, and Penelope Disick. Khloe Kardashian captioned the images,
"I swear I'm almost done with vacation photos 🤣. My Nieces won't let me live and take my content."
In the first picture, the star is wearing a blue bikini, and Kim K's daughter, North West, is clinging to her. Kourtney Kardashian's daughter, Penelope Disick, is also in the frame and is looking at her aunt Khloe with a smile on her face.
Also Read: Unexpected Celeb Feuds So Scandalous We Never Saw Them Coming
Khloe Kardashian posts pictures with daughter, True Thompson
In the second picture, it is just Khloe Kardashian and North West, but North is completely stealing the spotlight with a sweet smile on her face.
The star has been spamming her Instagram with several pictures from her vacation, that has the fans wondering if she is trying to get back at her ex, Tristan Thompson, with her revenge body. Moreover, the star also posted several pictures with her daughter, True Thompson, with the caption,
"Me and my best girl making the best memories. I will forever have your back my angel girl🤍."
Khloe Kardashian's beach pictures might be staged
Despite the star's insistence that her niece interrupted her photo shoot, the pictures look like they are staged, since the star is posing flawlessly in all of them. It won't be a surprise if the pictures are carefully curated in order to garner likes and comments on Instagram since the Kardashians are known for manipulating their pictures in order to portray a perfect life.
Source: People
Also Read: 'This hoe really said someone': Khloe Kardashian Calls Out Kim For Calling Her 'Someone' on Instagram, Fans Ask If There's a Hidden Feud in Family