Thor: Love and Thunder is all set to thunder in the theatres however the ratings seemed to have been giving a different hint on Taika Waititi's upcoming movie. This movie will be the fourth sequel of 2011's Thor which will be set post-2019's Avengers: Endgame events where Thor has taken a spiritual turn away from the usual action he was seen in previously in the MCU. This movie will be introducing Natalie Portman's Mighty Thor, as her character Jane Foster has gone through a transformation.
Also Read: Natalie Portman Latest Look Has Fans in Disbelief, She Looks Emaciated and Unhealthy
Natalie Portman was not present in the third sequel after completing Thor: The Dark World, however, she seemed to have adjusted Waititi's filmmaking style and shared her experience working for the fourth sequel of Thor.
Thor: Love and Thunder Star Natalie Portman Shared The Several Cuts That Were Not Included In The Film
Also Read: Chris Hemsworth Reveals Natalie Portman's Mighty Thor Transformation Made Him Super insecure About Own Body
Portman shared her experience working with Waititi in Love And Thunder whom she admires, "It was really Taika who came to me, which was so incredible because he's a director and creative human I so admire," she shared in an interview with IndieWire.
She also told about many good scenes that didn't reach the theatrical cut though that spent a lot of time and energy however she was satisfied with the result.
"There were whole sequences, planets, characters, and worlds that didn't end up in the movie that were hilarious and amazing and [that] we spent a lot of time and energy on, and certainly the entire crew also designing and conceiving," Portman told. "It's just amazing how much great material is not in the film, considering how much great material is in it. Usually, it's like, you're just trying to get enough good stuff to put in the film, and this had overflow. So that was really surprising."
Natalie Portman and Tessa Thompson's chemistry in Thor 4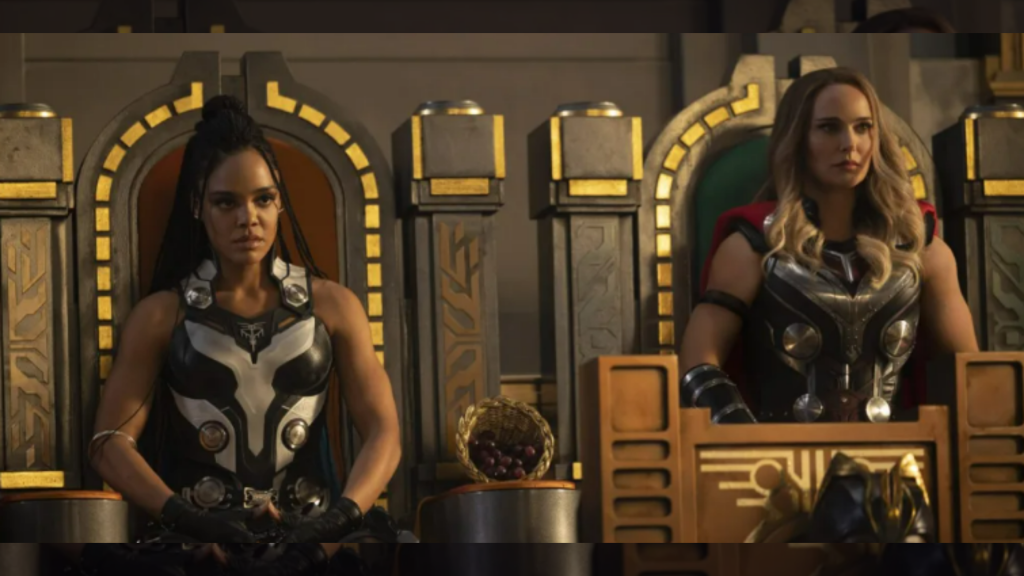 Also Read: Eternals Fans Celebrate Thor: Love and Thunder Dismal RT Rating, Want Chloe Zhao To Direct Another MCU Movie
Portman shared about her scenes with Tessa Thompson where Thompson's Valkyrie who is the king of New Asgard welcomes Portman's Mighty Thor to the village. She shares how their offscreen friendship helps them in giving a good performance on-screen.
"Well, I was very, very lucky to have worked with Tessa before. We had worked on 'Annihilation' before and then have been very close afterward for the past several years," Portman said. "So to come on set and have this really good friend there already, who also had experience working with Taika on 'Thor: Ragnarok,' who kind of let me know kind of what the vibe was on set, what the style was, that was a really, really wonderful thing to have."
She would love to add their scenes on the spinoff where she would want to show how their characters became close in the movie, she shared, "I'd be really, really happy if we could see that. Because there certainly is kind of a missing period in the film. … I feel like you don't necessarily see how they've become close [in the film], and so I would definitely be open and excited to see that."
Thor: Love And Thunder will be released in theatres on July 8.
Source: IndieWire