On Saturday, rapper Travis Scott took to the stage at London's O2 Arena for his first international show since the Astroworld tragedy and was joined by Kylie Jenner and their daughter, Stormi. In November 2021, 10 people (including a 9-year-old child) died at Travis Scott's Astroworld Festival in Houston. The rapper was accused of "inciting the crowd" during his performance, which led to the tragedy. He apparently continued performing for 37 minutes after the festival was declared a mass casualty incident. He later spoke about it saying that the media unfairly blamed him for the deaths and he even supported the families of those who lost their loved ones at the event. The rapper disappeared shortly after the incident but it looks like he is back again as he performed at E11even in Miami during the Formula 1 Grand Prix in May, as well as at a Coachella party, a pre-Oscars bash, and now at London's O2 Arena.
Also read: "Used to be Afraid": After the Life-Threatening Disease, Travis Barker Conquers Another Major Fear With His Newly Wed Wife, Kourtney Kardashian in Their Vacation
Kylie Jenner shared photos and videos from the event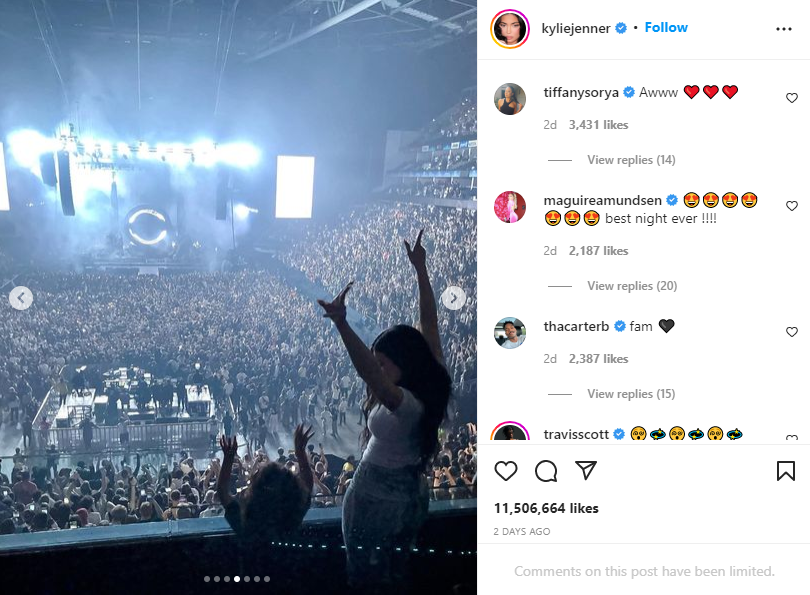 Travis Scott was joined by all his family and friends who showed support during his performance in London. The gig was his first solo show since the Astroworld tragedy. Kylie Jenner shared a series of photos and videos from the recent gig, which included their daughter, Stormi. In a video, Travis Scott can be seen celebrating with James Harden and Kevin Durant after the show.
Also read: Despite Astroworld Tragedy Crippling His Public Image, Travis Scott Bags Lucrative Exclusive Performance at Major League Baseball All-Star VIP Party
Fans accuse Travis Scott of using his family for publicity
A lot of people on social are unhappy with the fact that Travis Scott has moved on from the Astroworld tragedy so quickly. Many accused him of using Kylie Jenner and their daughter, Stormi Webster, for publicity.
Two of the most socially ignorant people of our generation. Ms. Emissions and Mr. Riot.

— WolfManJonez (@wolfmanjonez) August 8, 2022
nah cause how can y'all even listen to travis scott's music without thinking about how 10 people died at astroworld

— madeline (@MADY42O) August 3, 2022
Everytime I see Travis Scott, I just think about Astroworld and the people who lost their lives for this fool. It's crazy that it's been forgotten so quickly, makes me think about the value of a life https://t.co/BCuGbAxpYF

— Erm (@Erm42453065) August 9, 2022
Idk seeing Travis Scott celebrating and raging after his last concert rubbed me the wrong way. 10 people died at Astroworld and I feel like everyone moved on wayyyyyy too fast

— paige ewing (@paigeewing13) August 8, 2022
So we just gonna pretend that astroworld didn't happen?

— Julie le (@Julieprincessle) August 8, 2022
Many fans mentioned that the families of the victims will never recover from the tragedy and that the rapper should "never forget the victims".
Also read: Kylie Jenner Becomes a Victim of Internet Hate after Flaunting Her $72 Million Private Jet
Kylie Jenner and Travis Scott were recently deemed as "climate criminals"
Kylie Jenner was recently criticized on social media after she flexed her and partner Travis Scott's private jets on her Instagram. Rumors suggested that she boarded the flight only for a 17-minute journey. A few days after her flight, she posted a picture of her and partner Travis Scott posing in front of their private jets captioning the picture, "you wanna take mine or yours?". People on social media then slammed Kylie Jenner and Travis Scott explaining the impact of such short flights on the climate.
Source: Instagram
You may also like: 'I was creating my own fun samples': Kylie Jenner Goes Into Defensive After Getting Blasted For Dangerous Lab Pictures