Hawkeye is an upcoming TV series. It is intended to be the fifth TV series in the MCU. This series stars Jeremy Renner as 'Clint Barton/Hawkeye' and Hailee Steinfeld as 'Kate Bishop/Hawkeye'. The series will have 6 episodes. It is set to release on November 24, 2021, and will conclude on December 29, 2021. Hawkeye series is a part of Phase 4 of the MCU. The announcement of the series had the fans excited. But now Disney+ and Marvel teased the fans even more with their recent uploads. They're showing off Kate Bishop's costume, Clint Barton in full swing alongside Lucky the Pizza Dog!
NEW

: Recent Images From Hawkeye Reveal Kate Bishop In Costume & Lucky The Pizza Dog!

Disney+ and Marvel revealed a few things from the much-awaited upcoming TV series 'Hawkeye'. The images are flaunting Kate Bishop's costume, Lucky the Pizza Dog played by Jolt, and Jeremy Renner in action! Renner will be reprising his role as the protagonist. He is the arrow-shooting Avenger. The 6-episode show will be about Jeremy training his fan and protegé Kate Bishop/Hawkeye (Hailee Steinfeld). She's the first female to take Hawkeye's name. Therefore, this makes her an important character in the comics. Also, it has been confirmed that the show is taking place after the events of 'Avengers: Endgame'.

In the first image, you can see Clint Barton in action and Kate's costume. He's carrying a bow and arrow in his hands. In the second picture, Kate Bishop takes the bow and arrow in her hands. Not to forget, the second image also features Lucky the Pizza Dog, a new MCU character. Hawkeye rescued him from the Tracksuit Mafia. You can check out the images below: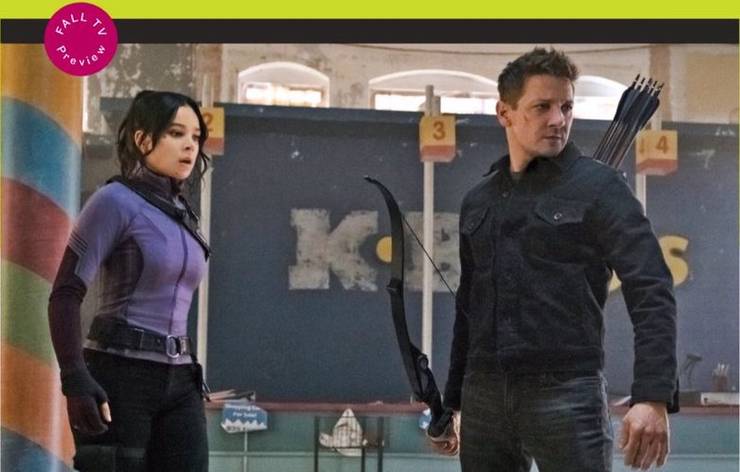 The second image shows both the characters conversing at a platform. But we never know what's going to happen next since Kate is holding a bow and arrow. Maybe it's a fighting scene involving archery. These images do not provide any background as such. They haven't put out any details yet. So, Hawkeye fans, you got to wait for the series to release!