Spider-Man: No Way Home is now almost a week away from its release and fans just cannot keep calm about the film. Now, actor Jamie Foxx, who plays Electro in the film, has revealed that Willem Dafoe's Green Goblin is the scariest villain, out of all, in No Way Home. Jamie Foxx had earlier appeared playing the same role in Marc Webb's The Amazing Spider-Man.
While appearing at the CCXP, Fox explained how the vendetta Green Goblin has against Peter is far greater than that of Electro or Doctor Octopus.
Here's what he said: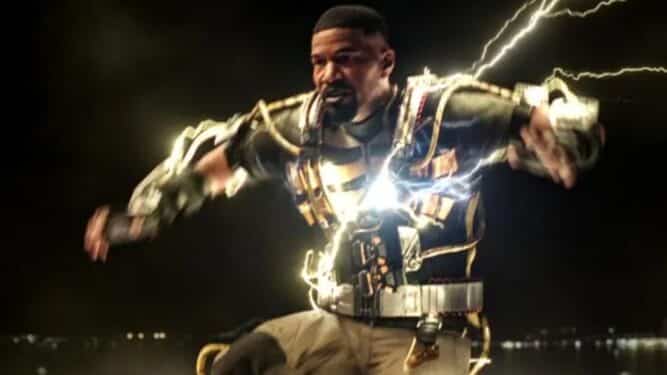 "It's crazy because we've just been watching Willem and it seems personal," he added. "With Electro, it's to the world. The world did me wrong. But when something is personal — and you can go all the way back to Shakespeare — when something is personal, there's nothing that can beat that. No matter what costume you put on, no matter what you say. When he speaks, he has the power. It's personal. And any time you can get a character to be personal in the movie, it has the most weight."
Actor Willem Dafoe who is also reprising the role for the second time went on to explain how the motive of Green Goblin is different in No Way Home than when he first appeared in Sam Raimi's Spider-Man. "Green Goblin has a case to state this time. He's trying to make his case. A philosophy of life," he said. "It's not just some kind of abstract mustache-twirling power grab."
The actor also went on to reveal that he found the script for No Way Home quite brilliant – something that tempted him to return.
"It sounded like a lot of fun and a good solution and then when we went deeper into it, I liked the idea that I was returning to something that was the same, but different," Dafoe added. "It's a return to something I did before with that kind of history, but there's a spin on it."
Prior to this, Dafoe appeared as Norman Osborn in Sam Raimi's Spider-Man in 2002. After he experiments on himself, Norman developed a villainous personality and began using his company's inventions to create a mess in New York City. He ultimately died at the hands of Tobey Maguire's Spider-Man.
Watch the video below:
Out of all the villains, No Way Home will also see Alfred Molina returning as Doc Ock, alongside Rhys Ifans and Thomas Haden as Lizard and Sandman. While Marvel hasn't confirmed if Tobey or Garfield will also appear in the film, leaked images and rumors indicate their return too.
Spider-Man: No Way Home will be hitting the theaters on 17th December.