In the latest Hollywood drama unfolding right now, we've got two similar court cases against two best friends morphing into what looks like one big ball of problematic mess. When Evan Rachel Wood opened up about the alleged abuse she faced at the hands of Brian Hugh Warner, popularly known by his stage name, Marilyn Manson, who also happens to be a really close friend of Johnny Depp, the fans were quick to point out that the parallels between this case and the wildly followed Depp v Heard case were uncanny. Recently, a series of text messages between Manson and Depp have gone viral and the contents are horrendous and jaw-dropping, to say the least.
Also Read: 'The Abuse Will Continue Unless Twitter Takes Action': Evan Rachel Wood Comes Out To Support Amber Heard, Reveals She Has Been Harassed Too After Accusing Marilyn Manson
Evan Rachel Wood gaslit for domestic abuse claims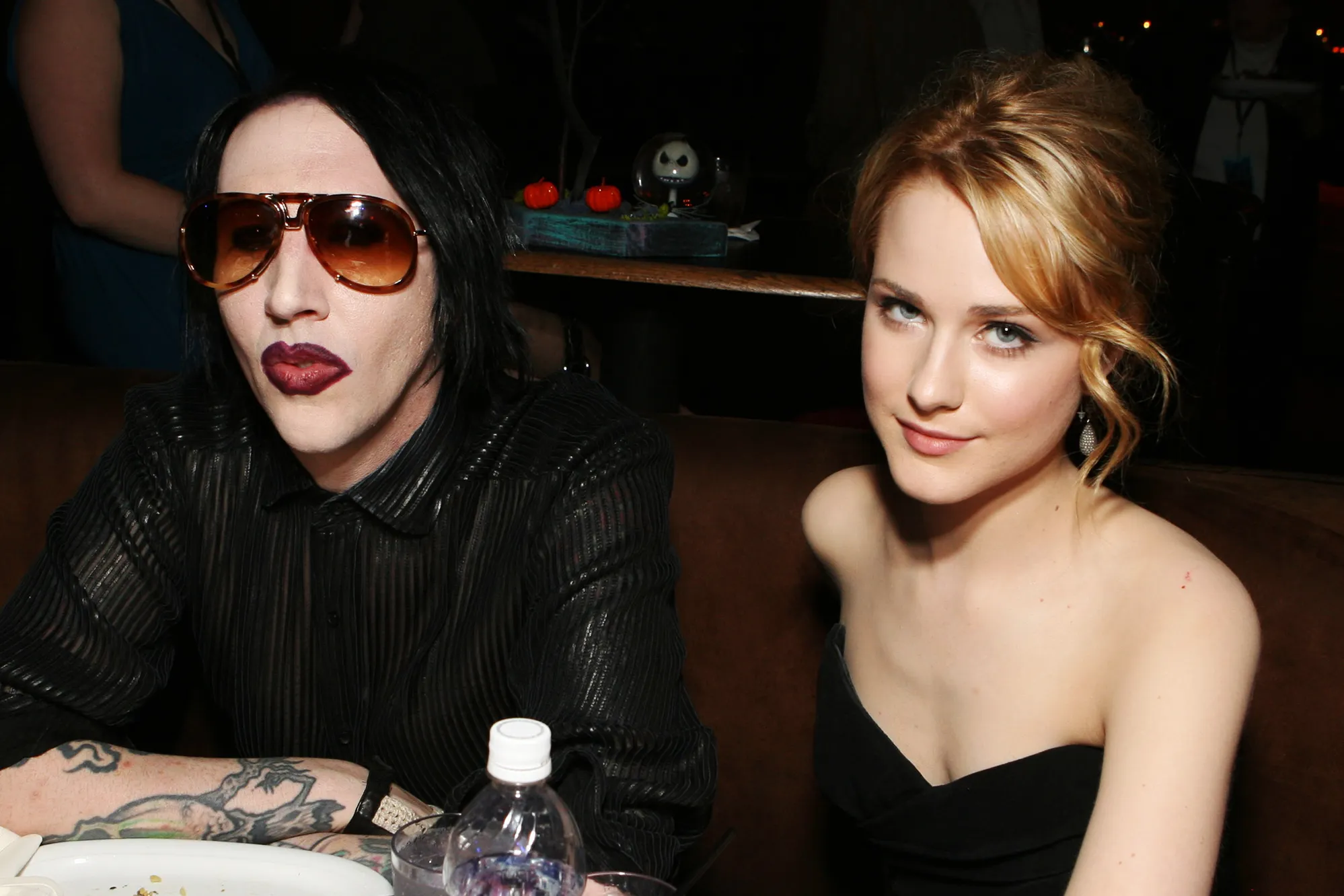 Back in 2021 actor and activist, Evan Rachel Wood revealed that she had been allegedly abused at the hands of Marilyn Manson, back when they were together from 2006-2010. Earlier in 2022, Rachel Wood came out with her two-part documentary Phoenix Rising on HBO Max, where she shared her experience as a domestic abuse survivor back when she was only 18 and had gotten engaged to 37-year-old Marilyn Manson. A whole lot of drama has ensued ever since her confession including the internet gaslighting Evan Rachel Wood, and Manson suing her with a defamation charge. Needless to say, all of this sounds eerily similar to the dynamics between Johnny Depp and Amber Heard.
Also Read: 'Fake Feminazi Puppet': Johnny Depp Fans Defend Marilyn Manson, Claim Evan Rachel Wood Is Just as Evil as Amber Heard
Confidential documents from the Depp v Heard trial are now viral
Meanwhile, as Amber Heard has appealed the original verdict that made her liable to compensate Johnny Depp by $10.35 million for defaming the actor, some of the Pirates of the Caribbean star's fans have reportedly paid the court $3000 to share undisclosed court documents filed during the 6-week trial.
The now public documents spell trouble for both Johnny Depp and Marilyn Manson, who faces abuse charges by several women apart from his ex-fiancée.
A reported conversation back from 2016 about Manson's wife Lindsay Usich shows that the singer wrote, "I got an amber 2.0. Lindsay just pulled an amber on me…please delete". Johnny Depp responded, "I been reading A LOT of material on that and sociopathic behavior…it is f*cking real my brother!! My ex-c—t is goddamn TEXTBOOK!!!"
'Interesting' messages between Brian Warner aka Marilyn Manson and his close friend Johnny Depp, obtained by JD supporters who apparently paid for copies of unsealed court records

Note the misogyny, racial slurs and violent sexual fantasies

I do NOT support either man

— Pratchetteer 🎋 (@manonaswann) August 1, 2022
As far as I can see, Johnny Depp and Marilyn Manson's friendship is built on being nohomo, misogynistic drug addicts who abuse young girls and have delusions of persecution that said girls want their money. Total denial that abuse accusations might be because they assault girls?

— Drusilla (@absurdallisurd) August 1, 2022
Also Read: Celebs Hollywood Cancelled In 2021
According to the leaks Johnny Depp and Marilyn Manson exposed fetishizing the r*pe of minors
Reportedly, there is yet another text exchange that allegedly depicts the two men fetishizing the r*pe of minors in a cave to "quench their thirst", where the disturbing movie Salo, a film about mentally, physically, and sexually torturing children, is referenced.
https://twitter.com/poeticambiguity/status/1553589346468388867?s=21&t=3EP1JAmOtJr7-u7LC1dopA
Johnny Depp & Marilyn Manson are obviously pathetic awful people but I haven't been able to get "let's make our own Salo without any of that gay shit" out of my head since yesterday

— daria argento (@mommywiseau) August 1, 2022
At this point I wouldn't be surprised if Johnny Depp and Marilyn Manson were revealed to be clients of Jeffrey Epstein 😐

— shampain socialist (undead) (@zeepxanflorp) July 31, 2022
Needless to say, this props up serious questions against the integrity of both Marilyn Manson and Johnny Depp. Johnny Depp especially might be looking at a stark turn in the sequel of his court trial, now that these disturbing documents have come to light.
Also Read: 'What's This Man-Hating Bullsh*t': Brad Pitt, Johnny Depp, Marilyn Manson Fans Unite to Address 'Husband Suing' Trend
Johnny Depp faces revenge p*rn allegations
Another serious allegation against Depp is that in an attempt to prove that Amber Heard used to be an "exotic dancer" before she met him, the Charlie and the Chocolate Factory actor allegedly tried employing revenge p*rn as a tactic by sharing Heard's n*des with the court for evidence.