There were many exciting announcements at the D23 Disney's "ultimate fan event". One, the list of movies planned to release for Phase 4 of the story telling of Marvel Comics. Two, it is confirmed at D23 that Phase 4 will be even bigger and fast paced releases than what had been announced before. Three, the company has also revealed loads of content that will show on their new streaming service- Disney+. 
"We've never done this before"  
"… the primary focus" – Kevin Feige
In April at the unveiling of Disney+, MUC president Kevin Feige said "Over the course of the 23 films, we've pulled together a roster of amazing actors and talented filmmakers, and we're excited to continue to work with these individuals to tell new, long form stories in ways that we've never done before,"
He then mentioned the shows which will add on to Disney+ and to those that will carry over to the movie side he said "(that they) will be on the same level of quality that you've come to expect from Marvel Studios."
He goes on to say, "We'll be taking advantage of that creative freedom that Disney+ offers, exploring the MCU, the Marvel Cinematic Universe, with our favourite characters over multiple episodes," Feige continued. "These will be both new and continuing stories, and one of the things we're most excited about, is that these will be major storylines set in the MCU with ramifications that will be felt both through the other Disney+ series we're producing and our features on the big screen." So this means, unlike the previous Marvel TV efforts, the new shows will intersect with the movies. Loki's adventure through time with the Tesseract will likely bring him back to the main continuity just in time for the movie Thor: Love and Thunder.
At the D23 he said, "Primarily the movies we're releasing next year are the celebration of the ten years Black Panther, obviously Infinity War and Ant-Man and the Wasp. Those are the primary focus."
The list of shows lined up.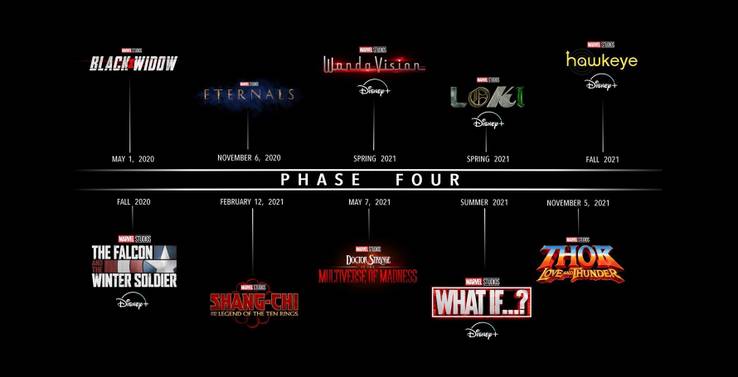 Shows confirmed to release on Disney+ are- Ms. Marvel, She Hulk, Moon Knight School Musical: The Musical: The Series, Loki, WandaVision, The World According To Jeff Goldblum a National Geographic docu-series, High School Musical: The Musical: The Series and many many more.
Films planned for Phase 4 include the Scarlett Johansson-led Black Widow, Doctor Strange in the Multiverse of Madness, partnering Benedict Cumberbatch's Sorcerer Supreme with Olsen's Scarlet Witch, Thor: Love and Thunder, reuniting Chris Hemsworth and franchise co-star Natalie Portman under returning Thor: Ragnarok director Taika Waititi, and new hopeful franchise starters The Eternals and Shang-Chi and the Legend of the Ten Rings.
Sources: Comic Book, ScreenRant