Hugh Jackman, PEOPLE's Sexiest Man Alive circa 2008 (and also Wolverine), posted a hilarious video on his Twitter page today congratulating 2019's Sexiest Man Alive recipient John Legend, as well as trolling Deadpool lead Ryan Reynolds. Reynolds and Jackman have been engaged in a never-ending feud for years over their respective status as the sexiest men alive.
Hugh Jackman, posted a hilarious video congratulating 2019's Sexiest Man Alive recipient John Legend, as well as trolled Deadpool lead Ryan Reynolds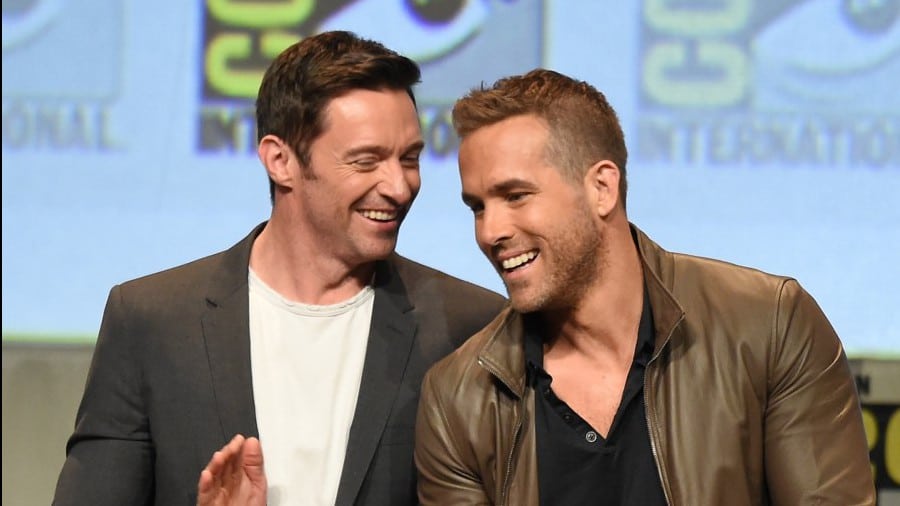 Jackman and Reynolds may play iconic antiheroes onscreen, but offscreen the two big-name actors regularly trade jabs at the other's expense. In fact, the actors take their ongoing friendly feud incredibly seriously, and both men continue to find hilarious ways to up the ante. One of their most well known "spats" came in the form of a traditional ugly sweater Christmas party. Reynolds posted a now iconic photo on his Instagram page, wherein he stands forlornly between Hugh Jackman and Jake Gyllenhaal. The two fellow actors can't appear to hold back their laughter at the sight of Reynolds being the sole person in the room wearing an ugly Christmas sweater. The post got 8 million likes and only fueled the friendly trolling between the two former Sexiest Man Alive recipients. Reynolds would get his revenge after ugly sweater-gate when he asked Jackman if his Guinness World Record win was for his fingernail length.
On Twitter, Hugh Jackman saw a new opportunity to troll Reynolds once again with the announcement of John Legend as PEOPLE's Sexiest Man Alive 2019. Posting a congratulatory video to Legend on his Twitter page, Jackman imparted words of wisdom to the singer and also took the higher troll ground against Reynolds, all in less than 30 seconds.
Trolls all round
Jackman humorously implied that Reynolds, who was crowned Sexiest Man Alive in 2010, was part of the 1 percent of winners that PEOPLE didn't get quite right. In the video, Reynolds mocks Jackman for "accidentally" dropping a copy of his 2008 cover of PEOPLE in front of him. Although Legend himself has yet to respond to the two pranksters, the singer likely got a laugh out of the video. His famously funny wife Chrissy Teigen took a chance to troll her husband over his new title, hilariously updating her Twitter bio to "currently sleeping with People's Sexiest Man Alive," as well as tweeting that "The Sexiest Man Alive just made me a ham sandwich.
With the new year on the horizon and no clear end in sight for the troll war between the two former Sexiest Man Alive winners, Reynolds and Jackman are sure to continue their spat on social media. The question does remain, will Reynolds finally be able to convince Jackman to reprise his role as Wolverine for another undoubtedly epic Deadpool-Wolverine movie appearance? Unfortunately, Jackman appears to have said goodbye to Wolverine for good, no matter how many times Deadpool breaks the fourth wall in his own movies. Needless to say, even though the two antiheroes/former PEOPLE's Sexiest Man Alive winners will likely never meet up again onscreen, their epic attempts at trolling each other will live on in the realms of the Internet forever.
Source: screenrant ,youtube