The official trailer for Spiderman: Far From Home is out and as it promised, it was blooming with spoilers from Avengers: Endgame. The beginning of the trailer lined up with the spoiler ban set by the Russos, the new Spiderman trailer started things with the biggest spoiler from the film, with a direct reference to the fate of one of the most beloved characters in the whole Marvel Cinematic Universe. Not just that but it also tied back threads to the same character one more time a few minutes later with a heartbreaking Easter egg.
Peter Parker Wears Tony Stark's Glasses
Obviously we are talking about Tony Stark here whose untimely death surprised many fans. As we noticed in the trailer, Peter is facing some problems coping with the death of Tony, as he's seen lamenting about his loss with Happy. However, the death of Tony means that Peter needs to step up and he does that throughout the course of the film.
There have been various references in Far From Home trailer to Parker becoming the next Iron Man, no matter how much he differs to this. The connection to Stark grows deeper for Peter with the progression of the trailer as he's shown wearing one of accessories of Stark.
ARE THESE????? ARE THEY?????? pic.twitter.com/PASqivevhA

— anastasia (ana) (@euphoriamj) May 6, 2019
If you pay attention to the trailer, you may notice something about the glasses that Parker takes off after seeing something at a distance. They're the same glasses worn by Tony in Infinity War, at the time he went against Cull Obsidian and Ebony Maw in New York.
Far From Home Releases On July 2nd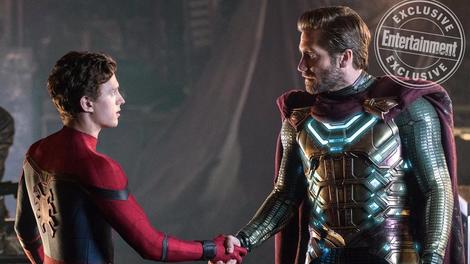 This could be yet another way Peter will honour Tony Stark, who was his mentor in Far From Home. Peter was also seen wearing the Iron Spider suit in addition to his normal Spider-Man suit. As the new trailer seems, much of Peter's story seems to be revolving around the loss of Tony, so fans may expect many nods throughout the film.
Here is the latest trailer of the movie: