The probabilities of who will live, who will die, and who should rule by the time the series ends has been organized through a set of data visualizations.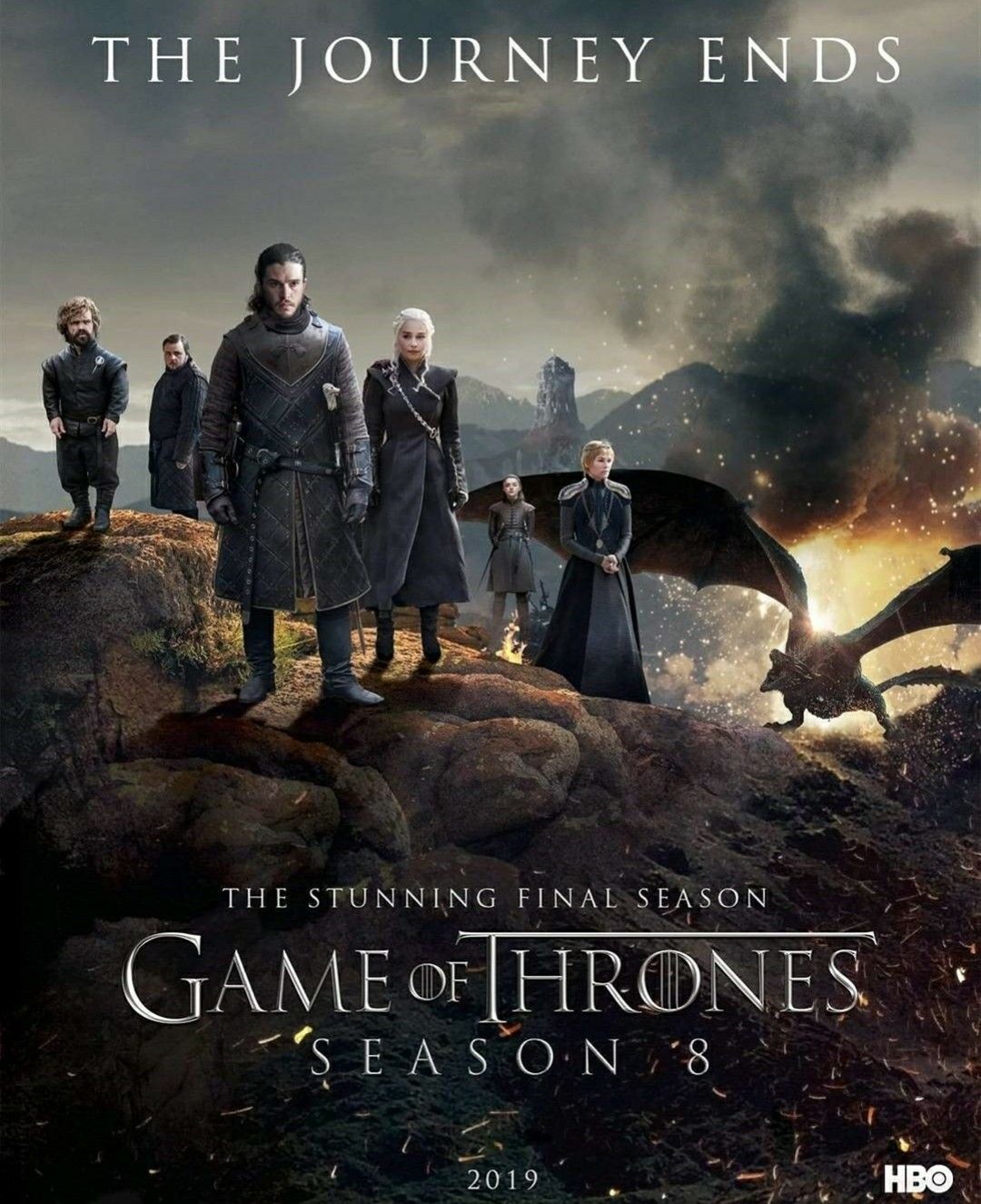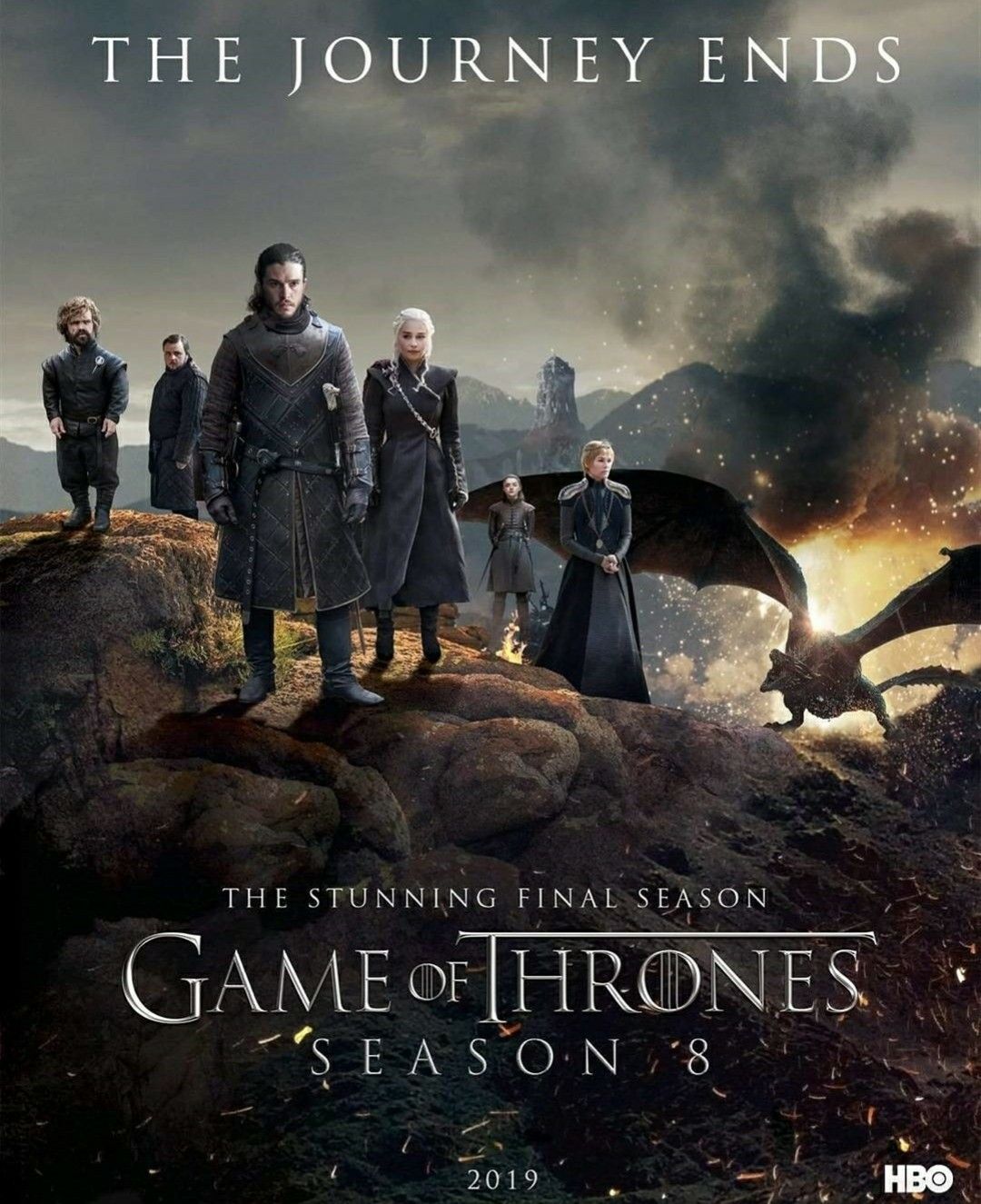 The seventh season of HBO's sensational hit, Game of Thrones, was an emotional roller coaster ride that has left fans desperately anticipating the eighth and final season. The six-episode final season will be one for the history books.. From the way that everything panned out in Season 7, we are certain that things will be moving at a pace unlike anything we've seen on television before.
Game of Thrones predictions for season 8 have been visualized on a series of detailed infographics
Also Read: 'Game of Thrones' Cast Gets Featured on Entertainment Weekly Covers
With season 8 of Game of Thrones nearing its April 14 premiere, fans are placing their bets – whether literally or figuratively – on how the popular HBO series will end. Based on George R. R. Martin's A Song of Ice and Fire book series, the odds in Game of Thrones appear to be in no one's favor, considering that the series is famous for killing off popular characters without warning. And even though there are clear front runners when it comes to who will sit on the Iron Throne – let alone survive – it's anyone's game.
A SHORT RECAP FROM SEASON 7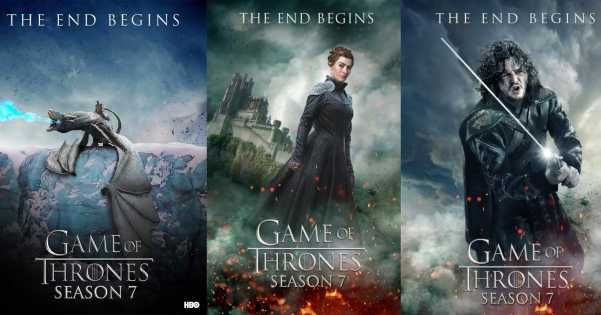 As the Long Night comes bearing down on Westeros, we know that Daenerys Targaryen and her new love (who also just happens to be her nephew), Jon Snow, are headed to Winterfell together. Jon has bent the knee to the Dragon Queen so that they might defend the North against the White Walkers and their terrifying Army of the Dead. Though the duo seemed prepared for war, they don't yet realize that the Wall — which has protected Westeros for thousands of years — has come crashing down.
It's also unclear at this point if the Northern people will accept Dany as their new queen. (We're going to take a wild guess on this one and assume it'll be a "No" from most Northerners.) It will be particularly intriguing to see how Jon's sisters, Arya and Sansa Stark, react to his new blond-haired queen.
Dany and Jon aren't the only ones preparing for an impending bloodbath. Queen Cersei Lannister (who is currently pregnant with twin brother Jaime Lannister's baby) is sitting on the Iron Throne in King's Landing, determined to remain in power. Though she's now aware of the impending threat from beyond the Wall, Cersei is intent on holding on to her position. With both of her brothers headed North to defend Westeros against the Army of the Dead, Cersei might be the only Lannister on the wrong side of history — at least, for now.
Also Read: 'Dragon Ball Super' Anime Set to Return for 2019!
Infographics from a Data Visualisation team called Visme
A data visualization team called Visme collected betting odds for Game of Thrones' 8th season from the online betting site Bovada. They collected their data by converting "betting odds into implied probabilities," thus calculating which characters are the most likely to die first in Game Of Thrones Season 8, as well as rule Westeros, in season 8. They even used this data to determine which characters on the show would be the most effective leaders. Check out the infographics below:
Who Is More Likely To Die In Game Of Thrones Season 8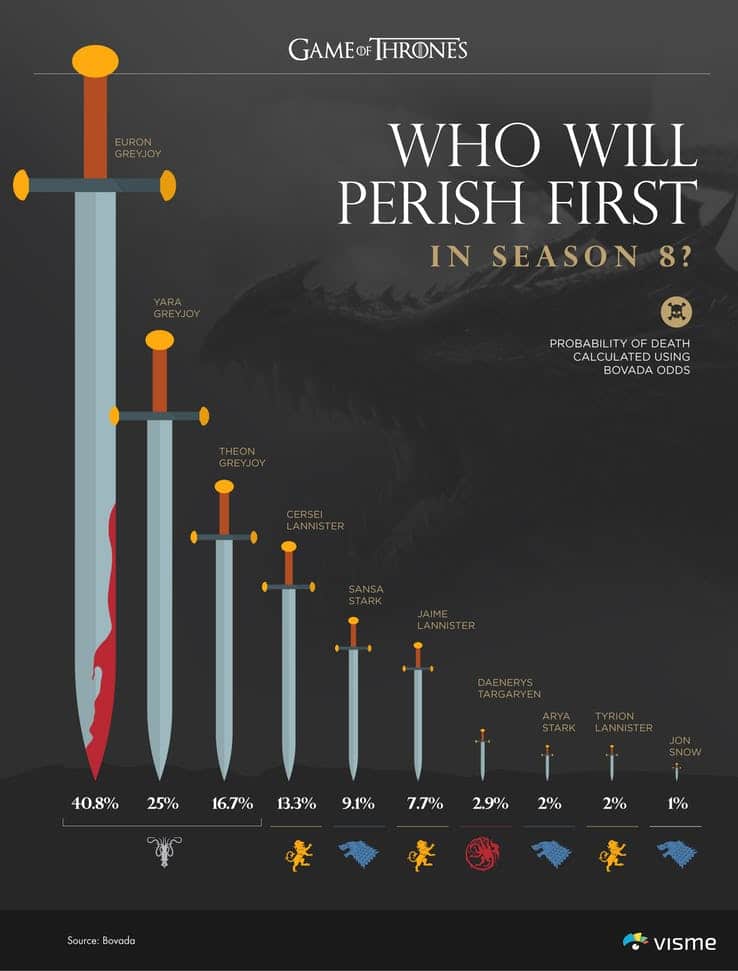 As for which character is the most likely to die once season 8 rolls around, all three members of the Greyjoy family are ranked with the highest percentage – Euron (Pilou Asbæk) with 40.8 percent, Yara (Gemma Whelan) with 25 percent, and Theon (Alfie Allen) with 16.7 percent. The character with the lowest likelihood of dying first is Jon Snow (Kit Harington) with 1 percent.
Who will rule WESTEROS?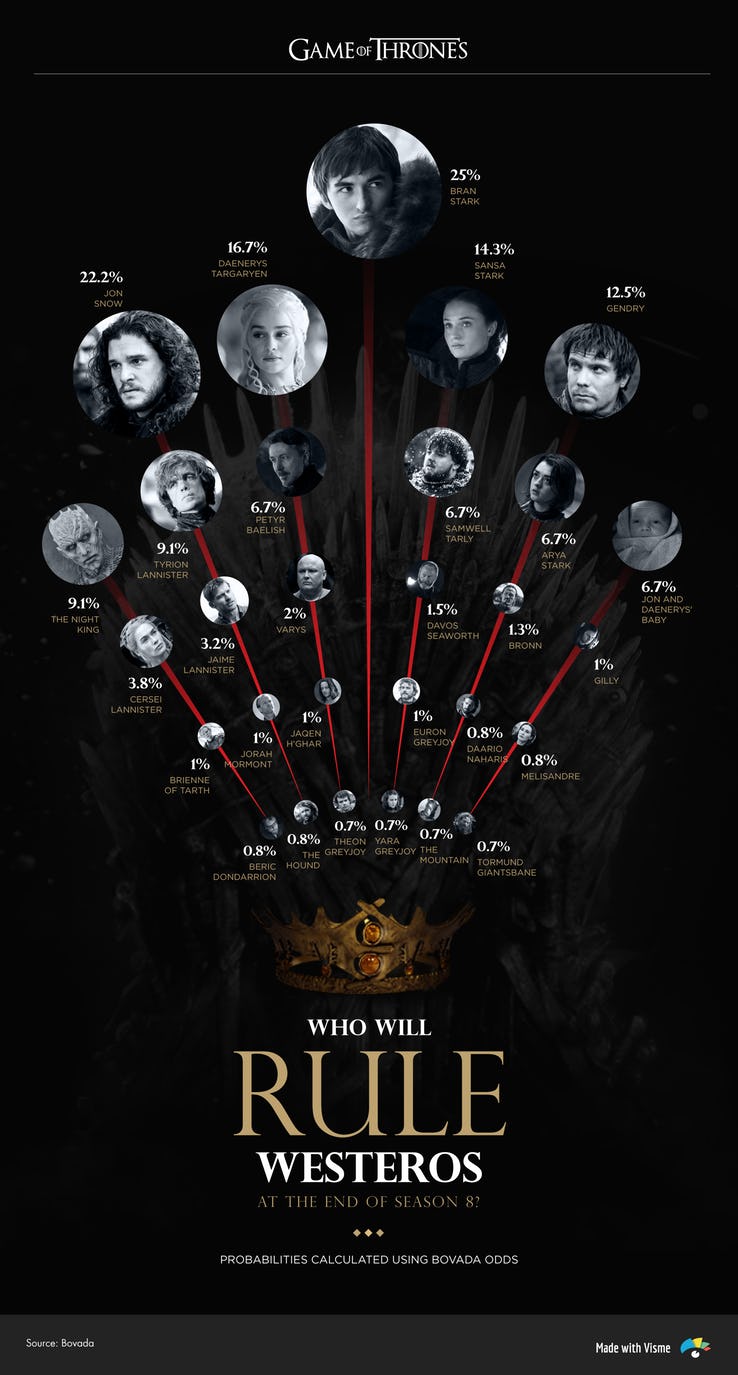 Also Read: Supergirl Season 4: Lex Luthor Will Be The New Villain (And He Is Amazing)
As for who is most likely to become ruler of Westeros and sit on the Iron Throne, Bran Stark (Isaac Hempstead Wright) has the highest spot with 25 percent. Jon Snow comes in second place with 22.2 percent, while Daenerys Targaryen (Emilia Clarke) follows in third place with 16.7 percent. And, to round out the top five slots, Sansa Stark (Sophie Turner) and Gendry (Joe Dempsie) stand at 14.3 percent and 12.5 percent, respectively.
Who would be the most effective ruler of WESTEROS?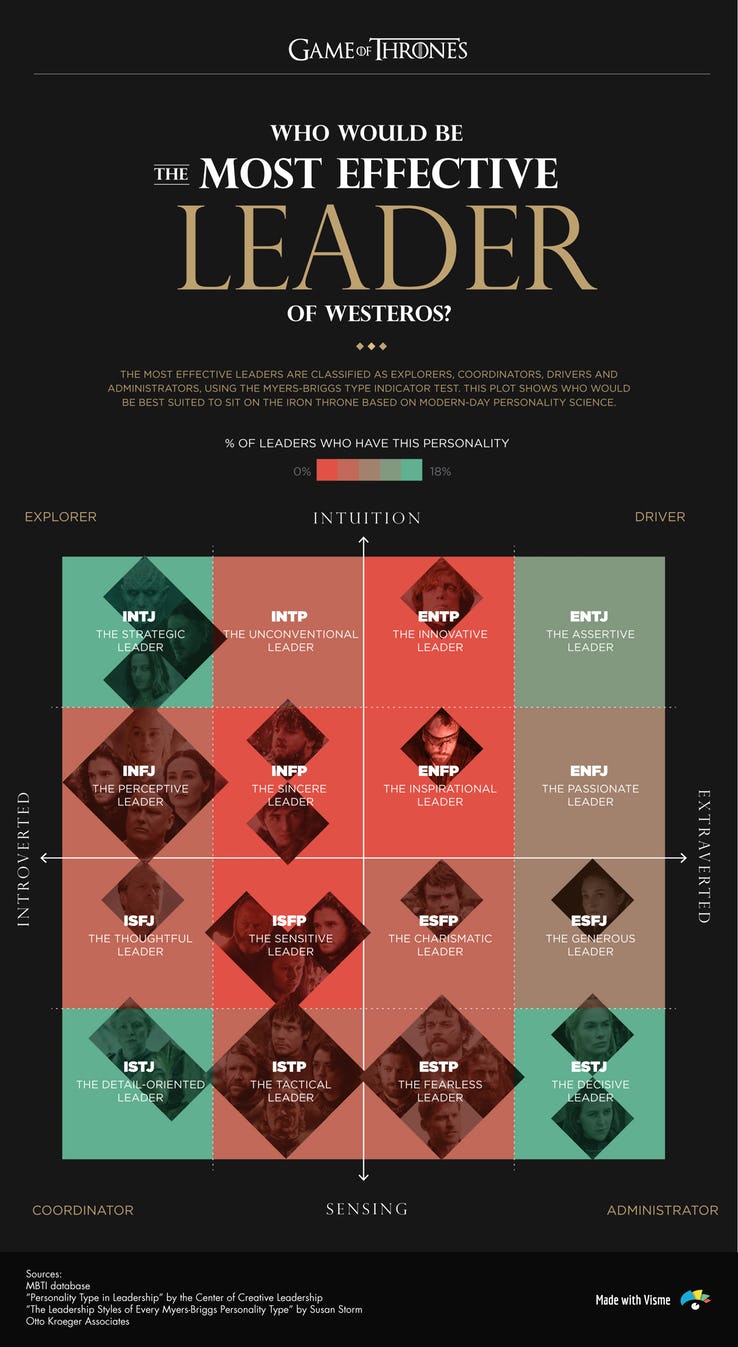 Visme also visualized how effectively certain characters would lead based on their Myers-Briggs Personality Type. Under four different classifications of leadership – Explorer, Driver, Coordinator, and Administrator – The Night King was listed as an effective strategic leader, Cersei Lanniester (Lena Headey) was listed as an effective decisive leader, and Brienne of Tarth (Gwendoline Christie) was listed as an effective detail-oriented leader. Oddly enough, Ser Gregor Clegane/The Mountain (Hafþór Júlíus Björnsson) was also listed as an effective detail-oriented leader and no characters were included as effective assertive leaders.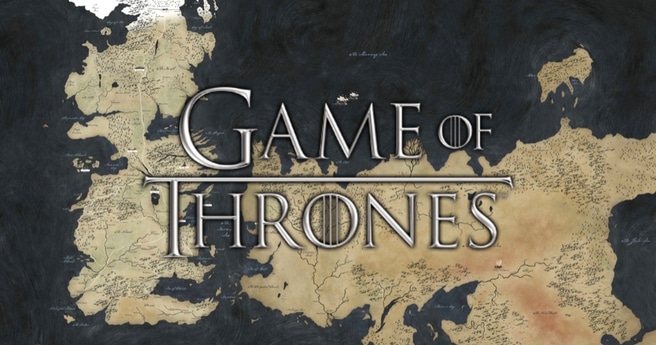 While these percentages and probabilities can't predict how exactly Game of Thrones will wrap up, they're still fun distractions for diehard fans. That said, these stats might actually be helpful for any fans trying their hand at predicting the outcome before the series finale. It's hardly an exact science, but like the dramatic goings-on in Game of Thrones, you win some, you lose some.
IN CASE YOU MISSED ON THE SEASON 8 TRAILER
REFERENCES: SCREENRANT , CHEATSHEET