In a joint statement released in June, Shakira and Gerard Pique declared their separation from one another. Following their breakup, the footballer's infidelity was revealed. The Barcelona defender was allegedly having an affair with Clara Chia Marti, who he is now dating. Recently, Shakira was featured on the digital cover of Elle. The Colombian singer opened up about her difficult split from footballer Gerard Pique during an interview with the magazine. The singer's interview with Elle was her first since the ex-couple made their separation announcement in June.
Shakira finally talks about her split with Gerard Pique
In her first interview since announcing her separation from Gerard Pique, Shakira finally breaks her long silence. In her latest cover story for Elle magazine, the 45-year-old Columbian diva discusses her highly publicized breakup. The Waka Waka singer revealed that her separation from Gerard Pique was "incredibly difficult."
The singer described the breakup as "probably the darkest hour of my life." She claimed that her once "sacred" relationship has been "turned into something vulgarized and cheapened" by the scandalous headlines around it. However, the Te Felicito singer chose to remain silent about Gerard Pique's relationship with his current girlfriend, Clara Chia Marti.
Also Read: 'I owe zero to them': Shakira Says She's Untouchable Because She Has World's Biggest Tax Specialist Firm On Her Side, Calls Tax Fraud Case As 'Salacious Press Campaign'
The kids are the priority for the Colombian singer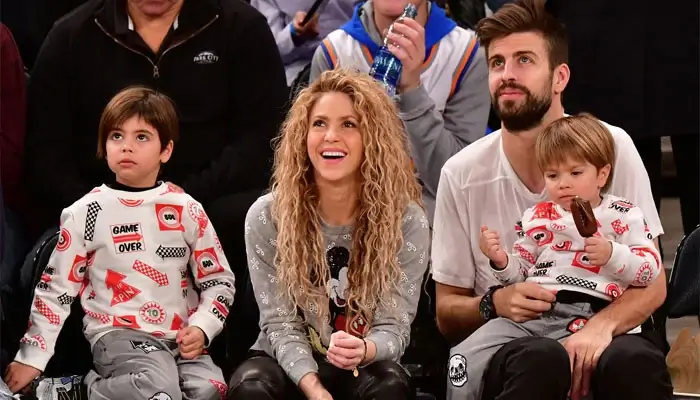 The Colombian singer told the magazine that right now her first priority is her kids. The singer shares two sons Milan, 9, and Sasha, 7, with the Barcelona footballer, Gerard Pique. Shakira stated that raising their kids would be their top responsibility as co-parents. She says:
"Regardless of how things ended or how Gerard and I feel about each other as ex-partners, he is the father of my children. We have a job to do for these two incredible boys, and I have faith that we will figure out what is best for their future, their own dreams in life, and what is a fair solution for everyone involved. And I hope and would appreciate if we were given the space to do that privately."
The singer said that she has made every effort to keep her kids from knowing the situation. "I try to do it and to protect them because that's my number one mission in life," Shakira said. However, the kids sometimes hear things from their friends at school or find unpleasant news online which affects them.
Also Read: "It was a sacrifice of love": Shakira Breaks Silence On Painful Separation From Gerard Pique, Reveals She Put Her Career Down For Cheating Footballer To Win Titles In Barcelona
Shakira is channeling her pain into her music
The Hips Don't Lie singer revealed in the interview that she using her pain as a creative outlet for her new music. She is preparing for her first album in five years which will be released soon. Shakira also stated that she finds the writing process "therapeutic."
She continues to say "In my case, I think that writing music is like going to the shrink, only cheaper [laughs]. It just helps me process my emotions and make sense of them. And it helps me to heal. I think it's the best medicine," The singer then claimed that music is one of the few tools she possesses for surviving in extreme conditions.
Also Read: Major Blow For Shakira As Pique Fearlessly Goes Public With New Girlfriend Clara Chia Marti, Fans Say It's Retribution For Shakira's Unreasonable Demands In Kids' Custody Case
Source: Elle