Red Notice cost Netflix $200 million, making it the company's most costly film to date; here's why they spent so much money. Rawson Marshall Thurber wrote and directed the action-comedy film, which stars Dwayne Johnson as FBI agent John Hartley, who is framed by international criminal The Bishop, played by Gal Gadot. In order to bring her down, Hartley is compelled to partner up with Ryan Reynolds' art thief, Nolan Booth. Thurber and Johnson's third film together, following Central Intelligence and Skyscraper, but their first with Netflix.
It has always been customary in Hollywood to have fancy film budgets, with the logic being that the larger the budget, the bigger the action and spectacle. While this is true for directors such as James Cameron and Christopher Nolan, movie costs frequently spiral out of control for other reasons, and the resulting price tag is not always portrayed on screen. Netflix has rapidly increased the costs of its original films, spending $90 million on Bright in 2017, $155 million on Triple Frontier (2019), and $159 million on The Irishman in 2019. (due to its CGI de-aging). Red Notice is currently Netflix's most costly film, and there are a number of other contenders.
The majority of Red Notice's budget was spent on getting an A-list cast. Dwayne Johnson, Ryan Reynolds, and Gal Gadot each received $20 million for their roles, with Netflix additionally paying Thurber $10 million to write and direct. Even with huge names, $70 million is a lot of money to spend on four individuals before a single second of video is shot. However, it is seen as a worthy investment. By acquiring great performers such as Johnson, Renolds, and Gadot, Netflix generates curiosity and attracts subscribers for what may otherwise be a standard action-comedy. While Red Notice has received mixed reviews, it does feature a number of extravagant action scenes that would have cost a lot of money to film.
The planned budget for Red Notice was $160 million, but delays increased the overall cost to $200 million. While it is Netflix's most expensive film to date, it is still a drop in the bucket for the streaming giant, which has spent over $17 billion in cash on content in 2021 alone to stay ahead of rival streaming services like Amazon and Disney+, with an estimated amortized $5.21 billion spent on original content alone (via Variety). TV movies (or direct-to-streaming movies, as they're currently known) were long thought to be of poorer quality than theatrical releases.
Netflix, on the other hand, has entirely transformed this notion by recruiting great performers and filmmakers through a mix of high royalties and creative freedom. Netflix has had a lot of success with its prestige content (for example, The Irishman, Roma, and Ma Rainey's Black Bottom). However, while their blockbuster and franchise endeavors have been successful in terms of viewership/subscribers, Netflix has struggled to consistently reach the same quality as Hollywood's top tentpole films.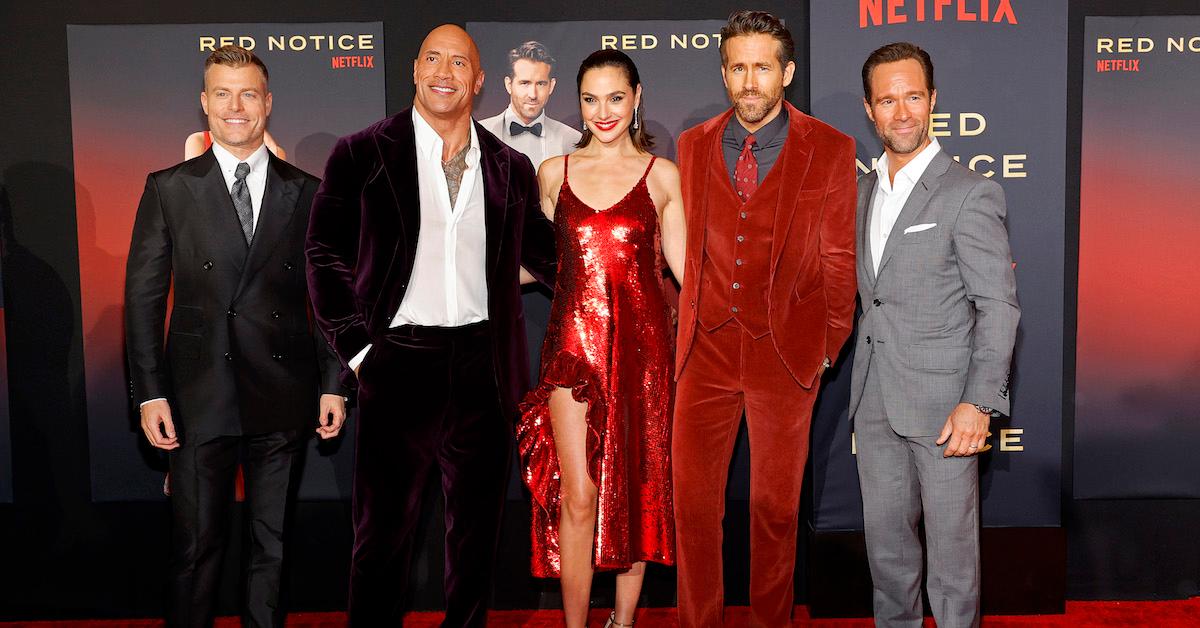 With the premiere of Red Notice, Netflix continues its lofty aspirations for its increasing collection of original films, while also allocating lavish budgets to match. The Gray Man, the forthcoming spy thriller from the Russo brothers, is said to have a budget comparable to Red Notice's $200 million. While Netflix has a long way to go before threatening the most expensive film ever made, based on their present trajectory and extremely enormous finances, it's just a matter of time.