Ryan Reynolds and Hugh Jackman have been providing the internet with 'content' since they became friends after working on the sets of the X-Men Origins: Wolverine, that released back in 2009.
In an interview on TODAY, Jackman revealed that the feud between these two actors began a couple of years after Reynolds married Scarlett Johansson in 2008. Since then they have trolled and tweeted each other with no mercy, and we have loved it. Their 'feud' and their 'truce' have now become a daily staple to what we are calling the Ryan Reynolds – Hugh Jackman madness!
Deadpool and Wolverine:
The relationship between the actors spurred fans around the world to have Wolverine and Deadpool back together on screen once more. Although, we don't know if we are ever going to get that, but still… Fingers crossed! Given that Jackman's Wolverine run is over after Logan, we can still hope for some cameo somewhere. Maybe?
They pull each other's legs, but also support one another in their own way, and we dub them #FriendshipGoals. Suffice to say there isn't actually any real animosity between them, however they do love to troll one another – and the outcomes are really hilarious for the spectators.
And to celebrate this 'frenemy-ship', here is a list that will have you wanting a Hugh to your Ryan. Or a Ryan to your Hugh, completely your choice!
The Ugly Christmas Sweater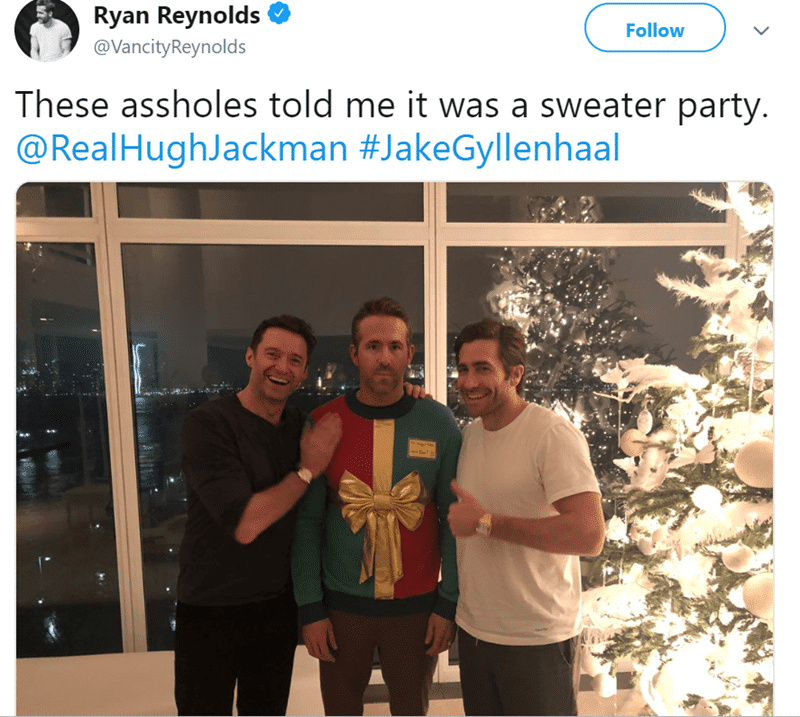 You can't spell drinking without drink gin!
Happy interviews
Who doesn't love a hug?
Deadpool's favorite X-Men
Their Feud
Their Truce
It's not all about fun and games, but some heart too.
Who doesn't love a compliment?
Birthdays are the best
Spousal support
Celeb Assistance
Stalker much?
Caressing the shadowy fur.
Hey Jake, didn't see you there!
The Return of the Ugly Christmas Sweater
The Monster from Milwaukee
The Walk of Fame
Really, Ryan? Really?
Best Friends Forever and ever and ever!