Deadpool 3 is officially happening, and it is set within the MCU. But, the road to get to this point seemed quite long for Marvel and Ryan Reynolds. The Deadpool franchise was one of the few things that Fox had completely sorted out. Both Deadpool films were extremely profitable, and we would have got an X-Force movie by now. After X-Force, we would have been gearing up for Fox's Deadpool 3, which might have still come out before Marvel and Disney's Deadpool 3. While we are excited for the next R-Rated Deadpool movie to be set within the MCU, we would have been equally excited for it if Fox would have been developing it. Why is that, you ask? Well, the answer is simple. It's because Wolverine would have been in it!
Ryan Reynolds has just revealed the fact that Deadpool 3 was originally going to involve Wolverine. Hugh Jackman hung up his claws after Logan. It was highly improbable to convince him to return one last time. But it is known that Reynolds was continuously pushing his frenemy to come back for a team-up just once more. And it seems that he almost had Jackman convinced be because Deadpool 3 was going to be a road trip film with Logan and Wade hashing out their beef! While promoting Bell Let's Talk (a mental health awareness campaign), here's what Reynolds tweeted:
It's critical to have open, honest and healthy discussions around mental health. By retweeting #BellLetsTalk you can make a difference. In case that's not enough, before Disney bought Fox, Deadpool 3 was gonna be a road trip between Deadpool and Logan. Rashomon style. For real.

— Ryan Reynolds (@VancityReynolds) January 28, 2021
After his tweet, Screen Rant suggested that he might be joking. But the Deadpool actor replied that he wasn't.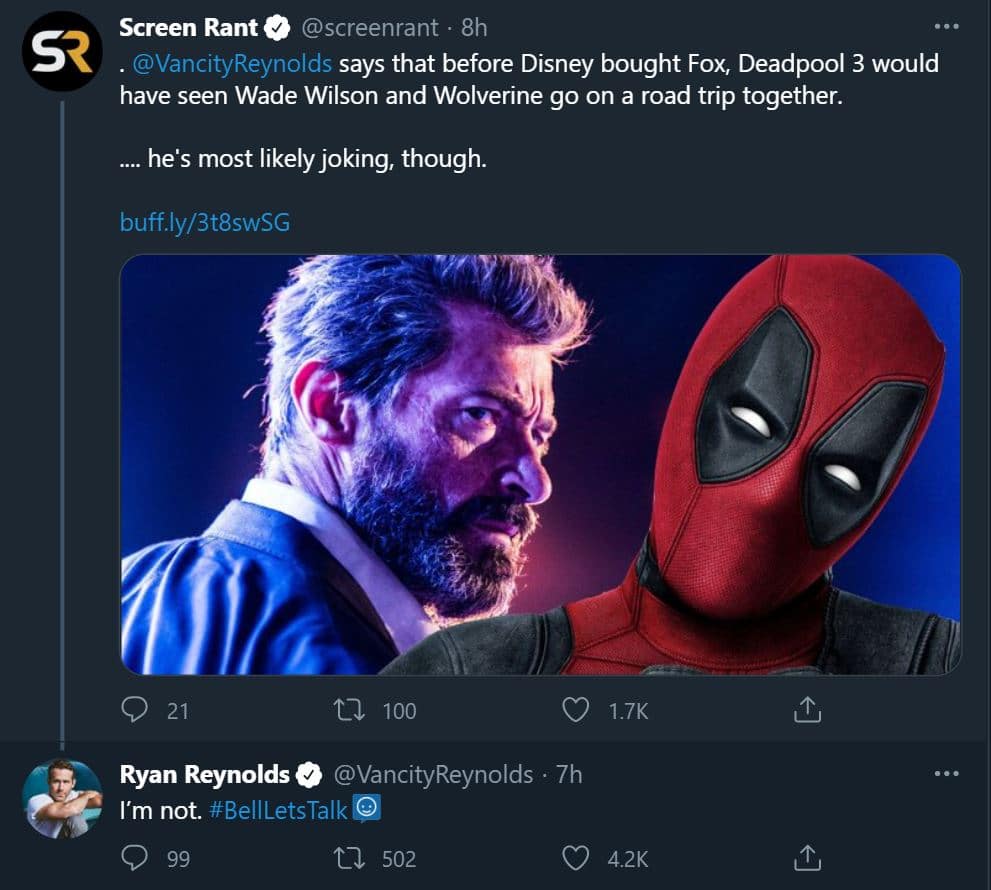 So, it's safe to say that Deadpool 3 would have been surreal even if the Disney-Fox acquisition wouldn't have happened. Because the Deadpool franchise was so good, everyone wanted Wade Wilson to team up with Logan. The opportunity was wasted in X-Men Origins: Wolverine. So, it's clear why Reynolds was always pushing for it. We all saw how things totally changed for Logan in an R-Rated setting. So, a Deadpool and Wolverine R-Rated movie with Jackman and Reynolds would have been a Billion Dollar idea.
Sadly, it couldn't happen in time. But that doesn't mean a DP-Wolvi team-up won't happen in the MCU. We're bound to get a new Wolverine sometime in the future. So, his crossover with Deadpool is inevitable. In fact, Marvel could surprise us by making it happen in the upcoming Deadpool 3 itself. Ryan Reynolds is overseeing the script of Deadpool 3, which is currently being written by Lizzie Molyneux-Loeglin and Wendy Molyneux. So, let's hope these writers will somehow add Wolverine to the story.
Deadpool 3 could hit theatres by 2023.