Wanda Maximoff aka Scarlet Witch is seen as one of the most over powered characters in the Marvel Cinematic Universe, ever since she found herself upgraded by a powerful Infinity Stone and went on to single-handedly take on the Mad Titan, Thanos. Disney+'s first MCU series WandaVision, which was really appreciated by audiences and critics for its unique approach and visuals. The series confirmed that Scralet Witch aka Wanda Maximoff has some extraordinary powers and she has no plans but to get stronger as she continues to learn more from the Darkhold.
Wanda is certainly a powerhouse, but she should be handled with care, but the powerful Witch is also somewhat of a glass cannon.While Wanda powerful, however, Wanda is not capable of takng a lot of damage during a fight.
Today, we bring to you THREE Marvel Cinematic Universe characters on her level of powers (& 2 Nowhere Close to her). If you have more additions to this, drop it in the comments.
On Her Level: Agatha Harkness
Never, Ever. Nowhere Close: Without Powers, Hawkeye
Hawkeye aka Clint Barton has h.ad to prove himself as an Avenger. Barton is nothing more than just an ordinary human being, only with an exceptional aim – and when we say except, we mean that it's 9.5/10 accurate.
However, let's just not lie to ourselves – he is quite useless when it's about taking on Wanda. Moreover, Age of Ultron fans must remember, if it wasn't for Pietro, Ultron would have taken Hawkeye's life
On Her Level: Captain Marvel, Another Hero Powered By An Infinity Stone
Carol Danvers ka Captain Marvel is a total powerhouse who took on Thanos single-handedly during the climactic battle in Avengers: Endgame when Thanos possessed with him all six of the required Infinity Stones. Danvers didn't even budge from where she stood when Thanos headbutt her. Eventually, it took Thanos the full might of the Power Stone to get her off of him.
Not only did she hold her own ground against the Mad Titan, just like Wanda did, but she is also imbued with incredible powers from an Infinity Stone. Well, a similar match!
Not even close: Ant-Man & The Wasp Are Amazing Heroes, But Well, let's agree that that's mostly thanks to their suits.
When Ant-Man was introduced in 2015, and thanks to Paul Rudd, he has become a beloved MCU hero, and her partner isn't staying back either – the Wasp – who was gained a substantial following since the Ant-Man sequel. The two are excellent superheroes with some hard-hitting capabilities and well, let's not forget that their powerful suits are the duo's biggest assets— especially Hope's.
Compared to Captain Marvel's strength and power, this seems like a piece of cake for the cosmic hero.
On Her Level: Not-so-surpising, The Vision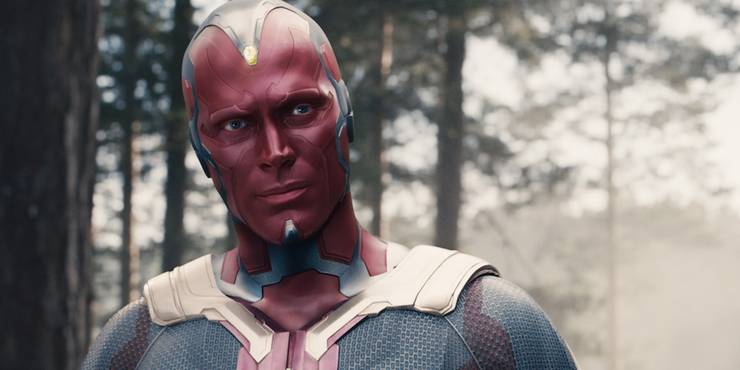 Before Vision dying at the hands of Mad Titan, Vision was powerful enough to give any antagonist (or even a hero) quite a challenge. He had an ability to go through objects, and was even capable of shooting a beam using the Mind Stone. Since the events of Age of Ulton, Vision was already an important asset to the whole Avengers team.
Vision had super speed, super strength, super durability (thanks to the Vibranium body he had), and well, the list just goes on.While in Civil War, Vision was subdued by the powers of  Wanda,while he was also holding back his punches to avoid any damage to  her. More interestingy, she can easily communicate with the Mind Stone too, which is an unfair advantage.