It has come to light that the relationship between Kourtney Kardashian's husband Travis Barker and her ex-beau, Scott Disick, has come under scrutiny following an incident during which her husband ditched an important event that the ex-couple had hosted. The Poosh founder and Scott Disick reportedly reunited to attend their son Mason Dash Disick's 13th birthday on December 17 at the Offsunset lounge in West Hollywood.
Observant fans noticed Travis Barker was not present at the extravagant birthday celebration. Also, the drummer posted some mysterious tweets before the event, raising eyebrows. His tweets and absence from Kourtney Kardashian's son's birthday party led Kardashian fans to speculate that the couple's marriage is in trouble. Moreover, the Blink-182 drummer's behavior was reported to suggest that he hated his wife's ex-beau Scott Disick.
Also Read: "I don't know who he is": Kourtney Kardashian Claims She Doesn't Know Who Jeff Bezos is, Reveals Husband Travis Barker's Wildest Fantasy in Shocking Lie Detector Test
Travis Barker And Scott Disick Are At Odds
A source close to the Kardashians exclusively told Life & Style that "tension" between Kourtney Kardashian's husband, Travis Barker, and ex Scott Disick is "no secret" after months of well-documented space between the two. Kardashians' fans wondered why Blink-182 didn't attend Kourtney Kardashian's son Mason's 13th birthday party on Saturday, December 17, as he was reportedly not seen during the party. A source close to the trio claims it all boils down to politics.
In addition to Kim Kardashian, Khloé Kardashian, Kris Jenner, Kylie Jenner, and Kendall Jenner, all of whom wore black outfits, attended the soiree.
The insider told the outlet,
"Kourtney has all but cut off contact with Scott since marrying Travis, as Travis wasn't comfortable with some of Scott's actions. He feels like Scott has taken advantage of Kourt's easygoing nature and hasn't shown up as a parent as he should have."
Apparently, after years of on-and-off relationship between Scott and the Poosh founder, Barker "felt like they needed a fresh start once he and Kourt got together."
According to the insider, Disick was also unable to accept Kourtney's romantic relationship with Travis. The insider said,
"Instead of being happy for her when she fell in love, Scott just got bitter. He even tried to convince her that she was making a mistake! He did everything in his power to torment her and Travis."
According to reports, Disick wanted to make the musician look like a bad guy for Kourtney Kardashian.
Also Read: While the Rest of the Kardashian-Jenner Clan Suffer Marriage Troubles, Kourtney Proves Why People Respect Her – Throws her Husband Travis Barker a Surprise 47th Birthday Party
Fans Think Travis Barker And Kourtney Kardashian's Marriage May Be In Crisis
There are rumors that Kourtney K's marriage with her husband Barker may be in trouble due to his absence from the recent family event and his mysterious tweets. All Kardashian family reportedly seemed worried due to barker's absence from the birthday party of Kourtney K's son.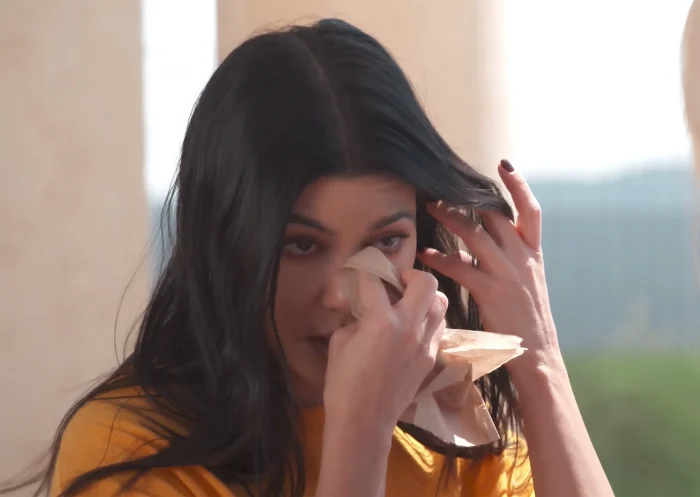 The exes' son's birthday party hinted that Barker is furious with Scott Disick's presence and doesn't want to face him. And, the birthday reunion of the ex-couple made Barker tense, which eagle-eyed fans noticed in his recent tweets.
On December 17th, Barker mysteriously tweeted,
You don't know what you got till it's over

— Travis Barker (@travisbarker) December 16, 2022
More cowbell

— Travis Barker (@travisbarker) December 17, 2022
I keep forgetting to sleep

— Travis Barker (@travisbarker) December 17, 2022
Fans immediately started reacting to it and connected his tweets with Kourtney K's ex Scott Disick. Let's see what fans think:
Kourtney went back to Scott?

— Elon Musk 🐀 (@JoeyCiotti) December 16, 2022
Worse, blink-182 went back to Scott

— Federico Pastor – Dysentery FC (@dysenteryfc) December 16, 2022
Why a Kardashian though?

— K♥️i♥️k♥️i (@80sBaby90sKid_) December 17, 2022
Did the Kardashians get canceled?

— The Punk Rock CEO (@guru_lars) December 16, 2022
Scott right now pic.twitter.com/gjoDzGF8Xe

— shea butta (@dulcedelechepie) December 17, 2022
Fans criticized the reality star for her current fashion choices and trolled Barker for being a controlling partner since she married the Blink-182 drummer in May. Although it is unknown if there are any marriage issues between the couple, Kourtney K did not comment on Barker's absence at her birthday party.
Also Read: 'He seems nice.. but also getting controlling vibes from him': Fans Convinced Control Freak Travis Barker is Only Using Kourtney Kardashian For Her Body
Source: Life & Style, Twitter