Emmy nominated actress Emilia Clarke appeared in the latest episode of 'The Tonight Show Starring Jimmy Fallon' to promote her new comic series, M.O.M: Mother of Madness. During her appearance on The Tonight Show, Clarke confirmed that she would be a part of Marvel's upcoming series 'Secret Invasion' on Disney+. Marvel Comics published this 2008 crossover comic book which will be the basis for the series.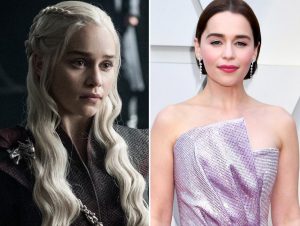 Due to the extreme secrecy around Marvel's production, Clarke was not able to give any further details. Apart from the name of the show, the actress was not able to give any further details. In fact, she jokingly said that her house might be watched by a guy from Marvel security! And Marvel schooled her to not leak any information about the show or the character. We guess that worked!
But if you know the original storyline of Secret Invasion, it did involve Skrulls, a group of shapeshifting aliens who we last saw in Captain Marvel. The story showed Skrulls transforming secretly replacing several Marvel superheroes and eventually invading the Earth. The original comic book had crossover from The Avengers, Young Avengers, The Fantastic Four, and Thunderbolts. We don't know how much the Disney+ show will follow the storyline of the comic book.
Emilia Clarke joins the elite cast of Samuel L Jackson and Ben Mendelsohn. They will reprise their roles as Nick Fury and Talos. She also joins Olivia Colman, Kingsley Ben-Adir, Christopher McDonald, Killian Scott, and Carmen Ejogo in undisclosed roles.
She will be the fourth Game of Thrones actor to join the Marvel Cinematic Universe after Peter Dinklage in Avengers: Infinity War, Richard Madden, and Kit Harrington's roles in the upcoming series The Eternals.
It would be exciting to see The Dragon Queen kick ass in the Marvel Cinematic Universe. Catch her appearance on The Tonight Show.