DC and Marvel comics are known for having rivalries between themselves, while the Stars of their respective films are usually more playful about the "competition."
Shazam! Star Zachary Levi recently took to Instagram to reveal that he stole Ryan Reynolds' parking spot at 20th Century Fox. He posted the image with the caption, "Bruh, don't have me towed. I genuinely had to take a massive emergency shit and this was the only spot to pull over. Oh, also, I took a massive emergency shit in your bathroom. Might wanna hit that with some Febreeze, or burn it to the ground."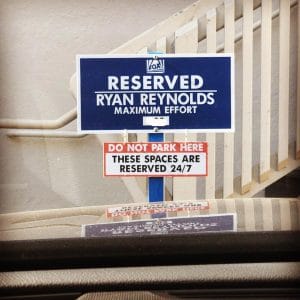 Both actors' on-screen characters have a great sense of humour, so it makes sense for the two sides to get compared. This isn't the first time that Shazam! has trolled Marvel. Earlier Shazam's director David F. Sandberg targeted Captain Marvel.
In the comic book world, Fawcett Comics was the first to use "Captain Marvel" in 1939. The comics started outselling Superman back then and was later acquired by DC. However, by the time DC started publishing the comics, Marvel had already registered "Captain Marvel" under their name. This forced DC to stick with Shazam!
Sandberg took to Twitter, clarifying the difference between Captain Marvel and Shazam. "Had my first 'Oh, Shazam! I love everything Brie Larson is in!'" while adding the #OriginalCaptainMarvel hashtag.
The first trailer for Shazam suggests that the film will have a lighter tone, as compared to other DC films.
"It's a lot of wish fulfilment and a lot of fun and a lot of heart and a lot of levity. I don't know if anyone else felt this way, but when I was watching it [the trailer]… it delighted me," Levi shared at New York Comic Con. "I felt joy. I felt the way that I felt when I was a kid when I was watching The Goonies. There was something very adventure-y about it."
Shazam! releases on April 5, 2019.