In contrast to Kim Kardashian's refusal to reconcile her relationship with ex-boyfriend Pete Davidson, the comedian has expressed his interest in dating the reality TV star again. However, Skims' founder doesn't want to reconcile their relationship even though they "talk a lot" and have maintained friendly relations after their breakup.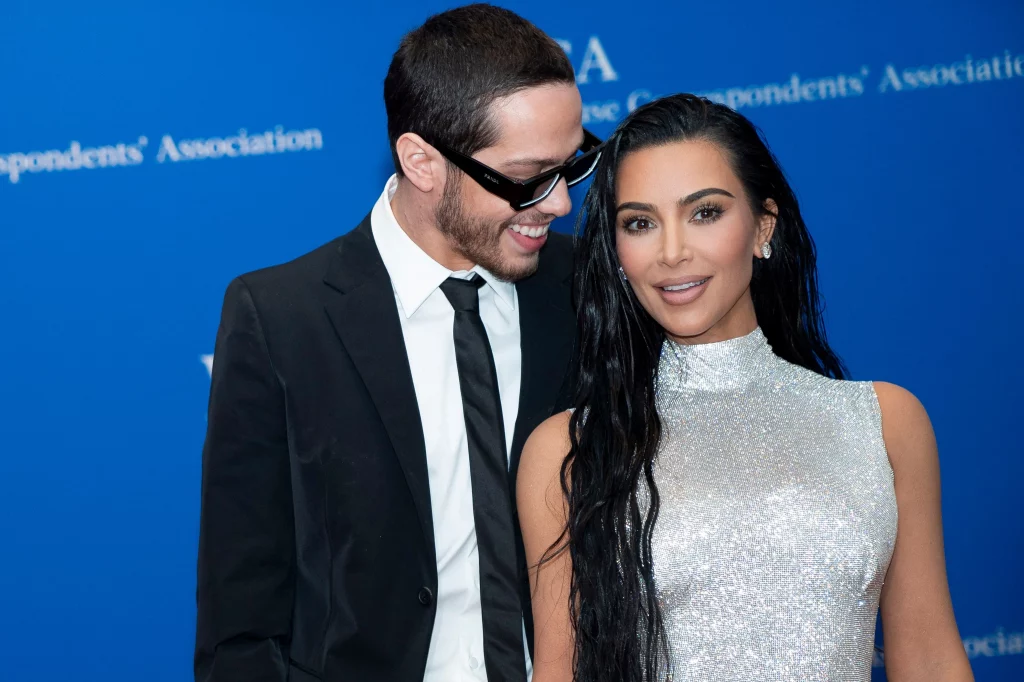 In September 2022, in a TV interview, Kim Kardashian stated she was not ready to get back into the dating game after splitting from Pete Davidson. Also, she said that she doesn't think she can go on a casual date. However, the comedian Pete Davidson is looking to get back together with the billionaire model again.
Also Read: "She had to still be the husband to all of her daughters": Kanye West Reveals Politics Made His Marriage With Kim Kardashian Impossible, Condemns Kris Jenner for Ruining Her Daughters' Relationships
Kim Kardashian Breaks Pete Davidson's Heart Again
In September 2022, during a segment on Live! With Kelly and Ryan, Kim Kardashian said she sees herself with "absolutely no one" at the moment after breaking up with Pete Davidson. Despite this, sources say he would like Kim K back in his life again. There seems to be no reconciliation between the Skims founder and Davidson currently.
An insider told The Sun, the duo "do still talk a lot, they are good friends and laugh a lot – he's holding in there and tells her that he would jump on a plane at a moment's notice for her."
Also, the insider source continued, "But Kim thinks life is just too messy now, and she doesn't want anything serious right now – while he clearly does."
The insider added, "She doesn't want to string him along; she doesn't want to do that and give him hope there's a chance when she knows there's not."
This report came after another insider confirmed to the outlet that Kardashian sneaked out to "secretly" meet Davidson at Staten Island in "disguise."
Kim Kardashian and the Saturday Night Live alum even "shared a secret sleepover" after he visited Kim K in New York City last week. After dating for nine months, The Kardashians star and The King of Staten Island actor called it quits citing long distance and hectic work schedules.
Also Read: Kim Kardashian Scores Major Win With Her Kids Schooling As Kanye West's Donda Academy Shuts Down After Anti-Semitic Comments
Kardashians Allegedly Slammed For 'Cutting Out' Pete Davidson From The Show
Despite talking about her former boyfriend on Wednesday's The Kardashians episode, fans allegedly criticize the reality star Kim Kardashian for 'cutting out' Pete Davidson. In one scene, Kim K was getting ready for the Hulu series' red-carpet premiere when producers asked her about her "plus one," and she seemed annoyed.
A producer asked the TV star while her glam squad was preparing her for the event, "Is anyone coming to the premiere with you? Who's your plus one?"
Kim glared at the producer as her hair was curled in curlers and hesitated to respond and said, "Pete [Davidson] is actually my plus one, and I'm excited."
To get more details, the producer asked the reality star, "Is this your first time on the red carpet with him?"
Kardashian said, "We're not doing the red carpet."
Despite being with her famous family, she walked the red carpet without Davidson because the show was her thing. Since he was in another room while cameras were rolling, fans were furious that he was omitted from The Kardashians episode, and Kim Kardashian is facing backlash from Davidson's fans.
Also Read: 'She's always looking for ways to save money': Kourtney Kardashian's Ex Employees Accused Her of Being a Total Cheapskate, Victim-Blames the Nannies To Avoid Paying Damages
Source: Geo News